Italy Donizetti, Olivo è Pasquale: Accademia Teatro alla Scala Orchestra, Donizetti Opera Chorus / Federico Maria Sardelli (conductor), Teatro Sociale, Bergamo, 26.11.2016. (JMI)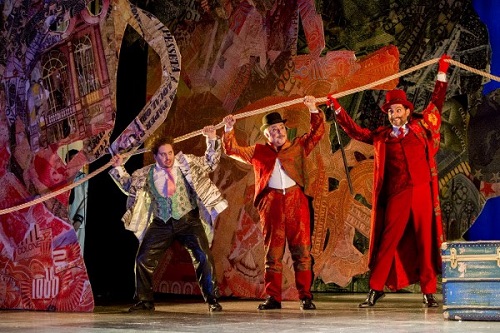 Cast:
Olivo – Bruno Taddia
Pasquale – Filippo Morace
Isabella – Laura Giordano
Camillo – Pietro Adaini
Le Bross – Matteo Macchioni
Columella – Edoardo Milletti
Matilde – Silvia Beltrami
Diego – Giovanni Romeo
Production:
Direction – Ugo Giacomazzi and Luigi Di Gangi
Sets and Costumes – Sara Sarzi Sartori
Lighting – Luigi Biondi
Donizetti's Olivo è Pasquale, an opera buffa, premiered in Rome in 1827 and was revived a few months later in Naples. It belongs to the period when Donizetti had not yet enjoyed his greatest success, just three years before his triumph with Anna Bolena. It precedes L'Elisir d'amore by only five years, but the two operas seem to belong to different epochs, and even to different composers.
With Olivo è Pasquale one has the sensation of attending a Rossini opera: the style is more in line with the latter than with Donizetti's works like L' Elisir, La Fille du Régiment or Don Pasquale. It is not a masterpiece, but it is a well-constructed and pleasant opera without pretensions to more. While one does not understand the neglect of Rosmonda d'Inghilterra, it is easier to understand that of Olivo è Pasquale.
The version offered at the Festival Internazionale Donizetti Opera is that of the Naples revival, which features two important changes from the Roman premiere. For one thing, the recitatives are replaced by dialogues in the Neapolitan dialect. In addition, the character of Camillo is now a tenor instead of a mezzo soprano.
The plot centers on the two brothers who give the opera its title. One is a really bad-tempered merchant, while the second is kind and good-natured. Olivo has a daughter who is in love with Camillo, but her father has decided to marry her off to a wealthy merchant, Le Bross. All will end happily here.
The staging in Bergamo is nicely suited to an opera buffa, but the performances were too extreme: the artists seemed to be looking for an easy laugh, but they didn't achieve that goal to any great extent. The sets consist of painted fabrics in vivid colours, in line with the costumes which are dominated by red suits. In general, it's all somewhat childish and exaggerated, especially on the part of some of the characters.
Federico Maria Sardelli conducted with good rhythm and in a way that suited this particular opera, but I prefer him in the Baroque repertoire. The orchestra did well but without any special brilliance.
Olivo was interpreted by Bruno Taddia, whose voice is not especially attractive and whose stage performance was too exaggerated. Filippo Morace as Pasquale does not have a very appealing voice either, though it worked better here than did that of his colleague.
Isabella, Olivo's daughter, was played by Laura Giordano, who has a well-managed voice and was the best in the cast. Tenor Pietro Adaini as her beloved Camillo offered good high notes but too little elegance and charm.
Matteo Macchioni has a pleasant voice and did nicely as Le Bross. Although Camillo is the object of Isabella's love, Le Bross is a more interesting character.
The secondary characters were covered by tenor Edoardo Milletti as an over-the-top Columella; Silvia Beltrami, a better Matilde on stage than vocally; and Giovanni Romeo, as a sonorous Diego.
José M. Irurzun