Spain Mozart, Le nozze di Figaro: Orchestra and Chorus of the Gran Teatre del Liceu/Josep Pons (conductor), Gran Teatre del Liceu, Barcelona, 10.11.2016. (JMI)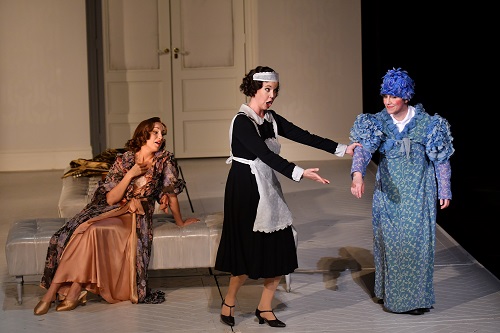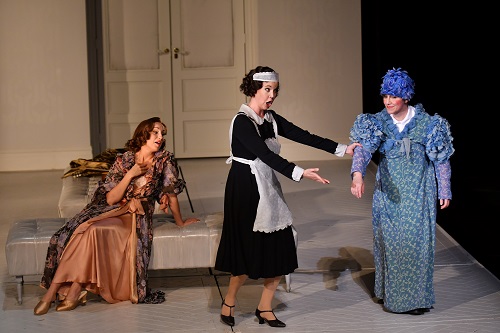 Cast:
Figaro – Kyle Ketelsen
Susanna – Elena Copons
Countess – Anett Fritsch
Count Almaviva – Gyula Orendt
Cherubino – Gemma Coma-Alabert
Marcellina – Maria Riccarda Wesseling
Don Bartolo – Valeriano Lanchas
Basilio – José Manuel Zapata
Antonio – Roberto Accurso
Barbarina – Rocío Martínez
Don Curzio – Vincenç Esteve Madrid
Production:
Director – Lluis Pasqual (original); Leo Castaldi (revival)
Sets – Paco Azorín
Costumes – Franca Squarciapino
Lighting – Albert Faura
Le nozze di Figaro, performed at the Liceu in 2008 and 2012, has now returned in a revival of the earlier production. The 2016 staging leaves something to be desired with an unconvincing musical reading and a rather uneven cast.
This opera, the first collaboration of Mozart and Lorenzo Da Ponte, is based on Pierre Beaumarchais's La Folle Journée, ou Le Mariage de Figaro. I mention this because there is a precise period in time when the opera takes place, and it's not by coincidence. Le nozze di Figaro unfolds at the end of the Ancien Régime, and that is where the provocation lies as the servants, Figaro and Susanna, contend with the nobles and their privileges. It could be argued that the plot does not belong to any epoch, but that's just a way of justifying a decision by an opera's director to move it. Here, Catalan director Lluis Pasqual places the action in the 1930s, and I think something is lost with the change: what makes sense in the 18th century does not work as well some 150 years later.
I found the direction here less careful than when the production premiered eight years ago and, in general, one could say it has lost interest with the passage of time. Except for the changed time period, the staging follows the libretto faithfully, although one misses some aspects of an opera buffa. The costumes are the best part.
The conducting of Josep Pons, the Liceu's musical director, was scarcely adequate for this Mozart opera buffa. It's not a question here of tempos but of transmitting joy and lightness, and Mr. Pons' reading came up short on both. There was a correct performance by both the Liceu orchestra and chorus.
As in 2008, Figaro was sung by American bass-baritone Kyle Ketelsen, and I did not find him improved. He was adequate in the part.
Catalan soprano Elena Copons played Susanna. It is surely the most important character she has faced so far, and she is vocally well-suited to the part although somewhat monotonous in her singing
The Countess was sung by German soprano Anett Fritsch, who replaced Olga Mykytenko, initially announced for the role. I think we won with this change: Ms. Fritsch was the best of the entire cast. She sang with gusto and great expressiveness, and gave meaning to all her words.
Gyula Orendt was a modest Count Almaviva, and had problems reaching the house. He did not do particularly well with his great aria, 'Hai gia vinta la causa'. Gemma Coma-Alabert was also quite modest as Cherubino. It's one thing to appear in a minor part and quite another to carry an important character.
In the secondary roles, Maria Riccarda Wesseling was an excellent Marcellina, with a voice that is still fresh. It's a pity that the aria 'Il capro è la capretta' was cut. Valeriano Lanchas was a correct Don Bartolo. José Manuel Zapata was fun in the part of Basilio, while Roberto Accurso succeeded as Antonio. Rocío Martinez offered an attractive although small voice as Barbarina. Finally, Vincenç Esteve Madrid did well as Don Curzio.
José M. Irurzun