United Kingdom Debussy, Ravel: Jean-Efflam Bavouzet (piano), Les Siècles / Francois-Zavier Roth (conductor) Royal Festival Hall 2.11.2016. (GD)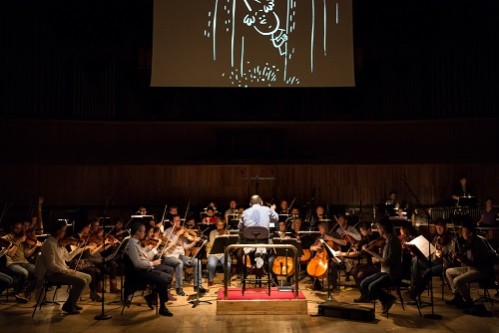 Debussy – Jeux; La mer
Ravel – Piano Concerto for the left hand; Ma mère l'oye (Mother Goose) – complete ballet with live animation by Grégoire Pont
Jeux is Debussy's last, and, many would claim, most accomplished orchestral work. It was first performed in Paris at the Théâtre des Champs-Elysées in 1913, by the Ballets Russes, just weeks before the sensational premiere at the same theatre of Stravinsky's The Rite of Spring. Its relative neglect was no doubt initiated by the latter work, which, as is well known, caused a scandal which obliterated all other artistic events in the Parisian consciousness. But despite this Jeux is unlikely to have been a popular success with its subtle shadings of light and half-light, and cascades of shifting harmonies. Even the conductor of its premiere, Pierre Monteux, never, as far as I know, recorded it commercially, although there are a few live and fascinating Monteux performances in limited recording editions. From the sustained B of the prelude Roth gave the most captivating performance of Jeux I have heard in recent years. Les Siècles, with 'period' instruments produced the ideal sound-scape, undoubtedly very close to the sound heard at the premiere and other early performances. The strings (with antiphonal violins) had a grainy but precise sound with a minimum of vibrato; this kind of sound is usually smoothed over by modern symphony orchestras.
The first scherzando, in 3/8, and the following semblance of dance motives (sometimes ironic and mocking – including a mawkish waltz), were all beautifully integrated to the whole, without losing any sense of their own quasi detached formation. The final surging quasi crescendo and climax towards the end (written for a trio of tennis players whose 'ecstasy' is interrupted by a falling lost tennis ball – maybe the connotation of an interrupted erotic moment – was all magnificently articulated by Roth who deployed a wider dynamic range, to good advantage, than one usually hears. The ballet, choreographed by Nijinsky, involves a tennis trio – two girls, and a boy – and their various rounds of play and other childish shenanigans on a half-lit tennis court.  It was all quite amusing, but not really necessary to know when listening to this astoundingly original music.
Ravel composed the Concerto for left-hand between 1929 and 1930. It was commissioned by the Austrian pianist Paul Wittgenstein (the philosopher's brother, who lost his right arm during World War One). Wittgenstein gave the premiere in Vienna 1931 with Robert Heger and the Vienna Symphony Orchestra. Ravel had initially offered it to Toscanini, but Toscanini had a volatile relationship with Ravel, probably stemming from the composer's criticism of Toscanini's conducting of Bolero as 'too fast'. This was Ravel's attempt to patch up his relationship with the great Italian conductor, but the great man declined. While composing the concerto Ravel made a thorough study of left-hand piano compositions, particularly the Left-hand Études by Saint-Saëns. Ravel was insistent that the concerto should only be played with the left hand, and was highly critical of Alfred Cortot for making an arrangement for two hands.
With softly arpeggiating double-basses in an ambiguous harmony, as the background to the sinister sounding contra-bassoon – subsequently used by countless composers of horror film scores – Roth created a gripping atmosphere. What a bizarre, almost growling sound Les Siècles' superb player produced here! Roth built up the shattering crescendo climax, initiating the chiaroscuro piano cadenza entry, with a gradual accretion of instruments, and a power and assurance I have not heard since the 1937 recording, from the Concertgebouw Amsterdam, with Paul Wittgenstein and Bruno Walter conducting. Here Bavouzet initiated a savage survey of the piano's nether regions setting out the principal themes with force and drama. Bavouzet made the single hand sound like two hands, as Ravel intended. In fact, although it will offend many, I found Bavouzet even more compelling than Wittgenstein, with no wrong notes! It is worth mentioning here that Ravel probably preferred the French pianist Jacques Fervier in this concerto; Fervier first played the concerto in Paris in 1937. Roth balanced the scherzo-like Allegro in furious 6/8 tempo to perfection; and the quasi improvisatory 'jazz; music, also with a mixture of 'blues' and Iberian themes (actually constructed on the themes of the first section) sounded as convincing as I have heard IT. Bavouzet adopted a wonderful flexibility in the dreamy final cadenza with a traversal of previous themes. The brief but brilliant coda was brought off with concise and economic perfection.
I was not quite sure of the piano Bavouzet used. It might have been an Érard OF (around 1905, Ravel's preferred instrument, or a 1892 Pleyel? Whichever it was it produced the more mellow, but pointed sound Ravel would have heard, and expected. As an encore Bavouzet played an idiomatic rendition of Ravel's Jeux d'eau (Water games).
Ravel's score for Ma mere l'oye, orchestrated from the original piano duet score, indicates a minimum of tempo manipulation and a sense of forward movement, while simultaneously accommodating the changes of mood in each tableaux. Roth thankfully conducting the full ballet, achieved this sense of line and coherence with compelling consistency.  The Pavane of the Sleeping Beauty (Pavane de la belle au bois dormant) with some colourful woodwind playing had all the charm and finesse of a Monteux or a Martinon, like them having a perfection of shaping, pacing and contouring of the dance element. The conversation between Beauty and the Beast (Les entretiens de la Belle et de Bête) had all the required subtle irony, humour of the tone of the grotesque; the conversational exchange as an essential part of the ballet's musical, thematic narrative. Tom Thumb (Petit Poucet) captured the appropriate tone of insouciance, shot through with the semblance of a valse triste. The Empress of the Pagodas (Laiderronette) communicated a marvellous sense of lilt and elegance; a sure footed 'swagger' (as Thomas Beecham might have said). Apothéose brought out a plethora of grainy woodwind sonorities; giving the woodwind and brass plenty of 'head' so to speak. The Fairy Garden (Le jardin féerique) was as buoyant and mercurial, as it should sound. There was a real sense of gradual unfolding, and onward movement so lacking in many performances and recordings. But in a sense Roth's Les Siècles, with grainier and trenchantly pointed playing, caught Ravel's constellation of sounds (sometimes refined, sometimes sharp, sometimes opulent, sometimes grotesque), with more compelling immediacy than the best of the modern symphony orchestra renditions. The prelude and interludes were beautifully and poetically integrated by Roth. I was not so put off with Grégoire Pont's animations projected onto a large screen behind the orchestra as some were. After all, this is a ballet, to be looked at, as well as listened to. Pont's images were reproduced in tonight's programme; I was particularly taken by the Minotaur and Ariadne as an allegorical back-drop to Les entretiens de la Belle et de la Bête.
With Debussy's La Mer, we come into an extremely competitive field of recorded and 'live' performances, many of which have set performative standards. One has only to think of: Toscanini, Boulez and Dutoit, to name just three. But despite, and maybe because of, such competition Roth and Les Siècles did very well.   The French style here, with a subtlety of phrasing and an engaging finessing of orchestral balance and timbre, was a sine qua non. In De l'aube à midi sur la mer (From dawn to noon on the sea) Roth ensured that all the movement's themes – some relating to later developments – emerged seamlessly from the movement's harmonic/textual structures, although occasionally I missed the sense of flow heard with conductors like Boulez, Martinon and Ansermet. The movement's blazing coda sounded exceptionally scenic and powerful, all fitting the context of an epic musical seascape.
In Jeux de vagues (Play of the waves) Roth maintained the sense of this being an intricate filigree of tonal cascades and interweaving melodies.  He managed to intone the feeling of surging energy, again an important component of this musical seascape. Dialogue du vent et de la mer (The dialogue between the wind and the sea) was superbly timed and paced to ensure the unleashing of the final climax – a titanic clash of the natural elements. The 'soaring melodic theme' which develops after an initial tutti crash and ff drum stroke had an almost visceral energy and force. Roth managed to make it cohere and integrate with the final climax and coda. The climax itself was not just impressive in its visceral effect, it had a wonderful sense of arriving and also of setting the scene (so to speak) for the highly rhythmic and energetic coda. There were moments in the Play of the waves where I would have welcomed more dialogic finesse, both in the sense of gauging subtle transitions, and varying the sense of intricate dialogue, Toscanini and Boulez being truly magnificent here. But I find it hard to imagine Toscanini and Boulez, with their fantastic ear for such detail, ever being challenged, let alone equalled or surpassed. The so French sounding woodwind were superbly balanced with the strings, and with antiphonal violins throughout the concert, the violin and string counterpoint were projected with a clarity and lucidity rarely heard, despite the limitations of the Festival Hall acoustics. This concert will certainly be one my 'best of the year' choices. My criticisms can be seen more as quibbles in the context of such exceptional music making. After La Mer I was almost sure that Roth was going to deliver an encore, with an extra oboist coming on to the stage. But then he gestured the orchestra to leave. He obviously changed his mind at the last minute. Perhaps he thought an encore was inappropriate after the terrific coda of La Mer?
Geoff Diggines