Italy Mozart, Le nozze di Figaro: Teatro alla Scala Orchestra and Chorus / Franz Welser-Möst (conductor), Teatro alla Scala, Milan, 27.11.2016. (JMI)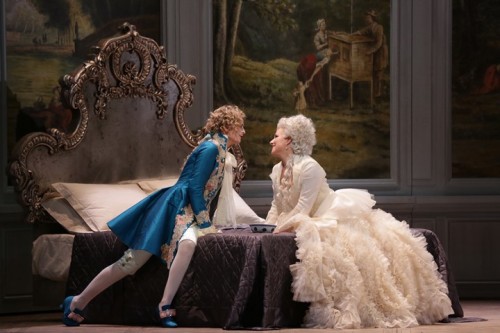 Cast:
Figaro – Markus Werba
Susanna – Golda Schultz
Countess – Diana Damrau
Count – Simon Keenlyside
Cherubino – Marianne Crebassa
Bartolo/Antonio – Andrea Concetti
Basilio/Don Curzio – Kresimir Spicer
Marcellina – Anna Maria Chiuri
Barbarina – Theresa Zisser
Production:
Direction – Frederic Wake-Walker
Sets and Costumes – Anthony McDonald
Lighting – Fabiana Piccioli
This new staging by Frederic Wake-Walker marks his debut at La Scala. The production starts off in an interesting way as female extras dressed in black move the sets about the stage during the overture. But then the extras reappear at various times and in different costumes, although one does not quite understand why. The first act is set in a space that's too small which means the hiding places for the Count and Cherubino are not ideal. Act II features the Countess's elegant bedroom, but this time the hiding place for Susanna and Cherubino is a huge closet some five meters high. Cherubino's jump from the window is not very spectacular: at the beginning of the act Figaro uses the same window to leave the bedroom with no need for jumping. In Act III Don Curzio officiates at a series of civil weddings, among which figure the protagonists. Surprisingly, the Countess sings 'Dove sono' and 'Canzonetta sull'aria' in Susanna's room. Finally, the act in the garden demands darkness if one is to believe the misunderstandings that take place; here there's full light which makes them less credible.
The costumes are traditional for the soloists but rather strange for the extras and the chorus. Overall, the stage direction is rather exaggerated and even childish, and in the end one's initial interest dissolves like sugar in coffee.
Franz Welser-Möst's reading was disappointing in the first part of the opera, but much more impressive in the second. This conductor is more or less convincing depending upon the type of opera. I remember strong performances in Vienna (when he was musical director of the Staatsoper) in German opera but disappointing ones in the Italian repertoire. On this occasion the first two acts lacked lightness and even joy, but this aspect improved (although the staging in the final act didn't help). Basilio's aria was included while Marcellina's was cut; both should be cut when two intervals are needed, but if only one is performed I prefer 'Il capro è la capretta'. The orchestra played at their usual high level, although they have given better performances in a different repertoire and with other conductors.
Figaro was sung by Markus Werba, who was more appealing as an actor than as a singer. His baritone wasn't strong enough – this is not the Figaro one expects from a theatre like La Scala.
Soprano Golda Schultz has a voice that is well-suited to the role of Susanna. She's very musical and sings with gusto.
Diana Damrau as the Countess was terrific on stage, always singing with intention and giving shape to all her phrases. She delivered a magnificent 'Dove sono' – one of the best interpretations of this aria that I can remember. She was also superb in the duet with Susanna, but less so in 'Porgi amor'.
Simon Keenlyside did an excellent job as the Count. His stage performance was impeccable, and he did well in vocal terms, shining in the aria 'Hai gia vinta la causa'. It's good to note that the English baritone has now gotten past some earlier difficulties.
Mezzo soprano Marianne Crebassa gave an appealing performance as Cherubino and was well received by the public. That comes as no surprise: Cherubino, like Micaela in Carmen or Liú in Turandot, always wins an audience's favour.
In the secondary characters it was surprising that Don Bartolo doubled as Antonio, as did Basilio as Don Curzio. In the first case Andrea Concetti was no more than correct. Tenor Kresimir Spicer gave an overly exaggerated interpretation, and his voice is significantly wider than what is usual in this character. Anna Maria Chiuri was an appropriate Marcellina, and a good impression was left by young soprano Theresa Zisser as Barbarina.
José M. Irurzun