China Various composers: Hao Jiang Tian & iSING! International Young Artists Festival Wuhan Concert, Fugen Wei (piano), Qintai Concert Hall, Wuhan. 6.10.2016. (RP)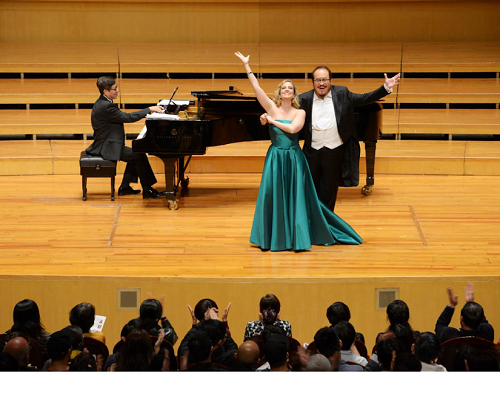 Internationally renowned bass Hao Jiang Tian wears many hats – performer, teacher, mentor and impresario to name just a few. Fitting then that first and foremost, this concert showcased singers who had participated in the iSING! International Young Artists Festival, which he founded in 2011. iSing is not only a training program for young singers, but also promotes wider appreciation of the vocal arts in China. However, there was another facet to this concert, as Tian also paid tribute to his parents, who were sent to Wuhan in the 1970s to train and conduct People's Liberation Army ensembles and chorales. He honored their legacy, as well as that of the more than 50 people in attendance who had performed in those ensembles and whose pride in their legacy, love of music and high spirits infused the evening with a special glow.
Tian's opening set included two arias, 'La calunnia' from Rossini's Il barbiere di Siviglia and 'Vous qui faites l'endormie' from Gounod's Faust. His comic touch and fleet singing enlivened the former, while a sinister sparkle in both his eyes and voice made Méphistophélès' serenade all the more evil. Between the arias, he sang 'Eastward the River Rushes' by Qing Zhu. Composed in 1922, it is one of the earliest settings of an ancient Chinese poem in the style of an art song. He concluded with the dramatic Tibetan folk song, 'Thousand Horses on the Meadow'. It was the very song with which he auditioned for Beijing's newly reopened Central Conservatory in 1976, which had been closed during the tumult of the Cultural Revolution. Then, as now, he was accompanied by the excellent pianist Fugen Wei.
The program was heavy on drama and excitement, so much so that the more subtle charms of 'Sull'aria…che soave zeffiretto' from Mozart's Le nozze di Figaro, sung with style by Sophia Chew and Juliet Petrus, almost got lost in the shuffle. Baritone Andrea Zaupa need not fear that fate, as he just commands the stage, vocally and physically. He seems born to sing the Toreador Song from Bizet's Carmen, but also tossed off vocal and dramatic sparks with soprano Ana Isabel Lazo in 'Udiste? Come albeggi' from Verdi's Il trovatore. Lazo, with her dusky lower range and gleaming high notes, had earlier channeled her alluring voice into a haunting, anguished performance of 'The Lament of the Yellow River' from Xian Jinghai's Yellow River Cantata.
It was a good night for tenors. Juan Pablo Dupré exuded charm and his burnished, beautiful voice was ideal for Rodolfo's 'Che gelida manina' from Puccini's La bohème, which he topped off with a gleaming High C. Like Hao Jiang Tian, Chuanyue Wang is a product of Beijing's Central Conservatory of Music. The promising young singer has been racking up an impressive number of wins, including second prize for voice in the 2015 XV International Tchaikovsky Competition. Wang was equally convincing as the Duke of Mantua ardently wooing his Gilda, the graceful and clear-voiced Raquel Suarez-Groen, in 'È il sol dell'anima …. Addio, addio' from Verdi's Rigoletto, or alone, as the despairing Edgardo in 'Fra poco a me ricovero' from Donizetti's Lucia di Lammermoor.
Love was also the theme of two Chinese songs on the program, as different in mood and style as one can imagine. Shi Guangnan was a composer active during the Cultural Revolution, whose songs capture the patriotic and nationalistic spirit of their times by combining traditional melodies with westernized accompaniments. Sophia Chew lavished her rich mezzo-soprano on one of his most popular songs, 'The Grapes of Turpan', which tells of the longing of a young Uyghur girl for her beloved, who is serving his country far from home in the Frontier Guard. 'The Mayila Variations', a Xinjiang Folksong arranged by Hu Tingjiang, is all sparkle and joy, as a young girl revels in her beauty, voice, charms and, of course, romance. Juliet Petrus tossed off the song's runs, leaps and trills with verve, capping it off with a beautiful high E. Mayila's high spirits are evident not only in her singing but also in the authentic gestures and dance steps, which Petrus tossed into the mix.
Raquel Suarez Groen and Hao Jiang Tian did a brilliant comic turn in Country Folk Opera: Couple Learning to Read by Ma Ke, which elicited surprised laughter as it incorporated bits in the local Wuhan dialect. The rest of the program was devoted to ensemble versions of Chinese songs ranging from the sentimental to the patriotic, leading up to a rousing finale which ended with the entire ensemble singing 'Nessun dorma' from Puccini's Turandot. Chinese audiences may not yet be accustomed to foreigners singing in their languages and dialects, but their delight in these young artists taking a leap into their culture was clear. It can't but help that there was some pretty fine singing tossed into the mix. Globalisation at its best.
Rick Perdian