United Kingdom Verdi, Aida: Soloists and chorus of Chisinau National Opera, Members of the Orchestra of the National Opera and Ballet Theatre of Moldova 'Maria Biesu' and National Philharmonic of Moldova 'Serghei Lunchevici' / Vasyl Vasylenko (conductor), Cliffs Pavilion, Southend-on-Sea, Essex, 16.11.2016. (JPr)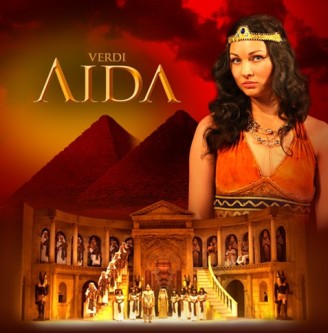 Cast:
Aida – Olga Perrier
Radamès – Vitalii Liskovetskyi
Amneris – Liza Kadelnik
Amonasro – Iurie Gisca
Ramfis – Vadym Chernihovskyi
King of Egypt – Oleksandr Forkushak
Messenger – Gicu Barbanoi
High Priestess – Olga Rusnac
Production:
Direction – Ellen Kent
Lighting Designer/Operator – Valeriu Cucarschi
Production manager – Neil Morton
Chorus master – Victor Donos
Not so much the banks of the Nile but the north bank of the Thames estuary in an always welcoming venue, Southend-on-Sea's Cliffs Pavilion. As the name suggests is to be found on a promontory overlooking the sea and has a certain steely-grey stateliness. Especially when you are inside the facilities make you think you are on a modern cruise ship which I suspect is quite appropriate for the Nile.
When I go to the ballet – unless it is Akram Khan's recent Giselle – I often watch dancers recreating exactly the steps of their legendary predecessors that were choreographed when the ballet was new, often several decades ago. They will possibly be wearing the same costumes and probably dancing on the same sets. We watch this kind of thing admiringly and uncomplainingly. For many companies staging opera it seems an entirely different matter since they are apparently haunted by Wagner's maxim 'Kinder, macht Neues!' ('Children, do something new'.) Wagner wanted his works to be continually reinvigorated for the audience of the day and this seems to have driven opera producers and music critics to distraction ever since, regardless of composer. Aida could have a modern retelling of course, with an American soldier falling in love with a Muslim girl in war-torn Libya but I don't necessarily want that and nor would most of the audience that you need to attract to a tour of – mostly one night – Aida performances throughout the UK and Eire. It is the grandest of 'Grand Operas' and Aida has virtually disappeared from the principal opera houses in London and elsewhere, just as some others with similarly ridiculous larger-than-life stories and requiring singers and voices to match. That was the type of evening that got me first interested in opera decades ago, pure spectacle with exciting voices, music and some drama.
Aida is essentially a love triangle complicated by war. Aida, daughter of the King of Ethiopia, is a slave in the Egyptian court. She and Radamès are in love but the Princess, Amneris, also loves him and is jealous of Aida. The Ethiopian King, Amonasro, is captured and Amneris discovers that Aida is his daughter and she denounces Radamès because he was planning to run away with her. Radamès is buried alive beneath the Temple of Vulcan at Memphis and Aida shares his fate with him as Amneris prays for their immortal souls.
My first Aida was in Vienna too many years ago than I care to remember and it was the opera that gave me the first frisson that I hope now for every time I return to an opera house, and to a small degree Ellen Kent's staging did that. In Vienna the Act II 'Grand March' came from upstage and seemed to go on forever. Fast-forward to Covent Garden with an Aida with Plácido Domingo in 1977 when the extras just ran behind the set and returned on the other side carrying a different banner. At the Cliffs it was a more stately affair involving a fire spinner to use up time.
I doubt whether there has ever been a better set gracing the stage at the Cliffs than the Royal Palace we see; it was so solidly three-dimensional and elaborate that you might just have been in Egypt rather than Essex. It never really changed but that didn't seem to matter, and the atmosphere of the different scenes was created by appropriate lighting or addition of huge statues of Anubis or some sphinxes or a couple of stuffed parrots! There were some gorgeous and sparkly costumes and headdresses for Radamès, Amneris and the King of Egypt; elaborate robes for the priesthood; and even Aida and Amonasro were sumptuously consumed. The biggest 'ooh and aah' moment comes at the end of Act II, when the King rewards Radamès' success in battle against the Ethiopians with his daughter Amneris' hand in marriage and there is a deluge of glittering gold.
This was the same staging as a Michael Cookson saw recently in Blackpool (click for review); he enjoyed himself and I did too. I concur with many of his remarks but I saw two different singers as Aida and Radamès. My only slight criticism would be because the seating on the floor of the Cliffs Pavilion is not raked; those sitting in the centre often lost sight of the singers if they were squatting on the floor of the stage, because they would occasionally get hidden behind the body of the conductor, Vasyl Vasylenko.  His small ensemble of Moldovan musicians got better and better as the evening went on after a rather uncertain start, especially during some of the more exposed contributions.
Ellen Kent involves local singers and actors – amateur or professional – for the crowd scenes. This time it was The Pauline Quirke Academy of Performing Arts in Wickford (my home town) that provided the students. There was some suitably poised work from the young ballerinas but an incredibly annoying quartet of younger children. They had been given little other instruction than to run about and seemed not able to do anything they had actually practiced at the same time as they should have.
By the time Olga Perrier (Aida) and Vitalii Liskovetskyi (Radamès) succumbed 'entombed' during Act IV singing a poignant farewell 'Morir! Si pura e bella' I was won over and could have been in Vienna, Verona, Covent Garden or anywhere I have previously seen Aida. Olga Perrier's Aida was made up to be dusky rather than dark and the fact she looked like Elizabeth Taylor as Cleopatra helped create a believable character. She sang her big arias 'Ritorna vincitor' and 'O patria mia' in front of a closed curtain and made them worthy of two of opera's biggest moments. Her voice was more lyric than spinto but had a nice mezzo quality. As the evening progressed Liskovetskyi became the 'can belto' tenor I have often admired and the late Franco Bonisolli comes immediately to mind. 'Celeste Aida' was robustly sung with a stentorian final note and he sang to the gallery from then on. Liza Kadelnik sang Amneris and rose to the challenge of her last act 'L'abborrita rivale a me sfuggia' when she wants to save Radamès from his fate and begins to realise the true cost of all her conniving. Her voice was pleasant enough but rather small-scale and she lacked a little authority.
Certainly not lacking 'authority' was Iurie Gisca as Amonasro who – as Michael Cookson also wrote – 'stole the show' with a bravura, snarling, scenery-chewing performance. His burnished baritone voice is surely worthy of many more impressive venues than Cliffs Pavilion although he might need to refrain a little from quite so much silent film villain gesticulation. There were suitably dark, forthright and commanding contributions from Vadym Chernihovskyi as the High Priest, Ramfis, and Oleksandr Forkushak as the King. As hinted at above, the acting was rudimentary but all the voices were well-schooled and everyone sang – including the small chorus – with a clear diction for those who knew the original Italian and there were very useful surtitles for those who did not.
I have seen Aida many times in the past but was happy to revisit it now courtesy of Ellen Kent who deserves to be praised for taking international opera at affordable ticket prices to all the far-flung venues on her extensive tours. If you have never tried it – and there is nothing better than hearing opera live – then do go.
Jim Pritchard
For details of the current tour of Aida and the other operas on please see www.ellenkent.com.