United Kingdom Stravinsky, Mavra, and Tchaikovsky, Iolanta: Soloists, Chorus and Orchestra of the Guildhall School of Music and Drama / Dominic Wheeler (conductor). Silk Street Theatre, London, 2.11.2016. (MB)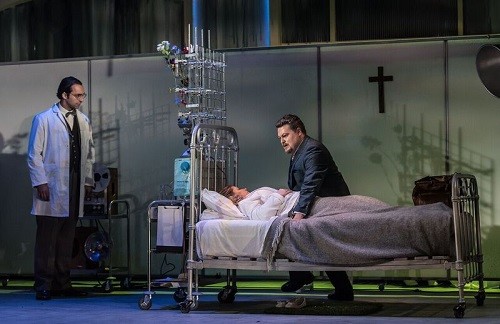 Mavra (Cast):
Parasha – Anna Sideris
Vassili – Dominick Felix
Mother – Jade Moffat
Neighbour – Bianca Andrew
Iolanta (Cast):
Iolanta – Elizabeth Skinner
King René – David Ireland
Marta – Jade Moffat
Brigitta – Marho Arsane
Laura – Chloë Treharne
Bertrand – Bertie Watson
Alméric – Eduard Mas Bacardit
Ibn-Hakia – Joseph Padfield
Vaudémont – John Findon
Robert – Daniel Shelvey
Production:
Kelly Robinson (director)
Bridget Kimak (designs)
Declan Randall (lighting)
K. Yoland (video designs)
The Guildhall has shown typical enterprise in programming: two very rarely staged one-act operas in an intriguing double-bill. As I never tire of pointing out, much of the best London opera is to be found in our conservatoires. This term, we have already had an outstanding Royal Academy Alcina; later this month, we shall hear La finta giardiniera at the Royal College of Music.
Any mild disappointment here was occasioned only by Stravinsky's Mavra itself. I do not begrudge, indeed I wholeheartedly welcome, its staging. Although the Philharmonia recently performed it, I was unable to attend, and I have never previously had the opportunity. If there is a weaker work by the composer in his maturity, I am delighted to say that I have forgotten it. (I might dislike Orpheus, but I recognise its craft. Even Jeu de cartes has a good deal more going for it.) Describing it as a short buffa work at the cusp of his Ballet russes and neo-Classical tendencies, makes it sound more interesting than it is. It does not overstay its welcome, perhaps, being so short, but the motoric elements here really do sound as if the composer is on auto-pilot. At best, one might find a passing correspondence with L'Histoire du soldat, even Petrushka, but it is trivial stuff really, with a trivial story, concerning a pair of lovers who trick the girl's mother into accepting her hussar into the house as a new domestic servant.
Here it was given, as the composer preferred, in the vernacular. Vocal performances were all spirited, well attuned to the trickiness – here, somewhat pointless trickiness, I tend to think – of Stravinsky's writing. Anna Sideris and Dominick Felix proved agile of voice and on their feet. Jade Moffat and Bianca Andrew offered fine 'character' support as Mother and Neighbour. Solo and ensemble demands were navigated readily, in lively combination to the considerable amount of stage action required of them by Kelly Robinson's updated (1960s?), production. Bridget Kimak's colourful designs engaged the eye, and if there was not a great deal to the staging beyond what one saw, it is not clear that there could have been. There were a few occasions on which orchestral rhythms and ensembles might have been tighter still, but under Dominic Wheeler, the uneasy marriage of clockwork and Russian colour in its last, equivocal hurrah generally came across well. I shall leave the final word with Stravinsky, writing to his publisher in 1969, imploring him to publish the work: 'Of course the music is not and will never be a success and there may be no demand or justification for printing it; and if I say that worse music than Mavra is performed you may say that better music is also not performed. Still, I would like to see the work in print.'
Iolanta, by contrast, has great music indeed, fully worthy at its best of the composer of Eugene Onegin. I noticed far less the run-of-the-mill quality of some exchanges than I had in such exalted surroundings as the Paris Opéra earlier this year, which is surely a tribute to impressive performances indeed. There in Dmitri Tcherniakov's searching staging – somewhat slow-burn in Iolanta itself, but cleverly paving the way – the opera had been paired with The Nutcracker, as indeed had been the case at the latter's premiere in 1892. In a programme note, Robinson noted that both plots are – I should, more cautiously say, might be considered – 'variants of the Sleeping Beauty fairy tale'. I wish, then, that the two stagings were more obviously connected, drawing out connections rather than leaving it at that. That said, there was much to admire in Iolanta in itself, updated to a modern hospital ward, the princess awaiting her awakening under the watchful – and not-so-watchful – eyes of her nurses and some impressive-looking medical equipment. As in the opera itself, it is not entirely clear to what extent, if any, the Moorish doctor, Ibn-Hakia, plies anything other than the psychological tools of his trade, although an operation certainly takes place here at the right time. Video projections and lighting work powerfully later on, both to illustrate simply yet unforgettably the blinding first light and the all-important presence of the eye. Iolanta's? God's? We seem free to choose.
Most importantly, space is permitted for an excellent cast to work Tchaikovsky's wonders. The central pair of lovers both proved impressive indeed. Elizabeth Skinner faltered on one occasion, yet otherwise proved moving and generous of spirit. Her portrayal of the princess's blindness was unerring; no one could have failed to be on her side. John Findon as Vaudémont was, quite simply, outstanding. His ardent tenor was just the thing, rising thrillingly above the orchestra – remember how young these singers are! – and yet capable of considerable subtlety. Their Russian, like that of the rest of the cast, seemed to me excellent too. I certainly managed to follow its meaning (without, alas, any real knowledge of the language) when the surtitles failed. David Ireland's King René was another generous, keenly observed portrayal; there was no doubting his love for his daughter and consequently his plight. All of the singers acted well as a company, listening to each other and responding in kind. Eduard Mas Bacardit, Bertie Watson, and Daniel Shelvey offered to my ear particularly fine performances, but there was not a weak link in the cast.
I occasionally wondered whether the orchestra might be too small, but it rose to the occasion at the great climaxes, showing instead that Wheeler, ever attentive to the score's ebb and flow, had been keeping it down, emphasising, perfectly reasonably, chamber tendencies, or at least possibilities, within.
Mark Berry