United Kingdom Offenbach, Les Contes d'Hoffmann: Soloists, Chorus and Orchestra of the Royal Opera House / Evelino Pidò (conductor), Royal Opera House, Covent Garden, London, 7.11.2016. (JPr)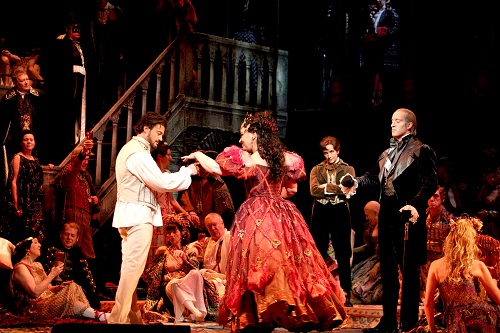 Cast:
Hoffmann – Vittorio Grigòlo
Four Villains- Thomas Hampson
Olympia – Sofia Fomina
Giulietta – Christine Rice
Antonia – Sonya Yoncheva
Nicklausse – Kate Lindsey
Spalanzani – Christophe Mortagne
Crespel – Eric Halfvarson
Four Servants – Vincent Ordonneau
Spirit of Antonia's Mother – Catherine Carby
Nathanael – David Junghoon Kim
Hermann – Charles Rice
Schlemil – Yuriy Yurchuk
Luther -Jeremy White
Stella – Olga Sabadoch
Production:
Original director – John Schlesinger
Revival director – Daniel Dooner
Set designer – William Dudley
Costume designer – Maria Björnson
Lighting designer – David Hersey
Choreographer – Eleanor Fazan
What does a diabolical villain, young people in love, persons of restricted growth, a woman dressed up as a man plus some magical effects make you think of …and especially in November in the UK? Well pantomime of course! This however was Offenbach supposedly, and my use of italics questions whether the composer – who died about four months before the opera's first performance –  would recognise much in his own work here. George Hall's lucid analysis in the programme explained how the current Choudens 1907 'classic version' is a collaborative effort from a number of others and is significantly out-of-date based on the recent discoveries of related material. A new performing edition is promised soon and it is to be hope that will be used next time there is a new production of The Tales of Hoffmann at Covent Garden.
The opera has a prologue, three acts and an epilogue. During a boozy night in Nuremberg Hofmann sobs into his beer and remembers his three loves (Olympia, a mechanical doll, Giulietta, a courtesan, Antonia, a frail singer, and how his nemesis, Lindorf, assumes the disguises of Coppélius, Dappertutto and Dr Miracle to repeatedly thwart his hopes of happiness. Hoffmann is currently infatuated with the opera diva, Stella, and his romantic mishaps are all because he is seeking 'das Ewig-Weibliche' (the eternal feminine). Hoffmann has a companion, Nicklausse, to faithfully rescue him from the sloughs of despond caused by Lindorf's machinations. This is a trouser role and she will – during the epilogue – morph into the muse of poetry and pleads with Hoffmann to dedicate himself to writing. Throughout the work, music is used by the demonic forces – who may be either real in Hoffmann's life or merely just figments of his imagination – and it is only through music that he can truly become an artist.
So, the main problem with staging Hoffmann is firstly, the addition of extra music including some obviously not written by Offenbach. For instance, in the Venice act the famous aria 'Scintille, diamant' is not the original one for this scene. (Incidentally it was sung here with Thomas Hampson bathed in lurid sparkling lighting from what must have been a glitterball.) Secondly, Offenbach wanted the sequence to be Prologue-Olympia-Antonia-Giulietta-Epilogue, but it has become common practice to perform the Giulietta act before Antonia's. The general reason for this is that clearly the Antonia act is currently much more musically accomplished than the Venice one. Thirdly, there is the problem of changes to the story over time: in 1881, when the opera was first performed in Vienna, Giulietta's act was not only restored – having been left out earlier – and was also modified so that she does not get poisoned and die at the end but leaves in a gondola accompanied by her servant Pittichinaccio. This ending is still the often preferred one. Finally, the four soprano roles were originally to be performed by the same singer, because Olympia, Giulietta and Antonia are the three aspects of Stella, Hoffmann's unobtainable love. Similarly, all four villains should be performed by the same bass-baritone, because they are all evil incarnate. While the latter happens quite frequently, most performances of the work use different singers for the heroines, mainly due to the different vocal ranges required for each role: Olympia demands a coloratura singer with the highest of high notes, a dramatic soprano (or a mezzo-soprano as in these current performances) for Giulietta and a more lyric voice with a secure top for Antonia.
Here Royal Opera present the late John Schlesinger's 1980 production which is apparently getting its eighth and final revival and predates much of the latest scholarly revisions, from the casting of the main protagonists to the order of the acts. (The only acknowledgment of current thinking about Hoffmann was the inclusion in the Antonia act of a romance with prominent violin obbligato which, though not in early version of the score. was prepared for a concert of extracts Offenbach was involved with but not actually included.) The costume designs by the late Maria Björnson are still sumptuous and William Dudley's mid-nineteenth century sets are extravagantly traditional, three-dimensional and complicated, causing long pauses for extensive scene changes and costume changes for singers with different characters to portray. For instance, to fit all this in means that there is time for a reprise of the 'Barcarolle' – which is totally out of place – after the 'Antonia' act and before the Epilogue which was accompanied by much banging and crashing behind the curtain. The production is unashamedly non-PC by today's standards too, with – among several other things – Hoffmann clowning around(?) as a 'gnome' in the Prologue and making fun of someone with a hunchback!
As I mentioned, Offenbach wanted all four villains to be played by one bass-baritone and all four loves by a single soprano. In this current series of performances we have the first but not the second. I was in the audience for the very first performance of this staging on 15 December 1980 (how many other reviewers of this current run were?) when there were four different villains and four different sopranos. Forgive the Hoffmannesque pun, but that was a stellar cast with Domingo as Hoffmann with the villains portrayed by Robert Lloyd, Geraint Evans, Siegmund Nimsgern and Nicola Ghiuselev, and the three women by Luciana Serra, Agnes Baltsa and Ileana Cotrubas. (A recording of this survives on DVD.) Singers have come and gone during subsequent revivals but it is arguable whether any subsequent ensemble bettered that from the first night. Probably not, though in 2000 Marcelo Álvarez surpassed Domingo as Hoffmann with his pathetically drunk, visionary, gauche and romantic poet.
But the past is of course the past and it is the current revival overseen by Daniel Dooner that I must comment on. This has always been one of Covent Garden's best 'shows' for me and despite its admitted lack of great psychological insight, the production remains an enjoyable spectacle and a wonderful showcase for good singing and good acting. It was this again, though the feeling never left me that it would have benefitted from a few more rehearsals before the first night. The principal cast featured four singers in The Met: Live in HD broadcast of The Tales of Hoffmann in January last year (review), and what I wrote then about Vittorio Grigòlo (Hoffmann), Thomas Hampson (Four Villains), Kate Lindsey (Nicklausse) and Christine Rice (Giulietta) applies here.
Vittorio Grigòlo is vocally the equal of those I have heard before as Hoffmann and his was a totally committed – heart-on-his-sleeve – performance. Always an engaging artist, he was less convincing when inebriated and was better as the ardent lover. What I missed was any sense of vulnerability in his character. There wasn't any great chemistry with his three loves, though I expect this should improve with subsequent performances. Grigòlo sang tirelessly and with great musical restraint, and his top notes were clear and strong: he is undoubtedly one of the best tenors of this generation.
Sadly, Thomas Hampson's baritone voice is not what it was. He lacks both the low notes and (surprisingly) the high ones his various incarnations of evil need and the blandness of his current timbre does not help much. However, he remains a considerable stage presence and has perfected a chilling demonic laugh. Kate Lindsey is totally believable as Nicklausse as she attempts to divert Hoffmann from the errors of his ways. Her voice took a little while to warm up at the start, but soon settled and there was much tender detail in her sincere singing. Lindsey was particularly poignant as Hoffmann's poetic muse at the end of the opera.
Olympia was a role debut for Sofia Fomina and she was a totally credible doll who only comes to life when Hoffmann puts on his rose-tinted spectacles. Her top notes were sparklingly laser-bright and her soprano has the accuracy and agility perfect for this role. Christine Rice's rich mezzo voice which gloriously underpinnned the famous 'Bacarolle' needed to sound even more seductive as Giulietta to be beguiling enough for the rest for her Venice act. Sonya Yoncheva is luxury casting in another role debut as Antonia but sings too strongly to make the audience feel sympathy for her doomed character's fate. Eric Halfvarson was a disappointingly Wagnerian Crespel. Vincent Ordonneau caught the eye as each of the servants amongst the number of cameos in this opera but – once again – it was disappointing to see so few opportunities given to British singers. Catherine Carby made the most of her few moments as the Spirit of Antonia's Mother, Royal Opera Principal Yuriy Yurchuk was a suitably vengeful Schlemil and Jette Parker Young Artist David Junghoon Kim was a boisterous Nathanael in the Prologue.
The chorus sang out lustily and enthusiastically and the orchestra played well but the accompaniment lacked much of the dramatic impulse – energy, light and shade – Hoffmann requires. There was a sense that Evelino Pidò was 'playing safe' and doing his best to accommodate his star singers, as well as, maintaining ensemble in the more difficult moments. This – to a degree he achieved – but Offenbach perhaps deserves better.
Jim Pritchard
For more about performances at Covent Garden and Les Contes d'Hoffmann live in cinemas on 15 November visit http://www.roh.org.uk/.