Canada In Nomine: Fretwork (Emily Ashton, Richard Boothby, Reiko Ichise, Asako Morikawa, Sam Stadlen), Vancouver Children's Choir, Rupert Lang (director), Christ Church Cathedral, Vancouver, 21.10.2016. (GN)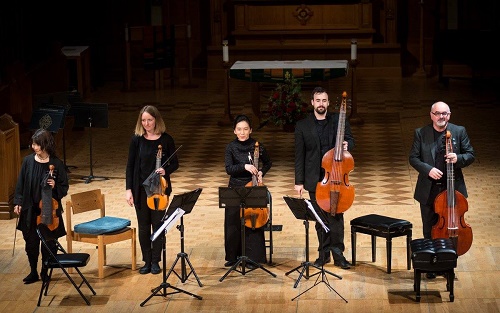 Taverner – In Nomine
Tye – Crye, Trust
Parsons – In Nomine, Ut re mi
Byrd – In Nomine
Picforth – In Nomine
Gibbons – Two In Nomines in 5 parts
William Lawes – Consort Sett in G minor, Fantazy, On the plainsong, Aire
Purcell – Fantazia in four parts, Fantasia upon one note
Bryars – 'Tops', 'The Aire Bridge', 'Deer poem in monosyllables', In Nomine (after
Purcell)
Muhly – Slow (In Nomine in 5 parts)
One fondly remembers all the wonderful discs that Fretwork recorded for Virgin in the 1990s, when it was the path-breaking viol consort that grew out of authentic thinking at that time. Finally, here was a sizeable compendium of English viola da gamba compositions from the likes of John Bull, William Byrd, William Lawes, Matthew Locke, Orlando Gibbons and Henry Purcell, all gathered together for one to enjoy in scholarly inspired form. Moreover, these were presented in such beautifully transparent and feeling lines, often allowing us to enter a suspended, ethereal world that we had seldom realized before. Even following the group through their intriguing explorations of Bach for Harmonia Mundi later on, it still remains difficult to believe that Fretwork is undertaking their 30th Anniversary Tour this year. Yet, so it is: this was their 11th stop on their travelogue of the Americas, which apparently went as far south as Columbia, as evidenced by their fully indigenous dance encore at the end. The concert's central focus on In Nomine settings took us back to the group's initial interests, and I think it was a more apt choice than their originally-planned 'Fires of London' programme. This experience was also enhanced significantly by the inclusion of related modern works by Nico Muhly (2015) and Gavin Bryars, the latter's poetic settings finding a telling spiritual resonance when combining the viols with a children's choir.
From its very beginnings with John Taverner (c. 1490-1545), the In Nomine constituted a short interlude in a long mass dedicated 'in the name of God'. From a constructional standpoint, it specifies one voice that announces the plainchant in slow, equal notes; the other parts then weave a counterpoint at greater speed on top of the cantus firmus. This form has been developed in many different varieties, which lends great interest to the historical journey from the earliest efforts of Taverner, Christopher Tye and Robert Parsons to those of later times. While the early efforts hold their intrigue, I was most taken by the later efforts: the tonal density and grip of William Byrd's In Nomine; the two 5-part contributions of Orlando Gibbons that reveal beautifully sustained flow and inward meaning; the special individuality and wonderful tensions in William Lawes' two pieces of the same form; and, as well, the unique In Nomine of the barely-known Picforth, 'bubbling forth' with innovative pizzicati over a ground. Naturally, we ended with a pair of fantasias from the master himself, Henry Purcell, works that were actually not performed in the composer's lifetime. Richard Boothby's notes shed some interesting light: by the 1680s, viols (and especially treble and tenor viols) were fast losing ground to the violin, so that interest in music for viols was actually evaporating right at the time that some of its greatest expressions were being composed.
This is hardly the place to make detailed then and now comparisons of the ensemble's performances, but it is evident that their overall sense of balance and textural control have remained an invariant and undiminished pleasure. It is perhaps to be expected that Fretwork is somewhat 'tighter' and more cultivated than two decades ago: the conventions of historical performance have likely been internalized more fully, especially with the addition of younger personnel. Yet the enticing sense of time and space in their playing always remains. That said I do feel slightly nostalgic about the innocent sense of exploration and unadorned feeling that marked their early efforts. Perhaps this says more about myself, unmistakably getting older too.
The In Nomine of Gavin Bryars dates from 1995, when the ensemble asked twelve composers to write modern companion pieces to the Purcell Fantazias and his In Nomine. It is a most attractive piece, simple and faithful in its design but very moving in the sheer honesty of its expression.  Nico Muhly's recently-composed In Nomine in 5 parts, Slow, is also intriguing since it actually springs forth very quickly with the feeling of a perpetuum mobile subject to many shadings and perturbations: the underlying 'slow' theme is revealed at the end. Bryars' additional settings of the poems 'Tops', 'Aire Bridge' and 'Deer Poem' provided a more revealing complement than I might have thought: the combination of the viols and innocent voices of the Vancouver Children's Choir found a mystery and spiritual depth that really amplified the overall experience. While the poems have considerable fantasy, it was the 'strangeness' of the feelings generated from this juxtaposition of forces that was memorable and almost haunting, much like the strangeness one feels at the opening of Peter Warlock's 'The Curlew'. Since Bryars spends a good deal of time locally (in Metchosin, just south of Victoria), I am sure everyone was very happy with this splendid dose of local colour.
So, when everything is said and done: Happy 30th Anniversary – and many more years to come!
Geoffrey Newman
Previously published in a slightly different form on http://www.vanclassicalmusic.com.