Switzerland Verdi, Don Carlos: Soloists, Chorus of the Zurich Opera, Philharmonia Zurich / Fabio Luisi (conductor), Zurich Opera, Zurich. 27.11.2016. (JR)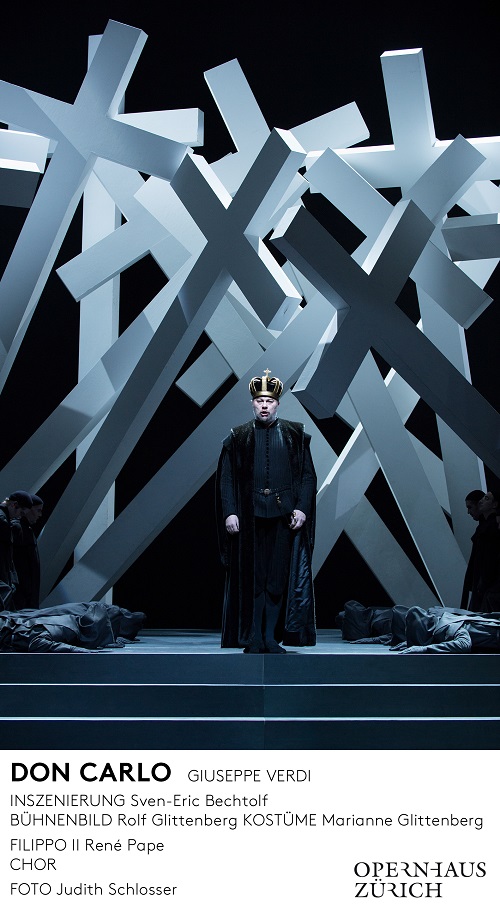 Production:
Director – Sven-Eric Bechtolf
Dramaturgy – Nina Russi
Sets – Rolf Glittenberg
Costumes – Marianne Glittenberg
Lighting – Jürgen Hoffmann
Chorus – Ernst Raffelsberger, Janko Kastelic
Cast:
Elisabeth – Tamara Wilson
King Philip – René Pape
Rodrigo, Marquis of Posa – Peter Mattei
Don Carlos – Ramon Vargas
The Grand Inquisitor – Rafal Siwek
A monk: – Ildo Song
Princess Eboli – Marina Prudenskaya
Tebaldo – Soyoung Lee
Voice from heaven – Sen Guo
Royal Herald – Otar Jorjikia
Flemish deputies – Andrzej Filonczyk, Dmytro Kalmuchyn, Huw Montague Rendall, Dimitri Pkhaladze, Stanislav Vorobyov, Ildo Song
Zurich Opera have revived this popular 2011 Sven-Eric Bechtolf production of Don Carlos for a second time and it still fills the house, a testament both to a fine production successfully combining the old and the new and a wonderful grand opera. The curtain rises to reveal a darkened room in the St. Just monastery, a row of eerily hooded black monks, a giant black skull lying next to a lying golden skeleton of Carlos V, father to King Philip, grandfather to Don Carlos.
After the monks have sung their prayers, we hear the Chief Monk sing his personal praise to the Lord, in this revival ably sung by young Korean bass Ildo Song. Song also sang the role of one of the Flemish Deputies and his voice stood out above the rest.
Ramon Vargas sings the role of Don Carlos in this revival. He has an agile voice, fine diction but the voice does not ring, and volume is a problem although he might just have been saving himself. There were several instances, especially in Acts I and II, where the orchestra drowned him out so he was virtually inaudible; and it wasn't Luisi's fault although he should bear this in mind in future performances. Vargas lacks physical stature so there were some titters when proclaiming his love for Elisabetta, who was twice his size, in girth and height.
November is the first peak of the bronchitis season, judging from the uncovered coughing around me (why do the worst offenders never have cough sweets with them, having to rely on generous neighbours?); Anja Harteros has been struck down, hoping to recover for all future performances in this run of performances. Zurich Opera were fortunate in obtaining an impressive young stand-in, Tamara Wilson. Wilson is a dramatic soprano from Arizona who started her career in Houston. She is the winner of the Richard Tucker Award this year and clearly making a breakthrough. She has sung Aida at the Met and Norma at the Liceu; Leonora at ENO, Elisabetta in Frankfurt and also appeared in Berlin and Amsterdam, where Gergiev employed her for a concert performance of chunks of Die Walküre. Whilst there is still some shaping of the voice and characterisation to be undertaken, she has plenty of volume to spare and tip-top intonation. Her big aria 'se ancor si piange in cielo' was beautifully sung. She rightly received a rapturous reception.
As Rodrigo (Posa) I much preferred Swedish baritone Peter Mattei this time round, to Michael Volle who sang the role at the last revival and I felt the role was not quite right for him. Mattei was virtually perfect, a pity his acting slightly lets him down. His firm and mellow baritone was however always a pleasure to listen to.
René Pape as King Philip is now a stalwart in this role and his grand aria 'Ella giammai m'amo' was impeccably delivered, though almost overshadowed by some spectacular cello playing from Austrian cellist Bruno Weinmeister. Russian mezzo Marina Prudenskaya sang (and acted) a first-rate venomous Princess Eboli and her two arias, the veil song and 'O don fatale' were impeccably delivered.
Rafal Siwek was a fine blind Grand Inquisitor, repeating the role from earlier revivals. All the protagonists wear black, I find this particular character more chilling when all in red and led in by flunkies, rather than groping his way round the walls.
Korean soprano Soyoung Lee was a very charming and angelic Tebaldo, beaming throughout, not always appropriately; she projected her pure voice against some strong competition. Otar Jorjikia was also a strongly-voiced Herald.
The Flemish deputies, mostly taken from Zurich Opera's International Opera Studio, were a fine well-rehearsed ensemble and sang melodiously as one.
Luisi in the pit knows this score like the back of his hand and the orchestra is attentive to his every command. The ladies in the choir had some early timing problems but will have learned their lesson for later performances.
Producer Sven-Eric Bechtolf creates some visually striking scenes, particularly the rows of the Queen's ladies-in-waiting fanning themselves in Iberian heat and huge white crosses.
The Auto-da-fé, the ritual of public penance of condemned heretics, remains rather tame, a tank of fire borne across the stage the only rather vague indication that a painful death is on the cards for some unfortunate Lutherans.
Hopefully Anja Harteros will recover her voice very soon; catch this revival if you can.
John Rhodes