United Kingdom Verdi, La traviata: Heritage Opera with keyboard and string quartet accompaniment/ James Longstaffe (conductor),  Lowther Pavilion, Lytham, Lancashire, 9.11.2016.  (MC)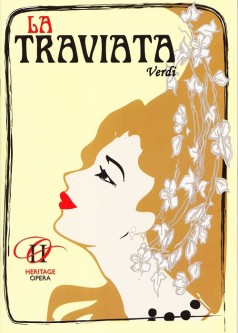 Cast:
Violetta Valéry – Sarah Helsby Hughes
Alfredo Germont – Nicholas Sales
Giorgio Germont – Tom McVeigh
Flora Bervoix – Serenna Wagner
Annina – Imogen Garner
Gastone de Letorières – David Menezes
Baron Douphol – Stephen Holloway
Marchese d'Obigny – Matthew Palmer
Dr. Grenvil – Stuart Orme
Flora's servant – Aimée Toshney
Production:
Artistic director – Sarah Helsby Hughes
Company manager – Nicholas Sales
Costumes – Faye Butterfield
Scenic director – Tom Eaglen
Surtitles – Gordon Hodges
It was good to have opera returning this season to Lowther Pavilion, Lytham. Touring company Heritage Opera bring professional opera productions to towns where the larger companies never venture and tonight it staged the Verdi masterpiece La traviata.
After attending a series of operas in recent years where the director has taken centre stage and significantly altered the production, the worst of Regietheater, it was gratifying that for La traviata director Sarah Helsby Hughes had kept to a traditional staging following the composer's original intention for a setting in the elegant Parisian salons in the mid 1800s. Granted with such a tiny budget the build quality of the scenery wasn't to Covent Garden's standard but none the less the extremely simple set proved highly effective. Noticeably the excellent period costumes were especially stylish and splendidly designed, adding vibrant colour to the production.
Rightly taking centre-stage was Sarah Helsby Hughes as Violetta Valéry, the renowned Parisian courtesan suffering from consumption. Relishing portraying the physically fragile heroine who is undoubtedly experienced in love yet gracious in heart Hughes settled quickly to give a dramatic, engaging performance. Technically there were a couple of issues with her top notes but otherwise the soprano was almost everything one could want in the role. One of the most challenging scenes in opera occurs at the end of Act One. Her party is over and Violetta is left alone to muse over Alfredo's declaration of love with È strano, è strano… Sempre libera, which was given a captivating portrayal by Hughes. From Act Three another highlight was the dying Violetta's duet with Alfredo Gran Dio!…morir sì giovane so compellingly done and mightily affecting too. Earlier this year Nicholas Sales appeared at Covent Garden as Boyar in Boris Godunov starring Bryn Terfel in the title role. Sales seems to have gained additional confidence giving a persuasive performance as Alfredo Germont the young aristocrat whom he played as a cosseted young man, headstrong and immature in affairs of the heart. A bright tenor with clear projection Sales was secure enough moving with relative ease through his range. Especially enjoyable was Alfredo's act two aria De' miei bollenti spiriti conveying a palpable feeling of happiness having moved in with Violetta.
Impeccably dressed in a grey morning suit with black topper and cane Tom McVeigh excelled as Alfredo's father Giorgio Germont looking every inch the rich gentleman. This was my first look at the experienced baritone McVeigh who added greatly to the stature of the cast with his assured acting and well focused voice. Especially commendable was Germont's Act Two aria Pura siccome un angelo, followed closely by his gripping duet with Violetta Dite alla giovine. Violetta's friend Flora Bervoix was played by Serenna Wagner who made as much as she could of her rather small part. Holding the attention was bass Stephen Holloway who performed with impressive presence and style as a cold and most unpleasant Baron. I look forward to hearing both tenor David Menezes who played Gastone and Stuart Orme as Dr. Grenvil in the future playing larger roles. The cast of ten combined admirably for the choruses the act one Brindisi (Drinking Song) in Violetta's salon and the chorus of guests during the party at Flora's house in act three.
Keeping up a steady pace throughout James Longstaffe directing from the keyboard did a decent job with his effective string quartet. There were several cast changes to the programme of which the audience should have been informed.
Sarah Helsby Hughes rightly takes the plaudits for a dramatic performance as the courtesan Violetta. This Heritage Opera production of La traviata made for a moving night's entertainment at Lytham.
Michael Cookson
Heritage Opera will next stage La traviata on Sunday 13th November at the Marches School Theatre, Oswestry – N.B. 6pm start.