United Kingdom Handel, Corelli, Purcell, Vivaldi: Devon Baroque, Miriam Allan (soprano), Devon Baroque / Persephone Gibbs (Artistic Director), Andrew Wilson-Dickson (Director). Great Hall, Dartington, 13.11.2016. (PRB)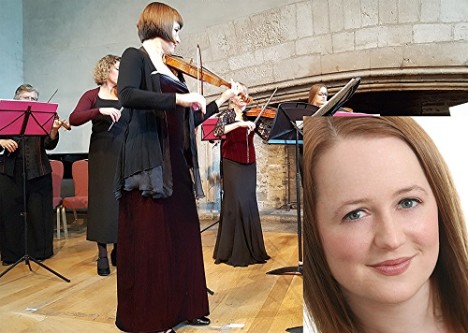 Handel – Concerto Grosso Op.6 No.1 in G; three arias from Giulio Cesare  – 'V'adoro', ' Piangerò, 'Da Tempesta'
Corelli – Concerto Grosso Op.6 No.4
Purcell – Overture from Abdelazar; two continuo Songs – 'Bess of Bedlam', 'The Blessed Virgin's Expostulation'; Pavan for Four Parts
Vivaldi – 'Winter' from the Four Seasons; from Griselda – 'Agitata da due venti'
Even 'Wild Women', it would seem, aren't immune from the seasonal bugs that do the rounds at this time of the year, and if you're a singer, too, then the consequences are almost inevitable.
Devon Baroque had planned their programme entitled 'Wild Women' for a good while, and engaged the services of one of the current leading vocal Baroque exponents – Elin Manahan Thomas – for the two-night event, which began the night before in Dorset, before returning to the ensemble's spiritual home, the glorious setting and acoustic of the Great Hall, Dartington. It was to feature something of a rogues' gallery of women, vividly brought to life on the day by Thomas. But at the eleventh hour before the opening concert, Thomas, who despite valiantly having tried to fight off her debilitating ailment, as any 'wild woman' surely would, ultimately was forced to concede defeat and a replacement was hastily sought. In fact it ended up needing two – English soprano Julia Doyle for the first event, and Miriam Allan for the present concert. But even with such experienced musical deps, the various alterations now necessary for each respective programme could have proved a recipe for disaster, given the lack of rehearsal time now available.
In the event, however, the initial concert apparently proved an unmitigated success, attributable not only to the first soloist's ability to integrate so seamlessly, but also the sheer professionalism and expertise of Devon Baroque's rank and file players, its Director in the role of continuo, and most importantly its Artistic Director and lead violinist Persephone Gibbs.
After the briefest acknowledgement of the second change of soloist, Devon Baroque got on with the business of the day and, from just the first few bars of Handel's Concerto Grosso Op.6 No.1, it was abundantly clear that any changes and reshuffling occasioned by Thomas's indisposition had had little outward effect – in fact it probably helped keep them all even more on their toes, with the extra adrenaline it most surely added. Indeed, as an opening movement, it's hard to recall a more satisfying and engaging performance from the ensemble.
In her brief opening address Gibbs also pointed out that she would adopt a slightly unusual format for this Concerto Grosso – inserting each of Allan's three arias from Giulio Cesare between five movements of the Handel, which, in the event, occasioned one of the best 'Club' Sandwiches I've ever experienced.
Allan's opening gambit, 'V'adoro', was well-considered, and Allan's almost-cherubic demeanour simply shone through the whole time, while, disguised as Lidia, Cleopatra uses her charms to seduce Cesare, singing praises of Cupid's darts. Cesare, understandably enough is delighted and soon becomes smitten with Cleopatra, though with her pleasing, laid-back manner, it did seem she might have been offering him more the opportunity of a homely night in with a DVD and takeaway, than anything decidedly raunchier.
'Piangerò', minus the unneeded recitative, started out with more of the same – a wonderfully 'smiling' voice and timbre, clear diction and articulation, all supported by well-planned breathing. But the moment the middle section in the minor key kicked in, things literally turned 'wild', as per the concert's theme. It was as if Allan had suddenly switched on the turbo or supercharger: the timbre changed dramatically, the writing immediately became more florid and coloratura, and Allan's whole character changed there in front of our eyes. Yes, this is what the aria demands, and would be expected from any other artist, recorded or live, but the effect was still spine-tingling at the time..
Ever since a lad, I have had a special place in my heart for the third Handel aria – 'Da Tempesta'. While not a singer, I have always been attracted by coloratura voices, and, in particular, those of Dame Joan Sutherland, and American soprano Beverly Sills. While my endearing memory of Dame Joan will always be seeing her in The Daughter of the Regiment (La fille du régiment) in Sydney Opera House, back in the late 80s, I also recall Sills in this aria, strutting imperiously around the stage, while hitting notes that others at the time could only think about, Even if there wasn't sufficient stage room for Allan to strut the stuff, and Sills was always going to be a hard act to follow, this antipodean version of the aria certainly took no prisoners, and was a pure delight and thrill to listen to.
Devon Baroque tackled Corelli's Concerto Grosso Op.6 No.4 with panache, contrasting the quite minimal Adagio introduction with the body of the fugal Allegro, and where there is a deal of interplay between the concertino and ripieno sections (literally the small solo group, and the accompanying section). The moving Adagio in the relative minor led effectively into the ensuing Vivace, leaving a typical gigue (Allegro) to bring the work to its dramatic conclusion.
Purcell's Overture to Abdelazar provided an ideal aperitif for Allan's next two songs, accompanied simply by continuo. In both of these – 'Bess of Bedlam', and 'The Blessed Virgin's Expostulation' – her characterisation and delivery of these everyday texts brought many a smile from the audience, and, of course, from the singer, whose body-language had now changed so effectively from the erstwhile last-active pharaoh of Ptolemaic Egypt, to Bess, as she narrates the developing madness of a girl scorned in love, while exploring and highlighting the programmatic elements of the score.
If Purcell's somewhat bland Pavan for Four Parts, with its raft of false relations and contrapuntal ingenuities, didn't exactly reignite its listeners, the next work – a necessary change of programme – couldn't have done more for the cause. Winter from the Four Seasons has become one of those works, which become victims of their own success. So frequently heard, often badly and inappropriately played by ensembles many sizes too big, or worse reinvented as some kind of garbled electronic hotchpotch, it was a wonderful moment to hear it again in its original garb – or at least as close as Gibbs and her period-instrument crew could get it. Gibbs's performance was simply electrifying, technically unflawed in the fast passage-work of the outer movements, hugely expressive in the central Largo, and where ornamentation was always refined, yet stylistically suited, and always adding more than mere decoration per se.
More Vivaldi, in the shape of 'Agitata da due venti' from his opera Griselda ended the concert on a real high where Allan, really came into her own with a performance that must have more than compensated for some initial audience disappointment when turning up to find that the advertised soloist was indisposed – and there could scarcely have been more to say than a final encore of arguably Handel's best-loved aria – 'Lascia ch'io pianga' from Almira.
Without a doubt everyone present would have loved there to be more encores still, but having to rehearse with an eight-month-old toddler in tow, because of the unavoidable late notice, it was almost a miracle that this or the previous day's concert even happened, That it could do, and that there was such an overarching feeling of love for the music, and sense of conveyed joy in the playing, is just a wonderful testament to all those involved in Devon Baroque's performance.
Philip R Buttall