United Kingdom André Tchaikowsky, The Merchant of Venice: Soloists, and Orchestra of Welsh National Opera / Lionel Friend (conductor), Venue Cymru (North Wales Theatre), Llandudno, 22.11.2016. (RJF)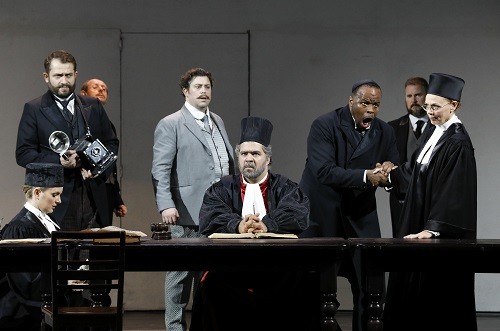 Sung in English, with English and Welsh titles.
Cast:
Antonio: Martin Wölfel
Portia: Sarah Castle
Bassanio: Mark Le Brocq
Jessica: Lauren Michelle
Lorenzo: Bruce Sledge
Gratiano: David Stout
Shylock: Quentin Hayes
Nerissa: Verena Gunz
Salerio: Simon Thorpe
Solanio: Gary Griffiths
A Boy: Fiona Harrison-Wolfe
The Duke of Venice: Miklós Sebestyén
The Prince of Aragon: Juliusz Kubiak
The Prince of Morocco: Wade Lewin
Woman 1: Amanda Baldwin
Woman 2: Helen Jarmany
Production:
Director: Keith Warner
Set and Costume Designer: Ashley Martin-Davis
Lighting Designer: Davy Cunningham
Choreographer: Michael Barry
Chorus Master: Alexander Martin
A theme for each season was a concept brought to WNO by supremo David Pountney as one of his earliest policy decisions. The theme for this 2016 Autumn season, was intended to take in reference to the four hundredth anniversary of the death of William Shakespeare, Britain's non-pareil playwright. There are plenty of operas to choose from in the repertoire, particularly from the nineteenth century including three by Verdi, the earliest of which, Macbeth, is included. What WNO ended up with for this season is two from the twenty first century of utterly contrasting musical style.  The two works, one originating in music theatre, the other premiered in 2013 at The Bregenz Festival, a venue intimately connected with David Pountney before his arrival at WNO, which was in fact composed and ready for staging at the composer's premature death aged 46 in 1982.  The composer had hoped to see it staged before his death by ENO, but it was turned down in the period when Pountney was artistic director there. He did, however, give it its premiere in his last year as Director at the Bregenz Festival in 2013 which is renowned for its opera productions on the nearby lake which draw audiences of around seven thousand each night. Productions are also staged in the nearby theatre; in this case the necessary finances were further supported by the Polish connections of the composer and now by the Getty Family as part of British Firsts. That staging and production were used for the British premiere at WNO in Cardiff earlier this autumn and The Merchant has since toured to the regular WNO venues. I believe the work will receive performances at the Royal Opera House in the coming season.
The set of rapidly changing and moving flats, walls and furniture allowed for the music to flow continuously, in no manner or style being other than a late twentieth century idiom. As such the sound can seem to be cacophonous with themes related, but barely having inherent cohesion, to the story. The words do not sit on or depend on melody, the singers have to pitch and project their character within that idiom. I would be the last to say it makes for easy listening, but the committed acting and staging made for cohesion, not least aided by the titles available in English and Welsh. A reasonably sized audience showed their appreciation of the singers' efforts at the end.
Particularly notable among these was the Shylock of Quentin Hayes who was engaged for two performances only, but gave a well-sung and acted interpretation. Notable also, for tonal clarity, and even beauty, was the Portia of Sarah Castle and Martin Wölfel's Antonio, especially allowing for the fact that counter tenors are not best suited to ride an orchestra off its leash, as Lionel Friend permitted until he had developed a feel for the theatre acoustic. Lauren Michelle as Jessica, Bruce Sledge's Lorenzo and David Stout's Gratiano, Lauren Michelle's Jessica, as actors and singers, all did much to give dramatic cohesion and sense. In the small role of The Duke of Venice, appearing only in the trial scene of act two, Miklós Sebestyén impressed with his well-covered and sonorous bass.
Robert J Farr