United Kingdom Šerkšnytė, Haydn, Mahler: City of Birmingham Symphony Orchestra / Mirga Gražinytė-Tyla (conductor). Symphony Hall, Birmingham, 16.11.2016. (GR)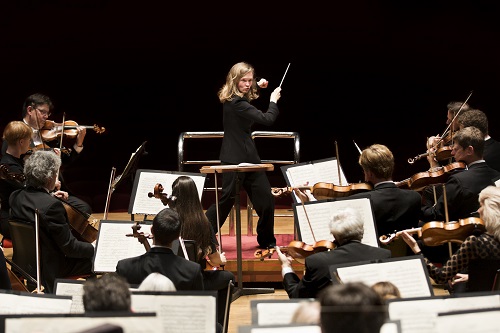 Šerkšnyte – Fires (2010)
Haydn – Symphony No.6 in D Major ('Le Matin')
Mahler – Symphony No.1
Colleague John Quinn reckoned that following the first performance of Lithuanian Mirga Gražinytė-Tyla as the Osborn Music Director of the City of Birmingham Symphony Orchestra, Birmingham was in for an 'exciting ride' (Review). This concert, entitled Mirga Conducts Mahler's First, provided further confirmation that the road ahead for the CBSO is no longer a waiting 'amber', but an up and running 'green'. And having seen a slight drop in THSH attendances over the past few years, it was gratifying to find that the Symphony Hall was sold out in advance. CBSO's previous director, Andris Nelsons, was a Latvian, so the CBSO have opted for another maestro from a Baltic state. Since Nelsons announced in 2013 that he was moving on, there has been much speculation as to his successor; the CBSO do not rush into the making such important appointments, but it appears that their policy has again paid dividends. One reason behind successful previous appointments (Rattle, Oramo, Nelsons) is surely that such vital decisions are not totally those of the management; certain orchestral members have a huge say, in keeping with the 'family' spirit of CBSO. Let's hope that the other vacant post of permanent leader – Laurence Jackson having moved to Perth – is confirmed as soon as possible. Occupying the first desk on this occasion was Frank Stadler – surely a strong candidate for the post judging by this performance, seemingly at home with music derived from three different centuries.
Mirga Gražinytė-Tyla has stated that contemporary music will feature strongly during her tenure. True to her word the programme opened with the UK premiere of fellow countryman, Raminta Šerkšnytė, and her Fires (2010). The opening bars conveyed a sense of mysticism, as if we were on some distant planet; but there were dangers lurking on this heavenly body and alarm bells grew progressively sinister. Intended by the composer to reflect diverse 'faces' of fire, the piece erupted with a wealth of kinetic energy, synonymous with the frightening consequences of an out-of-control inferno. With broad sweeping strokes of her arms, Miss Gražinytė-Tyla vigorously fanned the flames with her baton, an accelerant as effective as any bellows; Miss Šerkšnytė's music was full of sound and fury. The two Lithuanians shared the applause for what had been an amazing ten minute display of girl power.
Miss Gražinytė-Tyla retained a similar string arrangement for the following Haydn symphony, No.6 in D Major ('Le Matin'), that is with the two violin sections on opposite sides. Here however the CBSO Osborn Music Director had the wind soloists standing behind the violas and cellos, an admirable proposition that not only improved the audience's view of them, but also, with the harpsichord positioned centrally, established an intimacy; her innovative deployment worked brilliantly. It also seemed right for Miss Gražinytė-Tyla to leave the baton in the dressing room and allow her expressive wrists and fingers to gracefully direct her players. After the gentile sunrise of the first movement, the Allegro section belonged to the flute of Marie-Christine Zupancic, whom I have praised many times in the past: her solos and conversations with the oboist Rainer Gibbons as Haydn plays with his motifs, moving effortlessly between tonic and dominant, all joyfully conveyed by a swaying conductor. Stadler stole the slow movement with his precision and delicacy, ably backed by Eduardo Vassallo on cello. Woodwind textures retuned for the Minuet with the bassoon and double bass featuring delightfully in the Trio. Miss Gražinytė-Tyla was clearly enjoying herself and I longed for a 360o panoramic view of her engagement with her band – there is much to be said for those choir seats from time to time, especially for a fresh face. With a Finale scored in concerto grosso style the solos kept coming, including a dazzling display from Stadler; Haydn's twenty-three minutes flew by.
The main event was of course the Mahler; his Symphony No.1 in D Major is a test for any conductor and one Miss Gražinytė-Tyla delivered with honours. Her command of both players and auditorium was palpable from the start. Reflecting Mahler's love of nature, it was stirring in both senses of the word. Various rustlings are heard as life greets this 'beautiful world' before a theme based upon Ging heut Morgen übers Feld takes over; it was as if we were walking across the fields, a carefree, relaxing ramble orchestrated by our sure-footed Lithuanian guide. The cuckoo (Oliver Janes on clarinet) and other birds caught our ears while the resounding low F on the tuba of Graham Sibley was a magical moment as ever. There were other distractions too, but Miss Gražinytė-Tyla kept everyone on the right track. The scherzo in the form of a Ländler from Mahler's song Hans und Grethe, introduced an element of independence to the proceedings, such was the new CBSO director's bearing, her beat crystal clear, firmly communicating her intentions while simultaneously encouraging those in front of her. With chin held high at times, there was also confidence and maturity from this new commander of the CBSO. Led by Tony Alcock, the double basses sonorously began the Third Movement – yes, all of them – the Frère Jacques theme (the Funeral March that surprisingly caused an affront at the 1889 premiere). As other bass instruments took up the strains it was hard to see what there was to object to in Mahler's score. When the textures varied, there was a 'hairs on the back of your neck moment' from the oboe of Gibbons. The 'shriek' that symbolised the composer's 'wounded heart' and heralds in the finale was a triumph for the percussion section with violent clashing of cymbals and vigorous hammerings on the drums; although expected it nevertheless is a climactic point, an explosion that Miss Gražinytė-Tyla co-ordinated perfectly. The drama of the fourth movement was exploited by conductor and orchestra alike, unquestionably on the same wavelength, exposing the trials and tribulations of any hero. Although Mahler never wrote an opera, he was known for his conducting of them; seemingly with her feel for drama, I wonder if Miss Gražinytė-Tyla will be planning any concert versions at Symphony Hall in the months and years to come. The final tumultuous flourish from a standing expanded horn section (under their highly talented leader Elspeth Dutch) was exhilaratingly victorious, and during the rapturous and prolonged applause, it was they who were the first orchestral members to be acknowledged by the conductor. Although there was no standing ovation, the West Midlands classical music faithfuls are patently contented with their latest figurehead. Christmas arrives early in Birmingham with the German Market outside the front door and the CBSO alive and kicking on the inside.
But 'Our Mirga' was not finished and in her deliberate, perfect English, delivered her first speech to her new fan club. She wanted to thank us for the warm welcome and asked us to be proud of our city and its 'incredible' orchestra, hoping we might 'work and dream together'. This went down well and was her cue for an encore – Svajonė (Dreams) by Lithuanian composer Juozas Naujolis, a bonbon from the strings of the CBSO.
Geoff Read