United States Janáček, The Makropulos Case: Soloists and orchestra of San Francisco Opera / Mikhail Tatarnikov (conductor), War Memorial Opera House, San Francisco. 14.10.2016. (HS)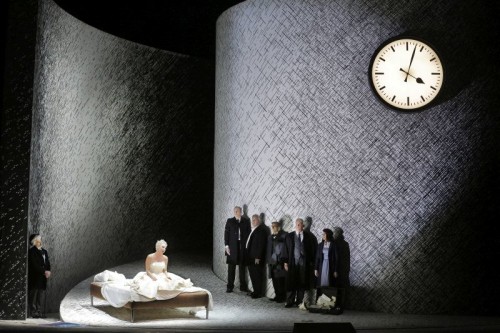 Cast:
Emilia Marty – Nadja Michael
Albert Gregor – Charles Workman
Baron Jaroslav Prus – Stephen Powell
Dr Kolenatý – Dale Travis
Vitek – Joel Sorensen
Kristina – Julie Adams
Count Hauk-Sendorf – Matthew O'Neill
Janek – Brenton Ryan
Production:
Director – Olivier Tambosi
Production Design – Frank Philipp Schlössmann
Lighting Design – Duane Schuler
Chorus Director – Ian Robertson
Clad in a tight-fitting white dress, a lean and lithe Nadja Michael immediately attracts the attention of all the men in the cast, and certainly most of the audience, as she makes her entrance in San Francisco Opera's production of Janáček's The Makropulos Case. She is in constant motion, striding across the stage in towering heels, writhing on a desk, flashing a shapely leg, fixing everyone she meets with a steady gaze. Occasionally she loses her balance—her character is 337 years old—but always regains the upper hand, no matter what. After all, she has made her living all these years as an opera diva.
As Emilia Marty, her current alias, Michael teeters between overt sexuality and the sort of boredom that comes with centuries of liaisons and changes of persona to keep her secret from discovery. She hit every point in that range, culminating in a final scene that ranks with Salome's (another of her signature roles) as a tour-de-force for dramatic soprano. In the first performance of six (14 October), she was nothing short of incandescent in that denouement, detailing her history to a stunned array of characters who have been trying to figure her out for most of three acts.
In this she was ably abetted by Russian conductor Mikhail Tatarnikov, in his company debut, leading an incendiary performance. Maintaining forward thrust, he drew clarity and rhythmic drive from the orchestra that let its contributions weave through the conversation-heavy libretto, never overwhelming the singers. Janáček's ostinatos and layers of orchestral strands tie everything together, grabbing listeners by the lapels and never letting go.
This is the second time for this engaging production, introduced here in 2010 (review) and later seen at Finnish National Opera. Director Olivier Tambosi and production designer Frank Philipp Schlössmann mounted it as a vehicle for the Finnish soprano Karita Mattila, in her first go at the role. Mattila was perfect, and so is Michael, whose dramatic soprano has cream and lyrical lilt, plus an insistent and clarion sound, for a three-dimensional portrayal.
Even if the rest of the cast didn't quite reach that sensational level, they all made worthy foils and sang with character and musical aptness. As Dr Kolenatý, the lawyer, baritone Dale Travis is the only holdover from the 2010 ensemble. His acting hit the right tone of stuffiness and literalness, but the passion in his voice when he addressed Emilia carried the warmest of timbres.
Kolenatý is the most recent generation of several that represent the Gregor family in the 100-year-old probate case against the noble Prus family. As Albert Gregor, the current plaintiff who's down on his luck, Charles Workman wielded a vibrant tenor and dashing good looks, transmitting how much he is immediately smitten with Emilia—and the promise she brings of winning his case. We learn, as the science fiction-tinged plot unfolds, that she was an intimate part of both the Prus and Gregor families.
As Emilia uses her wiles to entice one character after another into helping her regain possession of the alchemic formula that has bestowed her longevity, they fall under her spell despite initial resistance. First the lawyer, the lawyer's assistant, Vitek (tenor Joel Sorensen in a marvelous comic-dramatic turn), then Baron Prus (sung with resonance by baritone Stephen Powell). Eventually, Janek, Prus' son, succumbs and agrees to steal the envelope with the formula. Brenton Ryan, wielding a marvelous lyric tenor, invested Janek with just the right amount of naïveté.
As Janek's fiancée Krista, soprano Julie Adams hero-worships Emilia as an opera star and the wonder in her voice was audible when she agonized over whether she can ever sing as well. Tenor Matthew O'Neill gave Count Hauk-Sendorf—an old flame of Marty's when she was Eugenia Montez—a nice comic style, singing with extra freshness when he realized Marty's identity.
What was utterly magical about this was how it all came together seamlessly, fastening its parts together into a machine that kept gaining momentum through the three short acts until it reached a blazing climax. After last June's brilliant Jenůfa, San Francisco Opera has polished a strong reputation for Janáček. The company has not done Káťa Kabanová since 2002. Maybe it's time.
Harvey Steiman