Investec Opera Holland Park's Casts for the 2017 Season
29/11/2016
Investec Opera Holland Park announces casts for 2017 season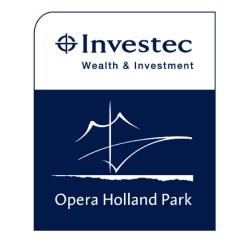 Opera Holland Park's 2017 casts will feature longstanding Opera Holland Park (OHP) performers, house debuts from established names, and emerging talent, including many young British performers who have benefitted from OHP's Young Artists Scheme.
The season will open with Puccini's La rondine, which celebrates its centenary in 2017. The swallow of the title, Magda, will be played by Elizabeth Llewellyn, who has previously appeared at OHP as the Countess in Le Nozze di Figaro (2011) and Fiordiligi in Così fan tutte (2012). The Armenian soprano Tereza Gevorgyan makes her OHP debut as Lisette and David Stephenson, who played Sharpless in OHP's 2013 production of Madama Butterfly, returns as Rambaldo Fernandez. The production also features Stephen Aviss and Alice Privett, who trained on the Young Artists Scheme at OHP in 2016. Matthew Waldren – now Mackerras Fellow at English National Opera – will be conducting, and Martin Lloyd-Evans directing, both OHP stalwarts; and takis, who designed the sparkling Die Fledermaus in 2016, will return.
Ashley Riches, recently announced as a BBC Radio 3 New Generation Artist, will make his OHP debut in the title role of Mozart's Don Giovanni. He's joined by another former Jette Parker Young Artist, Lauren Fagan, in the role of Donna Anna. Three stars of the 2016 season return: Ben Johnson as Don Ottavio, Victoria Simmonds as Donna Elvira and John Savournin as Leporello. Three members of 2015 casts also return: Graeme Broadbent as Il Commendatore, Ellie Laugharne as Zerlina and Ian Beadle as Masetto. OHP's critically acclaimed 2016 production of La Cenerentola, now playing in Denmark in a co-production with Danish National Opera, featured the creative team of Dane Lam conducting, Oliver Platt directing and Neil Irish designing, and they once again join forces for Don Giovanni.
Olivia Fuchs returns to direct a revival of her 2009 production of Janáček's Káťa Kabanová, deemed by The Financial Times "one of Opera Holland Park's finest achievements". The lovers Káťa and Boris will be played by Julia Sporsén and Peter Hoare – who makes his OHP debut, as does Anne Mason, playing Kabanicha. Nicky Spence, who last appeared at OHP in 2010 and has since been developing a significant international career, is eagerly anticipated as Tichon; and Mikhail Svetlov and Laura Woods return from 2016. The world-renowned conductor Sian Edwards makes her OHP debut and Yannis Thavoris is the designer.
OHP has a long tradition of exploring rare operas from the late Italian 'verismo' period and in 2017 adds Leoncavallo's Zazà to its repertoire. After her resounding success in 2016's Iris, Anne Sophie Duprels once again takes the title role. She's joined by a number of other performers lauded in the 2016 season, including James Cleverton, Johane Ansell and Richard Burkhard. Peter Robinson, who conducted The Queen of Spades in 2016, returns to the podium. Director Marie Lambert makes her debut at OHP and the set designer is Alyson Cummins.
OHP's specially commissioned family opera, Alice's Adventures in Wonderland by Will Todd, will celebrate its fifth year at OHP in 2017, with the cast to be announced soon. There have been 60 performances to date, all of which have sold out. OHP was the first opera company in the UK to introduce 'relaxed' performances, and each summer a special performance is staged for children who find public environments challenging to enjoy Alice with their families.
In 2017 the Young Artists performance will be of Don Giovanni on 22 June, a chance to see some of the opera world's rising stars. Details of this and the Royal Ballet School's annual performance will be released soon. City of London Sinfonia will be the house orchestra for the 14th year running, joined by the Opera Holland Park Chorus, who received high praise during the 2016 season.
Michael Volpe, General Director, Opera Holland Park, looks ahead to the 2017 season:
"After a superb season at OHP in 2016, we are eagerly anticipating our second season under independence. We have had magnificent support from our audiences and we hope and expect to have their companionship on the next phase of this exciting journey. I am looking forward to the immense creativity our artists will bring to the summer."
James Clutton, Director of Opera, Opera Holland Park, sums up his personal highlights of the coming season:
"I can't wait to get Zazà on stage at last with Anne Sophie Duprels in the title role, and to see our magnificent production of Káťa back here again. We're proud to continue to champion the best operatic talent in the country, welcoming young British singers including Lauren Fagan and Ashley Riches for Don Giovanni and inviting back Elizabeth Llewellyn for La rondine. With three new productions and a revival on our main stage, as well as a fifth run of Will Todd's family opera Alice's Adventures in Wonderland, it promises to be another season to remember."
Opera Holland Park's 2017 season will run from 1 June to 29 July. Tickets will be available from January. For further information about Opera Holland Park and the 2017 season please visit www.operahollandpark.com.
Investec Opera Holland Park 2017
1 June – 29 July
La rondine by Giacomo Puccini
New Production
1, 6, 8, 10, 13, 15, 17, 23 June 2017 at 7.30pm
£77/£71/£63/£53/£18 (INSPIRE)
| | |
| --- | --- |
| Magda de Civry | Elizabeth Llewellyn |
| Lisette | Tereza Gevorgyan |
| Prunier | Stephen Aviss |
| Rambaldo Fernandez | David Stephenson |
| Périchaud | Henry Grant Kerswell |
| Gobin | Timothy Langston |
| Crébillon/Rabonnier | Alistair Sutherland |
| Yvette/Georgette | Pia Harris |
| Bianca/Gabriela | Alice Privett |
| Suzy/Lolette | Sophie Dicks |
| Voce di Sopranino | Alys Roberts |
| Un Maggiordomo | Jon Shaw |
| | |
| Conductor | Matthew Waldren |
| Director | Martin Lloyd-Evans |
| Designer | takis |
Don Giovanni by Wolfgang Amadeus Mozart
New Production
3, 5, 7, 9, 14, 16, 18 (matinee at 2.00pm), 20, 22 (Young Artists), 24 June 2017 at 7.15pm
£77/£71/£63/£53/£18 (INSPIRE)
Young Artists Performance tickets: £30/£28/£25/£22/£18 (INSPIRE)
| | |
| --- | --- |
| Don Giovanni  | Ashley Riches |
| Leporello | John Savournin |
| Donna Anna  | Lauren Fagan |
| Don Ottavio | Ben Johnson |
| Donna Elvira  | Victoria Simmonds |
| Il Commendatore  | Graeme Broadbent |
| Zerlina  | Ellie Laugharne |
| Masetto  | Ian Beadle |
| | |
| Conductor | Dane Lam |
| Director | Oliver Platt |
| Designer | Neil Irish |
Kát'a Kabanová by Leoš Janáček
Revival
15, 19, 21, 26, 28 July 2017 at 8.00pm
£70/£65/£59/£49/£18 (INSPIRE)
| | |
| --- | --- |
| Kát'a Kabanová  | Julia Sporsén |
| Kabanicha | Anne Mason |
| Boris | Peter Hoare |
| Tichon | Nicky Spence |
| Varvara | Clare Presland |
| Váňa Kudrjaš  | Paul Curievici |
| Savël Prokofjevic Dikój | Mikhail Svetlov |
| Glaša  | Laura Woods |
| Fekluša | Polly Leech |
| Kuligin  | Ross Ramgobin |
| | |
| Conductor | Sian Edwards |
| Director | Olivia Fuchs |
| Designer | Yannis Thavoris |
| Lighting Designer | Colin Grenfell |
Zazà by Ruggero Leoncavallo
New Production
18, 20, 22, 27, 29 July 2017 at 7.30pm
£70/£65/£59/£49/£18 (INSPIRE)
| | |
| --- | --- |
| Zazà | Anne Sophie Duprels |
| Anaide | Louise Winter |
| Cascart | Richard Burkhard |
| Bussy  | James Cleverton |
| Floriana | Johane Ansell |
| Natalia | Ellie Edmonds |
| Duclou | Eddie Wade |
| Augusto | Michael Bradley |
| Claretta | Alexandra Stenson |
| Simona | Charlotte Hewett |
|   | |
| Conductor | Peter Robinson |
| Director | Marie Lambert |
| Set Designer | Alyson Cummins |
| Costume Designer | Camille Assaf |
| Lighting Designer | Mark Jonathan |
Comments