Ireland Donizetti, Maria de Rudenz: Wexford Festival Orchestra and Chorus / Andrew Greenwood (conductor), O'Reilly Theatre, National Opera House,, Wexford, 3.11.2016. (JMI)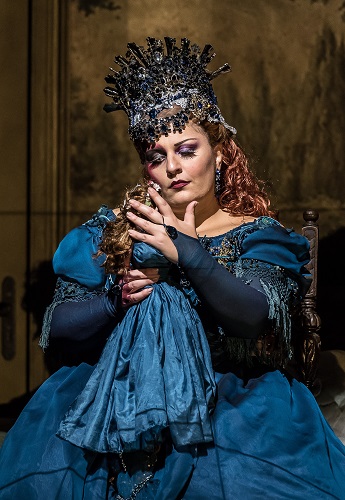 Cast:
Maria de Rudenz – Gilda Fiume
Corrado – Joo Won Kang
Enrico – Jesús García
Matilde – Sophie Gordeladze
Rambaldo – Michele Patti
Production:
Director – Fabio Ceresa
Sets – Gary McCann
Costumes – Giuseppe Palella
Lighting – Christopher Akerlind
The 2016 Wexford Festival Opera is coming to an end with this Donizetti work. Like the other works featured at the festival, it is rarely performed ̶ and, in this case, there are good reasons for that.
Maria de Rudenz premiered in Venice in 1838, and was one of the last operas Donizetti wrote before settling in Paris. The opera was ill received at its premiere, and criticism of it focused on two aspects: the lack of inspiration on the part of the composer and the unbelievable libretto. What is surprising is that this poor text is by Salvadore Cammarano who, along with Felice Romani, was one of the best librettists of the period.
The plot is brimming with baffling events and details: duels between brothers, stabbings, ghosts, murders, and the like. These are generally incomprehensible, and one must also admit that many of Donizetti's other operas are more interesting in musical terms.
The new production is directed by Fabio Ceresa and, truthfully, it's hard to say if he's staging a comic work or a serious one. There are several dolls on stage, manipulated by the singers, and these movements, which seem to mimic situations in the plot, are greeted with laughter by the public. On the stage, the façade of a palace or castle opens to reveal various mobile modules containing different rooms and staircases, like a doll house, and it is here where much of the drama takes place. The problem is that those cubicles are very small and barely allow the artists to move. The costumes are a bit odd for the soloists but even more so for the chorus members who resemble ghosts. The stage direction is not very convincing: it seems as though Fabio Ceresa is putting the main focus on the movement of the dolls.
The musical reading by British conductor Andrew Greenwood was not entirely convincing. He maintained control but showed little inspiration. The Orchestra did well but not as well as on the previous day, and the chorus gave their weakest performance of the festival.
Maria de Rudenz was interpreted by Italian soprano Gilda Fiume, who left a positive impression. She is a full lyric soprano with an ample voice that suits the character and fine piani.
Corrado requires a kind of Verdi baritone and is the character who has the most to sing throughout the opera. The role was played by Joo Won Kang, who has an attractive and important voice. I found him somewhat monotonous in his singing during Act I, but he improved in the next two acts.
Tenor Jesus Garcia as Enrico has a certain appeal in his middle range, although it's somewhat reduced in size, but his biggest problem is tightness in the upper area.
Mezzo-soprano Sophie Gordeladze as Matilde does not have a particularly attractive timbre and is rather shrill at the top. Michele Patti in the role of Rambaldo was generally modest.
José M. Irurzun