United Kingdom Puccini, Il tabarro and Suor Angelica: Soloists, Chorus and Orchestra of Opera North / Jac Van Steen (conductor), The Lowry Theatre, Salford Quays, 11.11.2016. (RJF)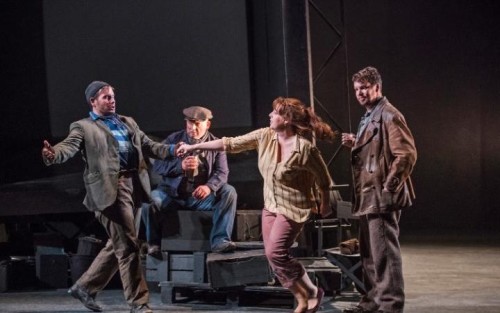 Il tabarro
Cast:
Giorgetta – Giselle Allen
La Frugola – Anne-Marie Owens
Luigi – David Butt Philip
Michele – Ivan Inverardi
Tinca – Stuart Laing
Songseller – Nicholas Watts
Talpa – Richard Mosley-Evans
Off-stage lovers – Marie Claire Breen & Alexander Banfield
Production:
Director – David Pountney
Revival Director – Michael Barker-Caven
Set Designer – Johan Engels
Costume Designer – Tom Pye
Lighting Designer – Mark Doubleday
Suor Angelica
Cast included:

Suor Angelica – Anne Sophie Duprels
La Zia Principessa – Patricia Bardon
Suor Genoveva – Soraya Mafi
Suor Osmina – Katie Bird
Suor Dolcina – Sarah Estill
La Badessa – Fiona Kimm
La Suora Zelatrice – Louise Collett
La Meastra della novizie – Claire Pascoe
La Suora Infermiera – Amy J Payne
1st Cercatrice – Gillene Butterfield
2nd Cercatrice – Anna Barry
Production:
Director – Michael Barker-Caven
Set and Costume Designer – Hannah Clark
Lighting Designer – Mark Doubleday
To conclude this season of twentieth century operatic works, Opera North chose two of Puccini's 1918 triptych of one act works that conclude with the comedy Gianni Schicchi, perhaps intended to leaven an evening of death and drama but omitted here. All the three works are in the verismo, real life tradition and also through composed, meaning the music is not frequently interrupted by arias or duets for vocal display, an exception being in the last of the triptych with the aria 'O mio babbino caro' (O my beloved father) much favoured by lyric sopranos in recitals but not, as noted, included here – although the evening would have been no longer than that for Der Rosenkavalier two nights earlier if it had been.
I did not see much of a skip in a warehouse in the set of Il tabarro, more the inside of a steel ship container except it had an unseen lower level from which Luigi, Tinca and Talpa carried sacs out and up some rear stairs. Largely meaningless, certainly nonrepresentational, but functional for the unfolding story except for any, even simple, representation of Paris that the libretto demands. But modern producers and set designers do not worry too much about the words matching what we see!
Italian Ivan Inverardi as the cuckolded husband Michele in his Opera North debut sang strongly. By stature a big man whom I might have expected to be a bass. In reality his fach is dominated by Verdi baritone roles. How does he conjure up the hunchback Rigoletto I wonder? But it seems to be his signature role. Perhaps there is hope of Opera North audiences seeing some productions of the Italian master's compositions again soon; their absence recently makes this heart yearn. As far as this Puccini role is concerned he portrayed it well as actor and singer, his lumbering, pipe-smoking stance and movement, always threatening the atmosphere around the gaping mouth and space of the container. And on its top. Giselle Allen sang and portrayed the unfaithful wife to perfection, singing strongly when required whilst also introspectively expressing her worries and doubts about her future. As her lover, who only partly deceives his employer by saying he wants to go to Rouen, David Butt Philip in his second role for Opera North showed up well with strong singing and committed acting. In the cameo role of La Frugola, veteran Anne-Marie Owens was characterful and vocally dependable. On the rostrum Jac van Steen was in full, control of Puccini's orchestration in its various moods for both operas.
The set for Suor Angelica was simple, but more realistically related than its partner to the story, just a wall with church windows. Outside the nuns chatter and socialize, moving inside for religious duties. Among their number is Angelica, sent to the convent after giving birth to an illegitimate child with the child being taken from her. She constantly pines for news of her family and child. A visitor is scheduled and she waits in anticipation and hope of news of her family and the child she yearns to see and hear about. The visitor arrives dressed in smart haute couture and shoes that reek of money. With hips swaying she struts about the stage in her high heels and tells Angelica, bluntly that the child has died. Well sung and acted by Patricia Bardon she is the moneyed bitch to perfection. As Angelica, French soprano Anne Sophie Duprels, a regular visitor to Opera North, sings and acts to such news as one would expect and brings tears of sympathy among a generous audience, particularly considering there was international football on television at the time! Angelica's desperate final soliloquy is heartbreaking as she first takes poison to kill herself and then realizes this is a mortal sin in the sight of God. She begs forgiveness from the Virgin Mary at which point one of the most poignant finales I have ever seen takes place with a brightly lit rose window showing a sequential kaleidoscope of images including that of a foetus and then a child. At this point Angelica dies, but is shown divesting her clothes and walking, nude, towards the redemption offered by the light and to meet her child at last.
Robert J Farr