United Kingdom J.S. Bach, Boyce, Finzi, Haydn: Elaine Cocks (clarinet), Peninsula Arts Sinfonietta / Simon Ible (conductor), Minster Church of St Andrew, Plymouth, 12.11.2016 (PRB)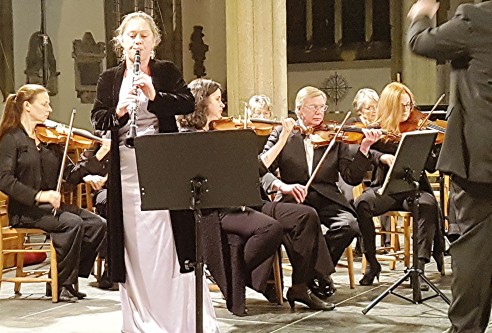 J.S. Bach – Brandenburg Concerto No.3 in G major
Boyce – Symphony No.4 in F major
Finzi – Concerto for Clarinet and Strings; Romance for String Orchestra
Haydn – Symphony No.44 in E minor, 'Trauer'
Since 1998, in the absence of any regular Plymouth visits by the Bournemouth Symphony Orchestra – the closest professional orchestra towards the other end of the south coast – Ten Tors Orchestra has singlehandedly brought quality symphonic performances to the area, Until recently it was the resident professional ensemble of Peninsula Arts at Plymouth University, but in an ever-changing world, both politically and musically, it has relinquished its academic ties, and will cease to function, as such, early next year.
But the good news is that, by the wonders of rebranding, it has risen again like the proverbial phoenix meanwhile, as Peninsula Arts Sinfonietta, where it will largely continue in much the same vein – featuring traditional classical works, as well as exploring innovative and experimental pieces borne out of the University's world-leading research, for example, at next February's annual Contemporary Music Festival.
The programme for its inaugural concert, entitled 'Gerald Finzi: Discovering his Musical Passions', focused on the works of this quintessentially 'English' composer. While strongly-influenced by folk music, he also had a passion for masters of the German and English Baroque, particularly Bach and William Boyce. This clearly influenced the choice of repertoire, while ever mindful of the financial necessity of squeezing the maximum from the minimum resources.
For Bach's Brandenburg Concerto No.3, conductor Simon Ible – Director of Music of Peninsula Arts – made a wise decision to bring the string section as close to the nave as possible, and which further allowed violins and violas to play standing, in true Baroque fashion. This greatly added to the immediacy and excitement of the performance, where leader Lindsay Braga ensured that the ensemble was taut, and both dynamics and balance well-considered throughout. This is particularly relevant given the interesting scoring of violins (3), violas (3), cellos (3), and single bass, where sometimes all ten parts play together, but equally groups of three are contrasted antiphonally. There was a real energy in the opening Allegro Moderato, which only the sheer exhilaration of the gigue-finale could exceed.
Rejigging in conventional orchestral format, now with oboes and horns added, and moving back to their usual playing position, Peninsula Arts Sinfonietta gave a sprightly and well-disciplined performance of Boyce's charming Symphony No.4 in F. Here again balance was carefully maintained to allow the wind contribution to penetrate the texture, but never overpower it, and there was indeed some distinguished playing from both woodwind and brass. Here was a suitably light reading that caught the style and period to perfection.
Of course, with a programme ostensibly about Gerald Finzi, there could scarcely have been a more compelling inclusion than his Concerto for Clarinet and Strings. Written during 1948-49, it was commissioned by the Three Choirs Festival, and designed as a tribute to the artistry of one of the leading clarinettists of the time, Frederick Thurston, who gave the first performance at Hereford in 1949. Typical of the composer, the opening Allegro vigoroso begins with a terse and harmonically-troubled orchestral tutti, yet the clarinet's first solo entry is that of piece and calm, with an almost Bach-like melody. Elaine Cocks proved Thurston's true successor, both here, in the peaceful tranquillity of the ensuing Adagio ma senza rigore, and in the sheer exuberance of the final Rondo (Allegro giocoso). At times immensely powerful in tone, though never overdone, equally sensitive in quieter moments, where breath control was especially impressive, and with unbridled virtuosity despatched with great élan, this was a quite superb performance from everyone concerned.
From the thrill of his Clarinet Concerto, the Romance for String Orchestra, a perfect example of the composer in his most lyrical and contemplative, nevertheless followed on seamlessly, such was Ible's heartfelt empathy with Finzi, which he so sensitively conveyed to his players, who then responded with an emotionally-charged reading that enshrined the music of someone who had lost his father and three of his brothers all before his eighteenth birthday.
Despite this being the first concert of hopefully a fresh era of orchestral music in the city, Peninsula Arts Sinfonietta turned to what their predecessor Ten Tors Orchestra often did with such aplomb, when choosing their closing work – something from the classical symphonic repertoire of Mozart or his contemporary Haydn. In this case they opted for one of the latter's 'Sturm und Drang' (Storm and Stress) symphonies, No.44 in E minor, 'Trauer'. From the pure drive and darker-hued intensity of the outer movements, to the muted strings of the slow Adagio and the contrapuntal niceties of the Menuetto (Allegretto), an example of a 'Canon in Diapason' – simply meaning that the lower strings follow the line of the upper ones, one bar behind, and an octave lower – this was a well-poised performance, which brought this most agreeable evening's music-making to an effective close.
Clearly the new ensemble will simply take over where Ten Tors Orchestra left off, for, despite its rebranding, it's essentially the same personnel, with the same musical aims and objectives. But it was also an auspicious start for Peninsula Arts Sinfonietta, particularly apt in a city church that was burnt out in the blitz of 1941 to leave a roofless shell, and where a board bearing the word 'Resurgam' – I shall rise again – appeared over the north door, and remains there to this day.
Philip R Buttall