United Kingdom Finzi, Tchaikovsky, Elgar, Mendelssohn: Three Spires Singers and Orchestra, Christopher Gray (conductor), Rebecca Bottone (soprano), Kay Deeming (soprano), David Webb (tenor), Barbara Degener (cello), Truro Cathedral,  26.11.2016. (PRB)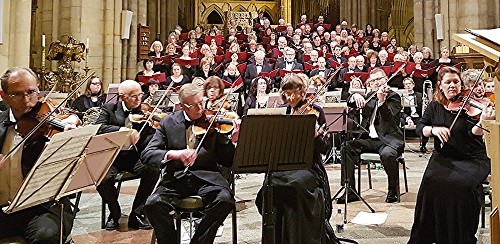 Finzi – God is Gone Up
Tchaikovsky – Variations on a Rococo Theme Op.33
Elgar – Give unto the Lord
Mendelssohn – Symphony No.2 'Lobgesang'
Back in the summer I made my first trip down to Cornwall's impressive Truro Cathedral to hear the Three Spires Singers in an all-Brahms programme. In my review of the event I wrote quite extensively about the history of the building, and its all-round importance to the county's only city. That particular programme combined a substantial vocal work, with an appropriate instrumental one, a formula that can offer a welcome alternative to concerts where it's wall-to-wall singing. It also has an in-built benefit to the singers, most, if not all of whom are amateur, rather than professionally-trained, in terms of giving some respite during an otherwise long haul.
This, of course, is possible only when the vocal works are short, or not totally stand-alone, and again it worked a treat here on this occasion, too. Conductor Christopher Gray, Director of Music at the Cathedral, had picked a well-balanced, eminently varied programme, placing essentially similar demands on both his resources – vocal and orchestral. To emphasise that this concert was presented by Three Spires Singers and Orchestra, the choir both topped and tailed the evening, with Finzi's God is Gone Up providing a perfect starter. From the opening bars, here, once more, was a well-disciplined choir, clear in diction, and capable of fine tone quality at both ends of the dynamic spectrum. While it would be invidious to single out any one group of singers, the exhilaration and fine attack of the young-sounding soprano voices really added that all-important zing to the mix – sometimes a thornier problem to overcome, unless there is a continuing influx of new blood and members. In fact this choir has great strength across all four voices, and with a men's section that exceeds expectations, when compared with many similar amateur ensembles.
Local soloist, German-born cellist Barbara Degener proved an ideal protagonist in Tchaikovsky's Rococo Variations – an essentially happy work by the composer, written just before his disastrous and short-lived marriage took place. Not a standard concerto in its own right, the work still makes significant technical demands on the player, who needs the ability to manoeuvre their instrument like a violinist, but on something more than twice its size. Yet with all this necessary virtuosity, never is there a sense of display simply for its own sake, it is so much more intimate a confection. To this effect, soloist, orchestra, and conductor combined so seamlessly in a reading that totally addressed what the music was all about, and lovingly communicated this to the audience – surely the responsibility of all true performers.
Elgar's Give unto the Lord was the last piece the composer completed before the outbreak of World War I. There is some rich inner-part writing, the work is well crafted for the orchestra and the gentle and soft unaccompanied singing in the central section all contribute to the work's appeal – again everyone simply gave their all. I had previously addressed the issue of balance where, so often, an orchestra, brought in for the final performance, can virtually decimate all the singers' hard work in preparation, simply by playing too loudly. At the time Gray's solution was just to ask his orchestra to observe the necessity for dynamic awareness – and this is again exactly what happened here. Gray asks for, and gets the highest professional standards, but achieves this in such an easy-going manner. This, then, simply comes across as everyone thoroughly enjoying what they're doing on the day. Of course, having such a superb venue to work in must help, as there's nothing more satisfying than hearing the remaining strains of a final organ-chord linger momentarily after choir and orchestra have had their say, too.
Mendelssohn's Lobgesang has something in common with Beethoven's Choral Symphony in terms of its four-movement design. But whereas with Beethoven, the first three movements are substantial, and the finale involves voices only as it runs its course, with Mendelssohn, the first three are relatively less important in the overall scheme of things, while the finale – longer than the three preceding movements put together – could be considered a standalone cantata, or even mini-oratorio. As such, then, it emerged the absolute perfect vehicle to conclude such an effective mix of voice and instruments so far.
Many choirs rely on a regular pot of local orchestral musicians from which to draw. This has the advantage that sections and sub-sections often comprise colleagues who have worked together previously, which helps somewhat in the usually limited final rehearsal time with the singers. Some choirs will favour a regular leader, while others will invite different players from further afield. On this occasion, it was an absolute revelation to watch leader Nick Whiting (BBC National Orchestra of Wales) literally do his job. His contribution, drive, concern for other desks, was riveting, and really seemed to empower the whole orchestra to play beyond themselves. Nowhere, for example, was Whiting's contribution more telling than in the opening movement with its leaping first subject, which he literally took by the scruff of its neck, his players then simply following by example.  Gray crafted a charmingly lilting second movement, which could easily have had the congregation on their feet, gently dancing in time to the music, and which contrasted perfectly with the sweetness and calm of the ensuing Adagio religioso, that led to the finale, the so-named Lobgesang (Hymn of Praise).
Unsurprisingly this drew the very best from each choir-member and orchestral player. Because the choir's input so far had involved just two shorter works, there was more than sufficient left in the tank to do justice to this great piece of Mendelssohn, which doesn't get the exposure it perhaps deserves, because of its hybrid nature, and implications for programming. To do justice, though, would be something of an understatement, for everyone pulled out all the stops – and not just Cathedral organist Luke Bond – to ensure that this was a performance to be long remembered. Tenor soloist David Webb was in fine voice throughout, and if the two sopranos – Rebecca Bottone and Kay Deeming – couldn't match him in terms of production, delivery, or simply tone, together their singing helped in making a telling contribution to the evening's unmitigated success overall.
Philip R Buttall