Sweden Bizet, Carmen: Soloists and Chorus of Gothenburg Opera, dancers, children's choir, Gothenburg Opera Orchestra / Karen Kamensek (conductor), Gothenburg Opera main stage, 25.11.2016 and 3.12.2016. (NS)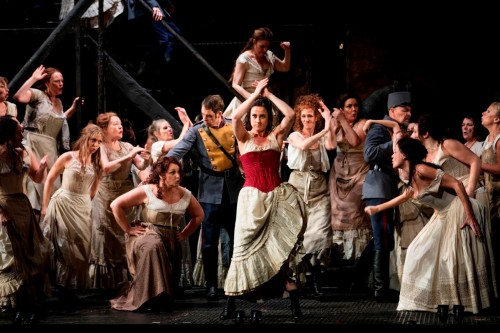 Director: Marie Lambert – Choreographer: Sirena Tocco – Conductor : Karen Kamensek
Cast:
Carmen – Katarina Giotas
Don José – Joachim Bäckström
Escamillo – Daniel Hällström
Micaëla – Julia Sporsén (25.11.2016), Frida Engström (3.12.2016)
Dancaïre – Mattias Ermedahl
Remendado – Markus Pettersson
Zuniga – Anders Lorentzson
Moralès – Karl Peter Eriksson
Frasquita – Mia Karlsson
Mercédès – Ann-Kristin Jones
Lillas Pastia – Jérôme Delbey
A guide – Miklós Taliga
Production:
Glyndebourne Opera Festival (2002). Production team in Gothenburg in brackets when different.
Director – David McVicar (revived by Marie Lambert)
Set design – Michael Vale
Costume design – Sue Blane
Choreography – Andrew George (recreated by Sirena Tocco)
Lighting design – Paule Constable (recreated by Clare O'Donoghue)
Stunt choreography – Nicholas Hall
The Gothenburg Opera last performed Carmen in 2000 so the return of Bizet's masterpiece was eagerly awaited. Choosing to revive David McVicar's famous 2002 Glyndebourne production (DVD reviewed on MusicWeb International) with an almost entirely Swedish cast* has turned out to be a great success.
The production is visually exciting, full of sunshine and Spanish atmosphere. Sue Blane's wonderful period costumes are a vital part of this, and Michael Vale's sets are especially effective as Lillas Pastias' inn in Act II (the split-level stage gives a real sense of the hot and sweaty atmosphere of the dancing and the seething crowd around Escamillo) and a sun-drenched Seville in Act IV. My only disappointment is that smaller size of the Glyndebourne stage made the Act I set rather claustrophobic; the action is pushed up to the front of the stage and there is little sense of a public square.
That quibble aside, there is a lot to praise. The production uses the original dialogue rather than the later recitatives, which fleshes out the plot, gives more depth to the minor characters and allowed the cast to show off their remarkably good French. The choreography was superb in both conception and execution. Just a couple of examples: the opening of Act II ('Les tringles des sistres tintaient') grew effortlessly from Carmen's song to a frenzy of dancing where singers and dancers could not be told apart. The pageantry of the entry of the bullfighters in Act IV was also exquisite.
Without exception the cast gave strong performances in the minor roles. In particular, Mia Karlsson (Frasquita) and Ann-Kristin Jones (Mercédès) gave their characters individuality beyond simply being Carmen's sidekicks. Jérôme Delbey's Lillas Pastia, Markus Pettersson's Remendado and (most of all) Anders Lorentzson's Zuniga had a great sense of comedy, in particular in the spoken scenes.
On the opening night disaster struck as Julia Sporsén (Micaëla) was down with a cold and her cover had lost her voice. Ms Sporsén was able to sing the first act but then lost her voice too, forcing a hurried cut of her aria from Act 3 with her lines in the ensemble sung by the conductor! By 3 December a replacement was found in Frida Engström (reviewed by your correspondent as Sara Videbeck in Det går an) who learned her part in four days. The result was remarkable: her luminous singing showed Micaëla's inner strength and poise and she fitted into the staging seamlessly.
Daniel Hällström made a terrific Escamillo, with his brilliant but warm baritone both radiating the toreador's pride and conveying real expression. His stature and the size of his voice gave him an immediate authority. 'Votre toast' was the telling of a gripping story with vocal nuance and sensitive interaction with the crowd and characters around him. Mr Hällström's Escamillo is the most sympathetic male character in the opera: he is the only man who always treats Carmen with respect and never objectifies or bullies her.
Joachim Bäckström captivated as Don José in only his second role at the Gothenburg Opera (his first was Laertes in Hamlet). His bright tenor sounded like a clarion all the way to the top notes, but was equally capable of sublime emotion in 'La fleur que tu m'avais jetée'. Mr Bäckström's acting explored the contradictions of Don José's character, with flashes of his jealous and violent side showing before the terrifying eruptions of the last two acts, but also a believable understanding of the sense of duty that so bitterly disappoints Carmen in Act II.
Katarina Giotas impressively projected Carmen's pride and independent spirit. Not only did she have incredible personal magnetism, she also conveyed her emotional vulnerability in Act II when she lets her guard down only to feel betrayed by Don José leaving to attend the roll-call. Her clear and well-focussed mezzo blended wonderfully with Joachim Bäckström's tenor, and had a wide range of authentically Gallic expressive colours. She effortlessly held centre-stage, even dancing with elegance and fire. The final confrontation was searing in its intensity.
Niklas Smith
* Towards the end of the run the conductor and some soloists change. From mid-January onwards Eva Ollikainen conducts, Don José is sung by Noah Stewart and Escamillo by Mats Persson. In February Géraldine Chauvet replaces Katarina Giotas as Carmen.