United Kingdom Strauss and Wolf: Anne Schwanewilms (soprano), Malcolm Martineau (piano). Wigmore Hall, London. 5.12.2016. (JPr)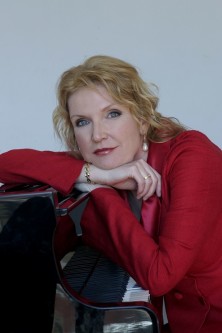 Strauss – 'Traum durch die Dämmerung' Op.29 No.1; 'Nachtgang' Op.29 No.3; 'Du meines Herzens Krönelein' Op.21; 'Ach Lieb, ich muss nun scheiden' Op.21; 'In goldener Fülle' Op.49 No.2; 'Wer lieben will, muss leiden' Op.49 No.7; 'Ach, was Kummer, Qual und Schmerzen' Op.49 No.8; 'Blauer Sommer' Op.31 No.1; 'Weisser Jasmin' Op.31 No.3; 'Das Rosenband' Op.36 No.1; 'Drei Lieder der Ophelia' Op.67; 'Die Nacht' Op.10 No.3; 'Geduld' Op.10 No.5
Wolf – Mörike Lieder: 'Das verlassene Mägdlein'; 'Wo find ich Trost?'; 'Der Genesene an die Hoffnung'; 'Im Frühling'; 'Gesang Weylas'; 'Verborgenheit'
I suspect my review of Anne Schwanewilms singing Strauss's Four Last Songs  in 2007 was my first encounter at a concert with this celebrated soprano singing some of the German late-Romantic repertoire she has become famous for. I haven't heard her sing for some time and since I hope to be in Bayreuth next summer for her return there for the first time since 1998 – when she will sing Eva – this rare London recital seemed unmissable. Though the Wigmore Hall was far from full her supporters were out in force. I did overhear someone say they had heard her sing much of this programme before, but I guess that is the nature of a Lieder recital; there are only so many songs which can be sung for a particular voice.
Looking at Anne Schwanewilms' schedule on her website she has not been singing as much as you might expect recently: I wonder whether the hiatus has been of her own choosing or for some other reason and for me her voice never really warmed up the entire recital. She looked wonderful in her vivid red evening dress and coming onto the platform caused a loud gasp of admiration from someone behind me. She wasn't entirely in control of the dynamics of her voice – at least for the relatively small Wigmore Hall – and there was something of a bleached, featureless tone to most of what she sang and sometimes she was challenged by Strauss's high tessitura. She stands very still and – unless singing a humorous Lied – is content to let her voice do the talking.
The programme was mainly Strauss songs interspersed with six by Wolf. Wouldn't it be fascinating to have recordings of Strauss's wife, Pauline, who performed many of these songs with her husband on their frequent recital tours until her retirement in 1906? He said 'She sang my songs with an expression and a poetry such as I have never heard since' and he considered Pauline had the ideal voice for his songs. Like Schwanewilms she was a lyric soprano who also sang Elsa and Elisabeth; the latter at Bayreuth. Fine as many of Schwanewilms' performances of the all the songs were, I missed some 'expression' and 'poetry' as well as typical Strauss radiance and voluptuousness.
It is reported that Strauss wrote over 200 songs and what Schwanewilms sang was a selection from the years 1895 (when I doubt he was 'A child prodigy in Mozart's league' as the programme note suggested) to 1918. She began with the dreamy nocturne 'Traum durch die Dämmerung' (Dream into dusk). It was clear from this very first song that Strauss's settings were best when he had texts from great poets to work with, which – basing it on the selection we heard – was not that often. Only in songs like 'Das Rosenband' (The rose garland) did the music really match the quality of the words, here by Klopstock. Lieder from – as Richard Wigmore's programme note described them –  a 'forgotten hack versifier' were often less musically inspired. This was made clear by Malcolm Martineau's attentive, understated accompaniment; he simply followed his singer's lead during most of the recital and had little himself to add. Schwanewilms never really seemed to deeply explore the emotion or drama of the songs and I was surprised – since she is a former mezzo – that there was a lack of warmth to her singing.
I enjoyed best the three Ophelia songs of Opus 67, written rapidly in 1918 to settle a dispute with one of his publishers. His setting of Karl Simrock's translations of Shakespeare makes Strauss use a more inventive and quasi-impressionistic idiom to depict his character's madness. Another highlight was the rare hint of humour – amongst all the introspection, love and loss – in the delightful 'Ach, was Kummer, Qual und Schmerzen' (Ah, the grief, the torment, the pain) which was more like an opera scena as it is about a young girl trying to keep her feelings for her lover in check. There was much byplay with Martineau's accompaniment, particularly during her repeated 'hm, hm', and Schwanewilms threw open her arms at the end but I wasn't certain whether the girl had succumbed or not. 'Geduld' (Patience) is something of the antithesis of that song and tells of a young man who is definitely challenging his beloved's resistance and wants her to give into him before youth and springtime passes; with the text mentioning falling petals and funerals. Each verse is more despairing than the last and it received a suitably impassioned performance from Schwanewilms and was a fitting end to the official programme.
Wolf's six Mörike songs explored many of the themes of – courtesy of the programme note – 'erotic love, love spirtualised and idealised, love lost or betrayed' familiar from Strauss and so did not bring much variety to what we were hearing. Wolf, like Strauss, was a master at setting texts and portraying their meaning – whether single words or in their entirety – through rhythm and harmony. Schwanewilms was able seamlessly to shift mood back and forth from loss sung about in 'Das verlassene Mägdlein (The forsaken servant girl), 'Wo find' ich Trost?' (Where shall I find comfort) and 'Verborgenheit' (Seclusion) to the yearning evocation of a spring day with 'Im Frühling' (In spring).
Another Wolf Mörike song 'Selbstgeständnis' (Self-confession) brought us the voice of a child reflecting on her family and was the only encore to this low-key recital from Anne Schwanewilms. However, I look forward very much to seeing her in Barrie Kosky's new Die Meistersinger von Nürnberg next summer at Bayreuth if all goes well.
Jim Pritchard
For more about events at the Wigmore Hall visit https://wigmore-hall.org.uk/.