Germany Donizetti, L'elisir d'amore: Bayerische Staatsoper Orchestra and Chorus / Daniele Callegari (conductor), Nationaltheater, Munich, 2.12.2016. (JMI)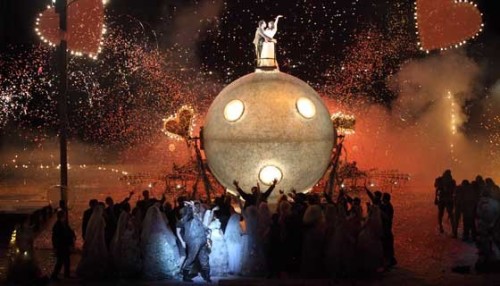 Cast:
Nemorino – Atalla Ayan
Adina – Pretty Yende
Dulcamara – Erwin Schrott
Belcore – Andrei Bondarenko
Giannetta – Tara Erraught
Production:
Director – David Bösch
Sets – Patrick Bannwart
Costumes – Falko Herold
Lighting – Michael Bauer
I had the opportunity to review this David Bösch production when it premiered here during the July 2010 Munich Festival. It continues to be an entertaining stage production, and what I wrote earlier holds true today:  review
If the staging was satisfactory, one cannot say the same about the musical direction under Daniele Callegari. His reading was correct and all seemed to be under control (except for the occasional excess of orchestral volume), but lightness and joy were missing. The excellent Bayerische Staatsoper orchestra did not shine as on other occasions.
Nemorino was played by Brazilian tenor Atalla Ayan. In recent years he has been part of the Stuttgart Opera where his career has developed nicely. He left a positive impression in this role, offering an attractive and homogeneous light-lyric tenor and moving well on stage. Ayan was somewhat monotonous in his most anticipated aria but, all in all, he gave a fine performance.
The best in the cast was the Adina of South African soprano Pretty Yende, who is well-matched to this character. She has a beautiful voice, excellent technique and good stage skills, and exhibits no problems at the top. If I'm not mistaken, it was her debut in Munich, and we are sure to see her again in the not-too-distant future.
Dulcamara was bass-baritone Erwin Schrott. This character works best when interpreted by a basso buffo in the great Italian tradition, but Mr. Schrott does not fit precisely in that category: his voice is better suited to a different repertoire. I heard him previously in this character in the Damiano Michieletto production (Valencia and Madrid) and found him unconvincing, although he was more credible as the drug-dealing Dulcamara in that staging. Here Dulcamara is the pure ciarlatano of tradition, and Erwin Schrott seemed out of place, always looking for prominence with open sounds as if to prove that he has a big voice. However, the audience did not seem to agree with my opinion.
Andrei Bondarenko as Belcore was disappointing. His voice is too wide, and he seems obsessed with being heard throughout the room.
Mezzo-soprano Tara Erraught won the sympathy of the audience with an excellent performance in the part of Giannetta. She is a fine singer and a magnificent actress.
The Nationaltheater was completely full. The audience gave a warm reception to all the artists, and especially to Pretty Yende, Erwin Schrott and Atalla Ayan.
José M. Irurzun