Spain Donizetti, Anna Bolena: Coro de la Asociación de Amigos de la Maestranza, Real Orquesta Sinfónica de Sevilla / Maurizio Benini (conductor), Teatro de la Maestranza, Seville, 16.12.2016. (JMI)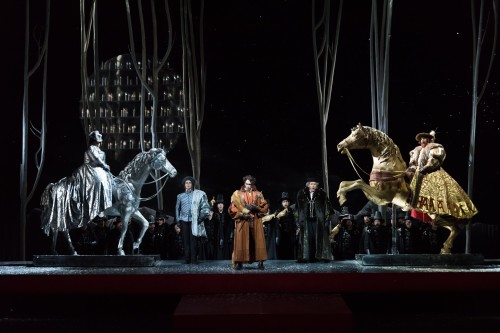 Cast:
Anna Bolena – Angela Meade
Percy – Ismael Jordi
Seymour – Ketevan Kemoklidze
Enrico VIII – Simón Orfila
Smeton – Alexandra Rivas
Lord Rochefort – Stefano Palatchi
Hervey – Manuel de Diego
Production:
Direction – Graham Vick (original), StefanoTrespidi (revival)
Sets and Costumes – Paul Brown
Lighting – Giuseppe Di Iorio
These performances of Anna Bolena in Seville were highly anticipated, due mainly to the presence of American soprano Angela Meade at the head of the cast. The result definitely fulfilled one's expectations: remarkable musical direction and a fine group of singers, with a protagonist who shone in a special way.
The Graham Vick production, which had its premiere at Teatro Filarmónico in Verona in March 2007 and then travelled to various Italian cities, is surprising. Vick is generally one of the more avant-garde stage directors and his works are often ground-breaking, but not here. It's a traditional work and you would never guess it was by Mr. Vick. There was very little stage direction and the chorus barely moved, as if one were at a concert with costumes. The protagonists were largely left to themselves or, rather, to their own acting skills.
The stage offered some classic decorations which corresponded to the libretto; the hunting scene with the kings mounted on equestrian statues was particularly effective. The costumes relate to the time period and are rich and attractive, except in the case of Smeton. In the end, it's a production with a certain aesthetic appeal and serves to narrate the plot, although clearly not what one expects from Graham Vick.
Maurizio Benini is one of the most interesting maestros in the bel canto repertoire. His conducting was a major strength in this performance and confirmed his standing: not only did he accompany and support the singers perfectly, but he also emphasized the value ​​of the score which was Donizetti's first great triumph. Under his baton the orchestra gave a remarkable performance. The chorus was especially good in the female sections, but the tenors were not always accurate.
Angela Meade was outstanding as Anna Bolena, especially in the last act of the opera, and particularly in the final scene. She was superb in the aria 'al dolce guidami'; and she finished with an impressive 'coppia iniqua' – a true exhibition of technique and strength. This magnificent soprano has only to improve her interpretation to become a true reference in bel canto. I saw Anna Netrebko in the character last year, and Angela Meade was better here in vocal terms; however, her interpretation cannot compare with that of the great Russian diva.
Ismael Jordi has become an excellent bel canto tenor, and his Percy was impressive: beautiful phrasing and expressive singing. His voice has widened in the middle and is now more attractive, but he is tighter at the top. He shone in the difficult aria 'Vivi tu' although he avoided the most exposed notes.
Mezzo-soprano Ketevan Kemoklidze was an appealing Giovanna Seymour, always singing with gusto and fitting perfectly with Ms. Meade's voice (as she did a couple of months ago at Teatro Real in Norma).
Simon Orfila was once again Enrico VIII, a character he debuted some 15 years ago. Today he is much more mature as an interpreter, but his timbre is less attractive than in the past.
Mezzo-soprano Alexandra Rivas was satisfactory as Smeton. But this role requires a contralto and Ms Rivas is not one: it was evident that she was uncomfortable in the low notes that are out of her tessitura.
In the secondary characters both Stefano Palatchi (Lord Rochefort) and Manuel De Diego (Hervey) were well suited to their parts.
José M. Irurzun