United States Handel, Purcell, Leo, Cavalieri, Gesualdo, Pärt, Jommelli: Joyce DiDonato (soprano), Il Pomo d'Oro/Maxim Emelyanychev, (conductor), presented by Cal Performances, Zellerbach Hall, University of California, Berkeley, 4.12.2016. (HS)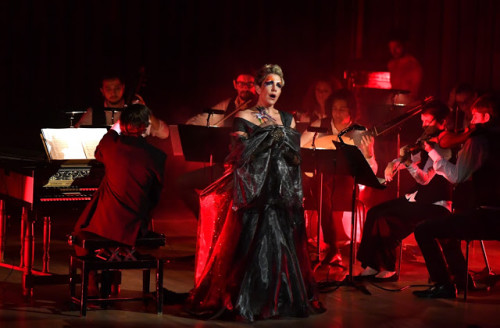 'WAR'
Handel: "Scenes of horror, scenes of woe," from Jeptha (1752)
Leo: "Prendi quel ferro, o barbaro!" from Andromaca (1742)
Cavalieri: Sinfonia Rappresentatione di anima e di corpo (instrumental)
Purcell: Ciaconna in sol minor for 3 violins and basso (instrumental)
Purcell: Dido's Lament (Dido) from Dido and Aeneas (1689)
Handel: "Pensieri, voi mi tormentate," from Agrippina (1709)
Gesualdo: Tristis est animam mea (instrumental)
Handel: "Lascia ch'io pianga," from Rinaldo (1711)
'PEACE'
Purcell: "They tell us that you mighty powers," from The Indian Queen (1664)
Handel: "Crystal streams in murmurs flowing," from Susanna (1749)
Handel: "Da tempeste il legno infranto," from Giulio Cesare (1724)
Arvo Pärt: Da pacem, Domine (instrumental)
Handel: "Augelletti, che cantata," from Rinaldo (1711)
Jommelli: "Par che di Giubilo," from Attilio Regolo (1752)
In her semi-staged production, "In War & Peace: Harmony Through Music," Joyce DiDonato expands the notion of a solo vocal recital into a quasi-opera. Inspired as a response to the 2015 killings in Paris, the concert started as a recording project with the early music orchestra Il Pomo d'Oro, and has toured Europe (Click for review) and Canada (Click for review) before its first U.S. performances in the San Francisco Bay Area. (The tour continues in Kansas City, Chicago, Rochester and finishes at Carnegie Hall in New York.)
As a recital of arias from the Baroque era, DiDonato's work was splendid. She demonstrated utter command of tone and technique, executing angry outbursts, creamy lyrical passages and difficult coloratura with her signature clarity and presence. Her stage experience lent every phrase dramatic flair, both vocally and physically.
But she had a bigger purpose than showing off vocal star qualities. With costumes and lighting underlining the message, she offered an answer to the question, "In the midst of chaos, how do you find peace?" with a simple response: music.
"Creators of great art have been depicting atrocity and pandemonium side-by-side with tranquility and equanimity for centuries, boldly showing us both our brutal nature and our elevated humanity," she wrote in a program note. The musical lineup, before an enthusiastic audience at the University of California's Zellerbach Hall, certainly ran the gamut of those emotions.
The mezzo-soprano sang, acted and prowled among the musicians of the Switzerland-based orchestra, conducted with fluency, drama, and grace by the 28-year-old Maxim Emelyanychev. Dancer Manuel Palazzo, in a plain skirt and bare chest, attended to DiDonato, who wore a silvery gown and splotchy makeup. Black-and-white impressionistic video projections accompanied the orchestral interludes.
For the first half, "War," DiDonato set a stern tone with "Scenes of horror, scenes of woe," from Handel's oratorio Jeptha. Emelyanychev played a lovely obbligato on cornetto (a recorder-like instrument with a trumpet mouthpiece) to accent the lyrical side of "Prendi quel ferro, o barbaro!" from Andromaca by Handel's Neapolitan contemporary Leonardo Leo.
"Dido's Lament," Purcell's aria for the title character's death in Dido and Aeneas, got a plush and haunting performance. Magdalena Korolak intertwined the baroque oboe's plangent sound around DiDonato's emotionally wrought reading of "Pensieri, voi mi tormenante," the title charcter's scena from Handel's opera Agrippina. "Lascia ch'io pianga," the mournful aria from Handel's Rinaldo, famously featured in the film Farinelli, brought the first half to a hauntingly beautiful close.
The second half, "Peace," found DiDonato in a more flowing gown and tidier makeup. It began with "They tell us that you mighty powers," Orazia's plea from Purcell's opera The Indian Queen, which contains the line, "such grief I endure, my love…still be constant and pure." A gem from Handel's oratorio Susanna, "Crystal Streams in murmurs flowing," moved with liquid serenity. In contrast, Cleopatra's outpouring of joy and coloratura spectacle, "Da tempeste il legno infranto," from Handel's opera Giulio Cesare, took off at a gallop and never waned.
Recorder virtuoso Daphna Mor took the stage with DiDonato to bring bird sounds, rapid-fire articulation, and panache on her sopranino recorder to conjure the wings and zephyrs of "Augelletti, che cantata" from Handel's Rinaldo. The finale, by Neapolitan composer Niccolò Jommelli, brimmed with delirious vocal and instrumental fireworks. Despite signs of DiDonato tiring (occasional misses on the skipping coloratura), the zest was hardly affected.
After thanking the audience and acknowledging the collaborators, the singer invited listeners to write their thoughts about finding peace in these chaotic times onto cards, and drop them into a box in the lobby. She concluded with a single encore, Richard Strauss' "Morgen!" Though a bit of an anachronism, who could resist its balm?
Harvey Steiman