United Kingdom Wagner, Mahler and Berg: Royal Concertgebouw Orchestra / Daniele Gatti (conductor), Barbican Hall, London, 17.12.2016. (JPr)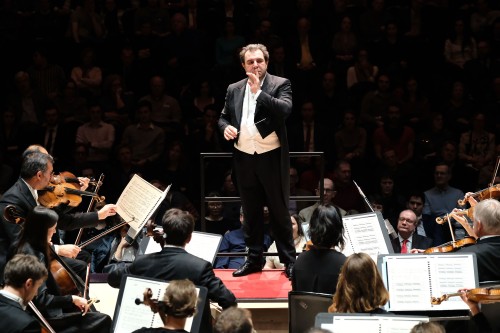 Wagner – Prelude from Die Meistersinger von Nürnberg (with musicians from the National Youth Orchestra of Great Britain); 'Dawn', 'Siegfried's Rhine Journey', 'Siegfried's Death and Funeral March' from Götterdämmerung
Mahler – Adagio from Symphony No.10
Berg – Three Orchestral Pieces
It was wonderful to hear such a fine orchestra once again living up to its reputation under the baton of one of the world's finest conductors. Daniele Gatti is only the seventh chief conductor of the orchestra since 1888 in a line that includes Mengelberg, Haitink, Chailly and Jansons … as most will know. Further common knowledge is that it was conducted in the past by Mahler, Strauss and Stravinsky and prides itself on the almost universal acclaim awarded to its strings, woodwind and brass.
So the reason I was not completely overwhelmed was because of the musical programme offered in the second of their two Barbican concerts during their current short visit.  It was fairly sombre stuff dwelling on Siegfried's Death and the Funeral March (isn't it Funeral Music?) from Götterdämmerung, followed by the heartache of the Adagio from Mahler's unfinished Tenth Symphony before the equally far-from-jolly Three Orchestral Pieces by Alban Berg. This possibly explains some of the empty seats in the Barbican Hall.
Perhaps the mistake was having the Prelude from Wagner's Die Meistersinger at the start of the concert and not at the end. This would – in hindsight – have sent the audience out of the Barbican Hall with a smile on its face. The Royal Concertgebouw Orchestra's current 'RCO meets Europe' tour stretches into 2018 and will visit all 28 member states of the European Union. Key to this is the 'Side by Side' project allowing young musicians from each country to work with the orchestra.
On this occasion 40 teenagers from the National Youth Orchestra of Great Britain joined the Concertgebouw for Wagner's Die Meistersinger Prelude. Given how admirable this 'Side by Side' idea is their contribution is virtually criticproof but to be honest the roof was never raised and it was a touch ponderous. I would prefer a little more bombast though ever mindful of course of Woody Allen's famous saying 'Listening to Wagner makes me want to invade Poland'. I don't want to react like that either, but Wagner's music must always make you feel something rather than slightly bored. More from this composer followed and these were some of what the musicologist Sir Donald Francis Tovey denounced as 'bleeding chunks of butcher's meat chopped from Wagner's operas'. On this occasion, however, more of his inspiration shone through in some superb orchestral playing, even if the interpretations sometimes still fell short of the visceral intensity that the music demands and often gives you in the opera house.
We heard Dawn and Siegfried's Rhine Journey, and Siegfried's Death and Funeral March, performed as a single stretch of music. Day breaks over Brünnhilde's rock in one of the finest musical depictions of dawn. Following their reappearance and a rapturous duet, Siegfried departs by boat in search of further adventures. We hear the 'Fate' leitmotif and know our hero's fate is sealed. This leads into the evocative Rhine Journey. Siegfried has a ring – which not surprisingly is central to the plot of Wagner's The Ring – and others are aiming to secure possession of it. Siegfried has been ensnared in a scheme involving wiping his memory and during a hunting party Siegfried – whose memory is restored via a potion – is killed by stabbing him in the back, the only part of his body left unprotected by Brünnhilde's magic because he would never turn his back on his enemies. To music recalling Brünnhilde's awakening in the previous opera, Siegfried dies with her name on his lips. This was the first time I can recall hearing all of Siegfried's Death and (without the words) his dying soliloquy and then the evocative Funeral March itself. This weaves several significant leitmotifs — among them 'Fate', Siegfried as 'Hero' and the 'Sword' (the weapon that has played such an important role in the tetralogy) — into a gloriously potent musical tapestry.
Throughout the performance Gatti revealed his intuitive sense of breath and phrasing which comes from his experience conducting opera. Though maintaining a tight control generally on orchestral dynamics, the climaxes were impressive, the Concertgebouw's typically burnished brass playing with a wonderful clarity. I felt a poignancy here not because of Gatti and his orchestra, but simply from the fact that this was the first time I had heard this music 'live' since the death earlier this year of the great heroic tenor Alberto Remedios. I could hear the voice of that wonderful Siegfried throughout these voiceless 'bleeding chunks' and it brought back many happy memories.
On his untimely death the Adagio was one of two movements of the Tenth Symphony that Mahler had virtually completed, barring revisions that undoubtedly he would have subsequently made to it. The opening searching theme in the violas is dark and ambiguous and there follows a deeply consoling theme in strings and trombones bringing along greater hope. From Gatti and the Concertgebouw there seemed a sense of inconsolable grief juxtaposed with a danse macabre. Halfway through the movement comes the great nine-note dissonance, a great 'scream' chord. This seems to be Mahler's reaction to the discovery of his wife Alma's affair with Walter Gropius. It always makes me wonder where Mahler might have been going with his new music in this Tenth Symphony, but it all ends with a quiet coda bringing with it an atmosphere of long overdue repose. Nobody does repose better than the Concertgebouw and especially, as here, under Gatti.
Three Pieces for Orchestra Op.6, is as close as Alban Berg ever came to writing a symphony. All three pieces are essentially atonal and arching in structure, a mixture of animated angular music, powerful orchestral tutti and the odd elegant moment that is reminiscent of Mahler. In the first piece 'Präludium' (Prelude) there was the hint of Mahler's Ninth Symphony in the portentous percussion in the agitated opening. The second movement is entitled 'Reigen' (Round Dance) which employs Viennese waltz and Ländler time that was another Mahler favourite. (Truth be told, even though I knew there was a waltz-like influence here I struggled to discern it.) The more insistently Romantic music was in the concluding 'Marsch' (March) where the dramatic music appears to be a mix of Mahler and Schoenberg; winding up to a conclusion which seems to conflate Bruckner and Brahms with Mahler's Sixth Symphony through some hammer blows which were thwacked down with relish. It was redolent of the inevitability of doom though as Paul Griffiths's programme note attested: 'It is always hazardous to attempt to account for works of art in terms of general history, but it is hard to overlook the fact that this catastrophe in sound is dated August 1914'. Berg's music clearly is representative of the disintegration of fin-de-siècle Vienna at the start of World War I.
It was lucidly conducted by the calming presence of Daniele Gatti on the podium and magnificently and fearlessly played by the Royal Concertgebouw Orchestra who are always welcome visitors to the Barbican Hall.
Jim Pritchard
For more about events at the Barbican visit http://www.barbican.org.uk/.