United Kingdom Britten: Billy Budd, Soloists and Chorus of Opera North / Garry Walker (conductor), Edinburgh Festival Theatre, 3.12.2016. (SRT)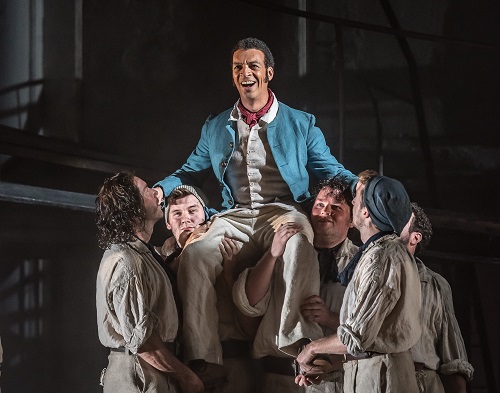 Cast:
Captain Vere – Alan Oke
Billy Budd – Roderick Williams
John Claggart – Alastair Miles
Mr Redburn – Peter Savidge
Mr Flint – Adrian Clarke
Lieutenant Ratcliffe – Callum Thorpe
Red Whiskers – Daniel Norman
Donald – Eddie Wade
Dansker – Stephen Richardson
Novice  – Oliver Johnston
Novice's Friend – Gavan Ring
Squeak  – David Llewellyn
Bosun – Jeremy Peaker
First Mate – Paul Gibson
Second Mate – Nicholas Butterfield
Maintop – Aled Hall
Arthur Jones – Tim Ochala-Greenough
Children – Cormac Keating, Tobias McDonald, James Slingsby, Jakub Packo, Daniel Simpson, Lucas Walker
Production:
Director – Orpha Phelan
Set and Costume Designer – Leslie Travers
Lighting Designer – Thomas C. Hase
Movement Director  – Lynne Hockney
I'm so fond of Billy Budd (and, as I've said before, of Opera North) that this production was already off to a head start with me, but nevertheless I still left the theatre feeling stunned by the brilliance of Britten's greatest dramatic work, simultaneously warmed and chilled by the powerful events on stage, and thrilled by a great set of performances.
Orpha Phelan's production does what Opera North is regularly so good at; namely, suggesting a lot with very little. Leslie Travers's skeletal set places the Indomitable within a decaying set of walls that also function as the inside of Captain Vere's memory. Vere's cabin is evoked by walls created by the bodies of the sailors, and below-deck can appear and reappear with ease. It creates an atmosphere heavy with suggestion, gently suggesting the social distinctions between the officers and the men, while creating an open space for the action. Phelan fills the crowd scenes with intelligent action (I liked the idea of the wrestling match in the third scene of Act 1) and she stages the orchestral interludes without fuss. Thomas Hase's lighting design comes into its own after Billy's conviction, quietly suggesting that his soul is heading towards something higher.
Roderick Williams is older than we've come to expect for Billy, but he is in every respect excellent, an irrepressible figure on stage who oozes charisma and bounding around the set. His voice, more beautiful than ever, lends the role more dignity than you often hear with a younger singer, and his diction is impeccable throughout. He is convincing proof that Billy doesn't have to be played by a teenage-lookalike, and I found his death scene very moving in its warmth. Against him, Alastair Miles's Claggart is darkly powerful without being too black of voice, convincing in his evil while avoiding parody. Alan Oke's Vere is a little dry around the edges, but he rises well to the character's moments of passion. The three officers all sound marvellous, and the smaller roles are brilliantly taken, not least by a bluff, likeable Dansker and a stunningly moving Novice in Oliver Johnston.
The chorus were something else, exuding the confidence and togetherness that you only get with a full-time company. (Scottish Opera, take note!) The battle scene raised the roof and, at that wonderful rush of sound – perhaps the opera's most humane moment – where the sailors' song opens the third scene of Act 1, I had a lump in my throat and a tear in my eye. The orchestra (full-time, again!) know the score inside out, having taken it on tour for the last six weeks and they play it like gods. The conductor, Edinburgh-born Garry Walker, leads them expertly through Britten's extraordinary drama.
Mind-bogglingly, the audience for this stunning show was relatively small, but the ovation at the end was the warmest I've heard for an opera in Edinburgh for a long time. Let's hope it makes Opera North want to come back!
Simon Thompson