United Kingdom Beethoven, Dvořák, Quilter and Mussorgsky: René Pape (bass), Camillo Radicke (piano). Wigmore Hall, London, 17.12.2016. (JPr)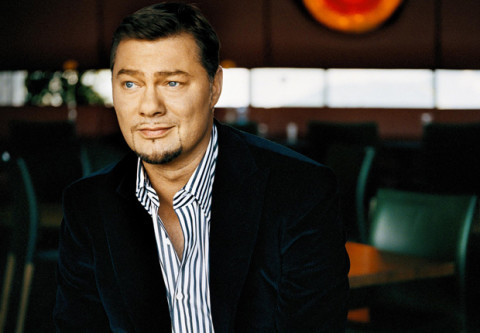 Beethoven – Sechs Lieder von Gellert Op.48
Dvořák – Biblické písne (Biblical Songs) Op. 99
Quilter – Three Shakespeare Songs Op.6
Mussorgsky – Pesni i pljaski smerti (Songs and Dances of Death)
I praised the wonderful Wagner bass René Pape recently for his 'authority, dignity and compassion' when he sang King Marke at the Met (review). This was his Wigmore Hall recital debut. When Pape came on to the platform and started to talk to the audience, he quite rightly suggested we might wonder why he was not singing. He had to announce before he began that 'The weather and my dear friend God has not been nice to me and gave me a little cold'. He did not want to let us all down but added 'Please forgive me if some of my tones are not as you expected them'. In the end it was clear we were all in the presence of a great artist even if I would have preferred a more varied programme than the one he presented. It was full of songs about faith and death which I suppose makes a small change from the usual type of lieder recital with the themes of longing, love … and death.
He began with a cycle of songs by Beethoven, Sechs Lieder von Gellert Op.48. Although he composed about 80 solo songs it is suggested these are not some of his best work. They were the first of several religious songs during the evening and are based on texts by Christian Fürchtegott Gellert. It did not seem the medication Pape has taken had yet had a positive effect, because his voice appeared to be having some slight issues with a constriction at the top and gravel at the bottom. That he needed a music stand – and was following the words of songs in his native tongue – also hindered him in fully bringing over their devotional quality to the audience. The best was the final 'Busslied' (Song of penitence) which was earnest and impassioned. At the piano, Camillo Radicke showed the better part of these Beethoven songs is probably in the often flowing lines the composer provided.
Dvořák's fairly stark Biblical Songs (Op.99) followed. These were composed during just three weeks in 1894 when Dvořák was in America and homesick for Bohemia. Strangely Pape seemed freer now singing in what – I assume – is not a language he speaks than with the first cycle of songs in German. From the very first song, 'Oblak a mrákota jest vůkol něho' (Clouds and darkness are 'round about Him) Pape showed greater light and shade than anything we had heard from him so far. The first highlight of this recital was 'Hospodin jest můj pastýř' (God is my shepherd) which had a plainsong quality to it and Radicke's exquisitely sparse accompaniment was sublime. Most of these songs are slow reverential pieces which provided little contrast to the Beethoven ones but I suppose must reflect the singer's own religious beliefs. 'Pozdvihuji očí svých k horám' (I will lift mine eyes up to the mountains') showed his high notes were coming into better focus, though he was still a little tested by the more spirited 'Zpívejte Hospodinu píseň novou' (Sing ye a joyful song unto the Lord) which closed the first half of this recital.
The second half of the programme showed further improvement in his voice and began with Quilter's Three Shakespeare Songs (Op. 6), based on texts from Twelfth Night and As You Like It. 'Come away, death' revealed Pape in more gently pining baritonal mode and his supple phrasing came to the fore. It was now more about beauty of voice rather than the inherent drama of any given song. 'O Mistress mine' was a rare love song and although he found the more urgent 'Blow, blow, thou winter wind' another challenge, it was still a richly coloured account and Radicke shone once again in the piano postlude. My only concern was for Pape's strangely accented English but it did not distract from the serenity of these songs.
Pape and Radicke saved the best till last and excelled in Mussorgsky's Pesni i pljaski smerti (Songs and Dances of Death). Yes, death once again! However, the singer seemed more at home here than in anything he had previously sung, bringing a sense of Mephistophelian drama to the four long narratives. 'Kolïbelnaya' (Lullaby) was energetic and deceptively soothing despite its subject matter of Death coming for a young child. In 'Serenada' the serenade is that of Death singing at the window of a young girl who is asleep and Pape's characterisation was hauntingly redolent of her impending fate. The next was a folk dance, 'Trepak' and he snarled malevolently as Death enshrouds a weary, old peasant in a blanket of snow. The wonderful Radicke at the piano was, by turns, jaunty, haunting and sinister. The final song, 'Polkovodets' (The Field Marshal), revealed the bass at his imposing best in a grim evocation of a blood-soaked battlefield. Here Death is 'The Field Marshal' who glories in all the carnage and Pape brought out all the horrors of Mussorgsky's scene painting by communicating everything simply through just voice and phrasing … and not forgetting his consummate artistry, cold or no cold.
Jim Pritchard
For more about concerts at the Wigmore Hall visit https://wigmore-hall.org.uk/.