United Kingdom Strauss, Der Rosenkavalier: Soloists, Dancers, Actors, Child Singers, Royal Opera Chorus (chorus master: William Spaulding), Orchestra of the Royal Opera House / Andris Nelsons (conductor). Royal Opera House, London, 17.12.2016. (MB)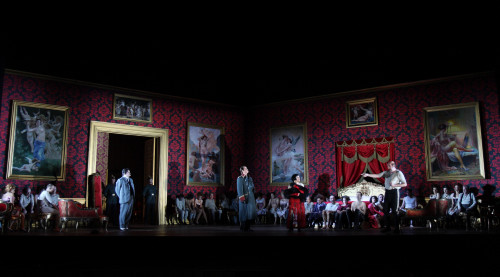 Cast included:
Die Feldmarschallin – Renée Fleming
Baron Ochs – Matthew Rose
Octavian – Alice Coote
Herr von Faninal – Jochen Schmeckenbecker
Sophie – Sophie Bevan
Marianne Leitmetzerin – Miranda Keys
Valzacchi – Wolfgang Ablinger-Sperrhacke
Annina – Helene Schneidermann
Police Inspector – Scott Conner
The Marschallin's Major-domo – Samuel Sakker
Faninal's Major-domo – Thomas Atkins
Italian Singer – Giorgio Berrugi
Production:
Director – Robert Carsen
Set designs – Paul Steinberg
Costumes – Brigitte Reiffenstuel
Lighting – Robert Carsen and Peter van Praet
Choreography – Philippe Giraudeau
If Der Rosenkavalier subtly counsels us against nostalgia, walking us through our own constructionism and that of others, layering further experience and memory, real, imagined, or more likely, somewhere in between, this new Royal Opera production unwittingly offered something of a countervailing argument. As we are now so wearily aware, the United Kingdom's cultural inferiority and isolation are likely only to increase over the coming months, nay years, of Maying. Very few will care; of them, many will decamp to what was once quaintly known as 'the Continent'; others will not unreasonably seek a degree of refuge in other, actually better times. Only the truly ignorant, of culture and of history, would hold out any hope for this miserable island's prospects, having 'taken back control'. Likewise, for all the gloss we saw, far less often heard, on stage, only those ignorant of operatic life 'abroad', and indeed in earlier years here in London, would fail to feel, at best, regret.
Trailed unofficially as Renée Fleming's farewell to the Covent Garden stage, the production suggested that it was not before time. Fleming has never been much of an actress, although she retains an undeniable presence. (Big, expensive costumes doubtless help, especially in the third act, but it is not just that.) There were, to be fair, moments in which she danced along to the (somewhat fitful) waltzes in the first act, but otherwise, there was little beyond generalised and sometimes downright inappropriate facial gestures. Her inability not only to project but even to sustain her lines, hardly helped by perversely dragging tempi from Andris Nelsons whenever she set foot on stage, made for a sad experience indeed, however much the fans may have oohed and aahed at her wardrobe.
Nelsons was at least as much at fault. He has conducted the opera before, but it often did not sound like it, the performance suggestive of a superior run-through, even sight-reading. Having opened in strangely aggressive fashion, he ground the first act to a halt. Once the Marschallin's retinue had been dispersed, the remainder felt like an act, and a tedious one at that, to itself. Whether he were responding to Fleming, or somehow trying to highlight her aurally, I do not know; it certainly did not work. Too often, phrases were simply left hanging, even disintegrating. If the second act and earlier sections of the third – infernal cuts notwithstanding – marked a great improvement, listlessness was again the order of the day, as we drew ever so gradually to a close. Time was – yes, I know stopping the clocks will not help us – when the Orchestra of the Royal Opera House could sound not unlike one of its great 'Continental' cousins. Perhaps it still can, under, say, Semyon Bychkov. However, it is now well-nigh impossible to ignore the long musical decline of the house since the departure of Bernard Haitink. There were a good few moments of glorious sheen, but there was a good deal of scrappiness too. Viennese idiom, such as it was, too often sounded forced. Go to Dresden, to Berlin, to Munich, even, on a good day, to Vienna, go indeed to many a smaller German theatre, to hear what this score and others can sound like. And listen to a conductor such as Christian Thielemann, almost always at his best in Strauss, to hear how infinite flexibility can, indeed must, be married to a sense of the whole; or listen to the great conductors of the past, to Karajan, to Krauss, to Kempe, to the Kleibers, perhaps even, if feeling truly adventurous, progressing to a conductor whose name did not begin with 'K'.
What of the rest of the cast? Alice Coote's Octavian was a bit of a loose cannon (with apologies to the extravagant World War One recreations chez Faninal). At her best, she offered a spirited, rich-toned performance; at other times, there was a distinct lack of focus. Whether the relative lack of refinement dramatically was Coote's or director, Robert Carsen's idea, it was not, I am afraid, a good one. Matthew Rose's Ochs was much better: less the boorish oaf, more the slightly, but only slightly, past-his-sell-by-date country cousin, who could still summon up a soupçon of charm when he made the effort. Sophie Bevan's Sophie was very much in line with (welcome) contemporary fashion: her own woman, with agency, no mere annoyance. Her vocal performance was not bettered and rarely approached by others on stage. All, however, should be thanked for their excellent diction; Hofmannsthal's words could always be clearly discerned. (That goes for Fleming too.)
Jochen Schmeckenbecher's Faninal seemed oddly subdued, at least vocally; I wondered whether he would have been happier in a smaller house. It was a pity to hear coarseness creeping into Giorgio Berrugi's rendition of the Italian Singer's aria, but the many, many 'smaller' roles were generally well taken, Perhaps the most noteworthy for me were Helene Schneidermann's cleverly scheming Annina, Alasdair Elliott's outrageous Innkeeper as transvestite Master/Mistress of Ceremonies, and Scott Conner's calm, confident Police Commissioner. (One might well understand why the Marschallin departed with him rather than with Faninal, although I am not sure that it made a great deal of dramatic sense here.)
Carsen's production is a frustration, and not only because it runs dangerously close to his earlier staging, for the Salzburg Festival, although divergences often intrigue; such layering of reception is surely not inappropriate for such a work. However, the first and second acts seem – not in a knowing way – to rely too much on former glories, coming across as attempts to make a former, sharper production look different. (Did those I heard loudly praising Carsen know his earlier production? I have my doubts.) Designs from Paul Steinberg and Brigitte Reiffenstuel, however impressive in themselves, are made to do too much of the work. The note of ambiguity concerning where, or rather when, we are during the second act, is, however, an excellent touch. Are we gearing up for war, uniforms and indeed the aforementioned weaponry ever-present? Or, are we to understand from the field medical assistance afforded Ochs, that we are now in its midst? The trench movements of Ochs's retinue (on leave?) certainly suggest so. Alternatively, might this be an imagined future from the Marschallin's comfortable 1911?
The third act sets its impressive seal on such ruminations, or at least the first half of it does. Initially, it too seems as though it might follow earlier Carsen too closely, but wisely, no attempt is made to replicate the extraordinary Salzburg visual spectacle of multiple brothel rooms (nor, indeed, the horse). We seem to have moved, or imagined ourselves, into the 1920s, to a world in which sexual 'decadence' and 'depravity' (for those of a 'Brexit' disposition, in any case) run riot, whilst still recognisably, increasingly so, a projection from where we began (and indeed may still 'be'). Octavian's, or rather Mariandel's, forwardness, is perhaps the most intriguing development. Where she 'should' be a (relatively) innocent victim, here this 'virgin' promises to take Ochs to places he may never have dreamed of, or at least would rather not have done. The already fascinating sexual politics of the opera take another twist, such as would surely have shocked the straitlaced Benjamin Britten, who apparently disapproved of its 'lesbianism' (!)
Alas, the rest of the act, whether knowingly or otherwise, simply offers relative withdrawal, as it were. A large stage and a large bed are its focus, Octavian and Sophie rather unnecessarily beginning to further their acquaintance. The parallel created with the opening scene need surely not be presented with quite such heavy-handedness. At the very close, it seems as though we shall truly return to Salzburg, where a gunshot frighteningly heralded the coming of war. (That production stayed where it was, rather than peering into the future, as Carsen does here.) The reappearance of cannons, seemingly pointed at a drunken Mohammed, suggest something similar, but instead they misfire (perhaps an all too telling metaphor), soldiers falling bathetically to the ground themselves, and the liveried servant continues along its way. I think I can discern a point being made here, but it is not made very clearly.
Another baffling aspect relates to what seems to be a kleindeutsch rather than an Austrian setting. (The message of the paintings we see, visual art so often a Carsen device, is ambiguous.) I am afraid I found myself baffled by visual references to the 'other' Kaiserreich and its successor republic. The antics of the tavern seem very much of Weimar. Even the Grecian frieze of the Faninal mansion looks more Berlin than Vienna. (To my, perhaps vulgar eyes, it does not look so very nouveau riche, more akin to a Wilhelmine museum room.) Is a point being made about Strauss's native Bavaria, perhaps even Strauss himself, having made the 'wrong' choice? If so, it remains obscure. There is, all considered, simply too much that is either too obscure or too obvious, suggestive, rightly or wrongly, of an unwelcome degree of directorial haste.
In many respects, then, this proved a missed opportunity, laced with tantalising hints of how much better things might have been – might still be, if only they/we were to get our act together. It could have been far worse; perhaps it might improve during the run; and yet… It was, one might say, a 'soft Brexit' Rosenkavalier, albeit with hints of our Poundland Fürstin Resi's 'red, white, and blue' variety. Note to directors: do not, under any circumstances, accept my Konzept. It will neither end nor even start well.
Mark Berry