United States Mozart, Bruckner: Wolfram Brandl (violin), Yulia Deyneka (viola), Staatskapelle Berlin, Daniel Barenboim (piano/conductor), Carnegie Hall, New York City, 27.1.2017. (BH)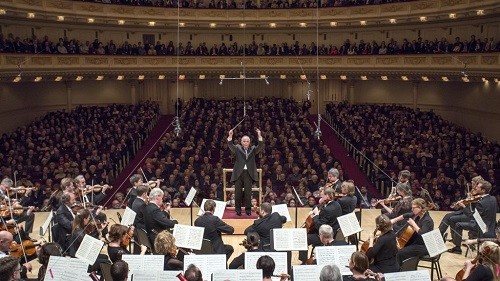 Mozart – Sinfonia concertante in E flat major K.364
Bruckner – Symphony No.7 in E major (1881-1883)
Most conventional articles about Anton Bruckner's music make references to mountains, cathedrals—you know, big things. But a crucial element of his scores is silence. Friday night's concert – the seventh in the ongoing Bruckner cycle by Daniel Barenboim and the Staatskapelle Berlin at Carnegie Hall – reached a new high (or low) for audience noise. During Mozart's Sinfonia concertante, a man nearby spent the entire last movement grappling with a cellophane bag of caramels, despite glares from people nearby. The friend with me said later, "I didn't realize we were going to hear Mozart's piece for violin, viola, and aleatoric candy wrappers."
After intermission, as Barenboim raised his hands to begin Bruckner's Seventh Symphony, which opens with an incomparable rustle at the edge of audibility, an explosive cough caused the conductor to abruptly drop both hands to his sides. He whirled around on the podium, and glaring in the direction of the interruptor, loudly, demonstratively coughed into a handkerchief, causing scattered applause, and then collected himself to restart. Later, during the symphony's intense slow movement, a merrily prattling cell phone went off during one of the quieter interludes. (Public service announcement: re-evaluate your ring tone.)
Then there was the Thank You Woman. Though your correspondent is struggling to be compassionate toward someone with an obvious mental glitch, some of Barenboim's exquisitely timed silences caused her to fill the void with a conversational, "Thank you," audible to everyone nearby. (Since she also appeared in the Fifth earlier in the week, and would later show up a few rows behind me in the Ninth, I suppose I should be more charitable toward another fan.)
And the coughs continued. People coughed without covering their mouths, basically blasting spit and germs to people sitting in front of them and wasting Carnegie's gorgeous acoustic to amplify the result. Really, how lazy do you have to be to cough without a) using a handkerchief, or b) raising your arm and muffling it with your sleeve, or c) cramming your pocket or purse with the hall's generous supply of Ricola cough drops in the lobby?
#RantOver
Showing off two of the orchestra's principals, Wolfram Brandl on violin and Yulia Deyneka on viola, the Sinfonia concertante was one of the finest Mozart readings of this cycle, despite some hesitation from the soloists in fully plunging into their solo roles. (I fully empathize that orchestral musicians can be a little nervous when given solo spotlights, even while wishing they could relax and enjoy the audience love.)
The ensemble blend was warm and satisfying, and both Brandl and Deyneka found technical artistry and humanity, with body language that telegraphed their obvious pleasure in working together. Often they would turn slightly to face each other, smiling, as their colleagues behind them responded to Barenboim's urging.
Despite Bruckner's love of brass, and ability to lure horn enthusiasts with tasty bait, the Seventh Symphony gives the violas and cellos one of the most seductive opening flights ever. Barenboim again let the gentleness of the phrases speak simply, plaintively—that is, until a mammoth descending unison seemed to plunge far below the earth.
And for those disappointed in monolithic Bruckner surfaces, Barenboim always let the secondary lines be heard; the composer's flowing counterpoint is one of his virtues. The Adagio offered more examples of the conductor's patient handling of crescendos, slowly escalating—sometimes to a peak, and then fading away, but at others, simply shearing off as if in mid-flight. The evolution in Bruckner's later slow movements can be spellbinding, as well as the afterglow.
The Scherzo's rolling, linear motion—like a light gallop—was tempered by a trio section more leisurely than usual, which only made the initial theme's return more shattering than before. And as with every single movement, Barenboim had clearly spent time managing the final chord, carefully sculpted for maximum roundness and impact.
The finale exploited Barenboim's instincts for increasing tempos, stealthily, for maximum heart-pumping impact. But the clarinets had their piquant moments here, too, in the midst of the increasingly dense textures, all leading up to another stormy, even frightening ensemble unison—all the more effective when followed by a good five seconds of silence.
But needless to say, the quietude didn't last, as the composer's roseate glow became ever more intense toward the end. This overwhelming evening gave a tantalizing preview of the two masterpieces to come, lying in wait.
Bruce Hodges