United Kingdom Adolphe Adam, Giselle: Dancers of English National Ballet, English National Ballet Philharmonic / Gavin Sutherland (conductor). London Coliseum, London. 11.1.2017. (JPr)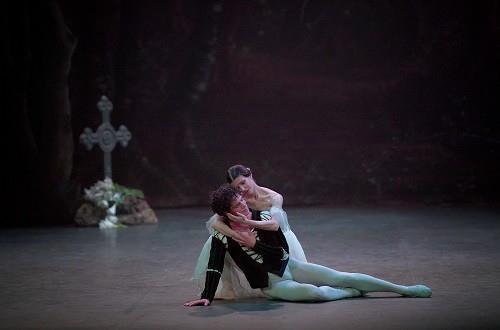 Production:
Production and Choreography – Mary Skeaping
Original Choreography – Jean Coralli and Jules Perrot revised by Marius Petipa
Music – Adolphe Adam
Designs – David Walker
Recreated Lighting – David Mohr
Artistic Advisor – Dame Beryl Grey
Cast included:
Giselle – Alina Cojocaru
Albrecht – Isaac Hernández
Hilarion – Fernando Bufalá
Myrtha, Queen of the Wilis – Laurretta Summerscales
Moyna – Crystal Costa
Zulma – Senri Kou
Because of my previous reviews of this famous two-act ballet my retelling of its origins is becoming slightly repetitive but is nevertheless worth repeating once more because of the importance of this work in the history of ballet. It was premièred in 1841 in Paris, first staged in England the following year and shortly thereafter was presented by almost every ballet company in the world having been recognised as an exceptional ballet. The original choreography of Jean Coralli, Jules Perrot and Marius Petipa has remained largely intact to this day and it is set to music basically attributed to Adolphe Adam. There are some great psychological depths here – in comparison to some of the other narrative ballets – and it explores social class, love, betrayal, despair, forgiveness and redemption. These themes are still so very contemporary that Akram Khan was able to use them for a topical reworking of Giselle involving an industrialised society with an affluent family of entrepreneurs, exploited migrant workers and a defunct garment industry. This was created for English National Ballet (review here) who intriguingly now present the late Mary Skeaping's 1971 'traditional' version in the same season. Maintaining a line from 1841 from 2017 has a significance all of its own, as so too does those truths Giselle is still able to reveal to us, whether reenvisaged by Akram Khan or in the ballet's purest form as here.
Skeaping was from Woodford in Essex and danced with Pavlova in the 1920s and was keen to reconnect ballet with its roots. In recreating Giselle she worked closely with Tamara Karsavina who had danced the leading role in the ballet in pre-revolutionary Russia. This Giselle apparently is as close as one might wish to the 1841 production, though later significant revisions to the 'original' choreography is retained. This historical accuracy extends to Adolphe Adam's score which is also performed as complete as possible. There is some unfamiliar music as well as familiar subsequent accretions such as Minkus's Act I variation for Giselle. As usual the English National Ballet Philharmonic provided excellent support for the dancing and were an integral part of what was a memorable performance. Dame Beryl Grey – who originally commissioned this classic production – has acted as Artistic Adviser and was in the audience. She must be delighted – as most balletomanes are – to see the current 'rude health' of English National Ballet under their current artistic director, Tamara Rojo.
Firstly can I say how the company these days seems to be approaching whatever they do – whether it is a new work, an umpteenth Nutcracker, or reuniting with one of their signature stagings – with real joy. This Giselle was superbly danced – but more importantly – emotionally alive with every single person on stage – from artist in the corps de ballet to lead principal – knowing exactly why they are on stage. This Giselle is a model of narrative clarity which is not something that is always given its due importance, whether it is nineteenth-century classic or a full-length modern works. Unlike sometimes watching The Royal Ballet recently, never did I think for one moment that English National Ballet were going through the motions and just recreating the steps that had been passed down to them. The dancers made it seem so very real and an engrossing story in music and movement and without words. Actually even that is not entirely true; the mime was so good that at times I imagined characters speaking, such as, when Bertha (Jane Howarth), the heroine's mother, was recounting her Act I doom-laden tale of the Wilis I almost imagined I heard her say 'listen to me when I tell you …'.
The late David Walker's designs are picture-perfect: in Act I there is an idyllic vision of peasant life and it is harvest time in medieval Rhineland village. The peasant girl, Giselle, has won the heart of the noble-born Albrecht, who disguises himself as a peasant (Loys) and lives among the villagers. Act II is inspired by a passage in Heinrich Heine's On Germany, about Wilis or 'young brides-to-be who die before their wedding day. These poor creatures cannot rest peacefully in their graves' and so lure men into the forest – here a suitably gloomy glade – only to dance them to death. Here they are envisioned more as the vampires of this original Heine tale rather than mere sylphs.
Alina Cojocaru must be one of – if not the – finest Giselle of this generation and later Giselles in this run – including Tamara Rojo herself – have been set the highest of standards. It is such a remarkably detailed and nuanced performance; from her girlish glee in her burgeoning romance with Isaac Hernández's Albrecht, to her descent into madness at his perfidy and the embodiment of a love so strong that in Act II it will redeem him even though he has betrayed her. Cojocaru makes dance the poetic language is should be, she appears weightless, has an airy jump and exquisite, limpid arms. Perhaps even more important than this impeccable technique is that she is a totally natural and instinctive dancer; you will see her character's innermost thoughts revealed, but you will never 'see' her thinking 'what is my next step?'. The final deeply affecting stage pictures are of Cojocaru's otherworldly grace as she defends her lover from the rampaging Wilis and overcoming the wrath of their implacable queen, Myrtha (another impeccable performance from Laurretta Summerscales).
Cojocaru's partnership with Isaac Hernández is becoming a significant one for English National Ballet and there is great chemistry been the two of them. His Albrecht was a totally convincing portrayal of a feckless young aristocrat having some fun with a local peasant girl and not understanding the consequences until too late. In its present-day connotation, it is the familiar story a prince frolicking with show business people before probably being made to find a more 'suitable' wife. When Giselle succumbs at the end of Act I we see the moment when Albrecht truly appreciated the horror of what he had done and we glimpse a more noble core to his decadence. He then confronts his rival the gamekeeper, Hilarion, who truly loved Giselle, but is complicit in her downfall. His body was completely broken with grief and you couldn't help but feel Albrecht's pain and deeply sympathise. Hernández is a young and supremely talented dancer and gave one of the most satisfying readings of the role I have seen for years. Dancing Albrecht for the first time, Hernández was comfortable and secure, innately elegant with finely stretched feet, and a soaring jump. The details and accents he incorporated into his acting and dancing reveal him to be a dancer of sound dramatic gifts.
With equal clarity, Skeaping's production spells out the dangers to Giselle and we sense her mother's overprotectiveness and I suspect Bertha may once have been seduced by a rich lover herself. Here however the gulf between village and court does not seem so unbridgeable as it does in some productions and Albrecht's fiancée, Bathilde (Stina Quagebeur), is untypically sympathetic. Fernando Bufalá doesn't get much to do as Hilarion but is a reliable performer. Rina Kanehara and Cesar Corrales catch the eye in the peasant pas de deux used perfectly here as an entertainment for the royal hunting party. In Act II as the Wilis – those vengeful lost souls eager to lure men to their death – the remarkable English National Ballet corps de ballet is the quintessential embodiment of the porcelain delicacy of romanticism and as the acolytes of Laurretta Summerscales's Myrtha, Senri Kou is lighter-than-air as Zulma and Crystal Costa is an imperious Moyna.
In conclusion, I am not certain whether I have ever seen a Giselle to surpass this one in staging or performance and there is not a single overblown or wasted moment. I don't go back as far as some, but I first encountered this ballet in 1980 and you can imagine I have seen quite a number since then. For some reason Mary Skeaping's version may have passed me by until now, though I will not – until age catches up with me – forget this performance. At the end I could have sat through it all again. Not to be missed!
Jim Pritchard
For more about the current Giselle performance and what English National Ballet are doing in 2017 visit http://www.ballet.org.uk/.