United Kingdom Benjamin, Written on Skin: Orchestra of the Royal Opera House, Covent Garden/George Benjamin. Royal Opera House, Covent Garden, 13.1.2017. (CC)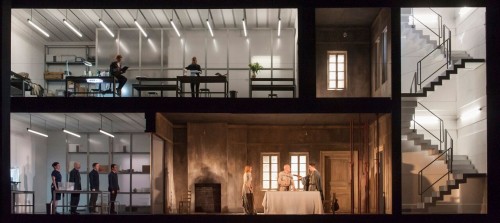 George Benjamin, Written on Skin
Cast:
Protector – Christopher Purves
Agnès – Barbara Hannigan
Angel 1/The Boy – Iestyn Davies
Angel 2/Maria – Victoria Simmons
Angel 3/John – Mark Padmore
Angel Archivists (actors) – Ben Clifford, Laura Harling, Samuel Knight, Sarah Northgraves
Production:
Director – Katie Mitchell
Associate Director – Dan Ayling
Designer – Vicki Mortimer
Lighting Designer – Jon Clark
Although I did not cover the 2013 Covent Garden UK premiere of this, George Benjamin's second opera (and second collaboration with Martin Crimp), I was in attendance for one of the performances as background for a review of the Nimbus discs published elsewhere (NI 5885/6). For previous reviews of live performances, the reader is directed towards the footnotes of Mark Sealey's Musicweb International review of the Numbus discs (here). This is Written on Skin's first revival at Covent Garden.
Previously to Written on Skin, Benjamin and Martin Crimp collaborated on Into the Little Hill (a 2006 "chamber opera": this piece has been performed at the Linbury Studio in 2009 and 2010). Here, though, Benjamin expands not just into a full-length opera but also in terms of compositional greatness. The fact is that Written on Skin is a piece that may well go down in history as Benjamin's masterpiece. The sheer control of orchestral sonority is masterly: Benjamin spices his traditional forces with a bass viol and glass harmonica. He paints with his forces: as he puts it, "I use the orchestra like a coloured background, almost as an illuminator might" – a clear reference to the manuscript (skin) at the centre of the piece. The world of the characters (Benjamin again) "is not genuinely medieval, it's more the world of today looking back and bringing and old world back to life".
The piece is performed without interval and is cast in 15 scenes, a clear link to Berg's Wozzeck, a work Benjamin has painstakingly analysed. Yet the Debussy of Pelléas casts its shadow also in the colours of the orchestra; another influence heard strongly at times is that of Britten, in the minutiae of the word setting and Benjamin's melodic shapes. The idea of two worlds intertwining also finds resonance with Britten's Turn of the Screw.
Indeed, in this Katie Mitchell's stage realisation, the idea of the interaction between two worlds, that of the angels (stage left, a rather clinical, bright, modern space where costumes are changed in full view), and of the Protector's house (stage right, where the lighting is much more natural in both daylight and at night) is made viscerally simple. A staircase appears extreme stage right. So it is that simply by stepping through a doorway, one can move between worlds: a reference to the Spiritualist's idea that when one dies it is really like stepping into another room, perhaps. An idea as simple as a light-switch is used to change atmospheres with simple but effective point. The idea of "angel archivists" brings with it ideas of records – perhaps a reference to the Akashic Records, alleged heavenly records of all that has been, is and ever will be.
The story is based on the thirteenth century Provençal legend "Guillem de Cabestanh – La Coeur Mangë", a story of the eternal love triad (Protector – Agnès – Boy) with angelic nuances mixed in with a final gesture from a horror movie. The original commission, from Aix Festival's director, Bernard Foccroule, was for a work on Provençal themes, hence the setting. The story is of a brutal landowner Protector, who sees his wife as property rather than a human, commissioning an "illuminated book" from the Boy to celebrate his own greatness. Agnès perhaps inevitably embarks on an affair with the Boy, thus influencing the actual contents of the book in the process. In an act of cruel, sadistic revenge, the Protector serves Agnès the murdered Boy's heart for dinner.
Benjamin distances the listener to an extent by having the characters sing their lines as if in quotes (so, the Boy might sing a line and then actually sing thereafter "said the Boy"). This technique gives the rather strange impression of listening to a frieze; this is after all a glimpse of two Otherworlds—one in history, one in "Heaven"—and the way it is carried out is pure genius, both musically and dramaturgically. In terms of actual sonority, the keyword for this piece, perhaps, is "beauty". The number of harsh dissonances is minimal and, when they come, they make full effect.
British baritone Christopher Purves and Canadian soprano Barbara Hannigan return to their roles from the work's premiere as well as the first Covent Garden run. Hannigan will share the role of Agnès with Georgia Jarman. Purves encapsulates the Protector's brutality perfectly. One wonders if his strong voice only losing some body in its upper reaches is deliberate, as the same phenomenon is there in the Nimbus recording also; an intimation of his fallibility, perhaps. The most sheerly luscious performance of the evening is Hannigan's Agnès, multifaceted and intensely human, her pitching simply stunning, as was her sense of lyricism.
Iestyn Davies must be one of the busiest of today's counter-tenors, yet his magnificence never seems to dip. He has previously sung Angel 1/The Boy in Paris (I believe it was Bejun Mehta who took the role in the opera's early performances) as well as recently singing Francisco in the World Premiere of Adès' The Exterminating Angel (which will come to the Royal Opera in the 2016/17 season). The strength of his voice plus his clear identification with his characters is a joy to behold.
Victoria Simmonds made her Covent Garden debut as Angel 2/Marie in 2013 and returns to give a fine account here; Marie's husband, John, is taken by Mark Padmore, whose experience shines forth in his every stage gesture as well as his supple way with Benjamin's lines.
This is a massively important production of a major opera. It is London opera at its absolute finest. One can hear the concentration and devotion of the Covent Garden orchestra in each and every moment, a sense of awareness of greatness, and history, in the making. Unmissable.
Colin Clarke