United States Verdi, Nabucco: Soloists, Chorus and Orchestra of the Metropolitan Opera / James Levine (conductor). Broadcast live to the Odeon Cinema, Chelmsford, Essex, from the Metropolitan Opera, New York, 7.1.2017. (JPr)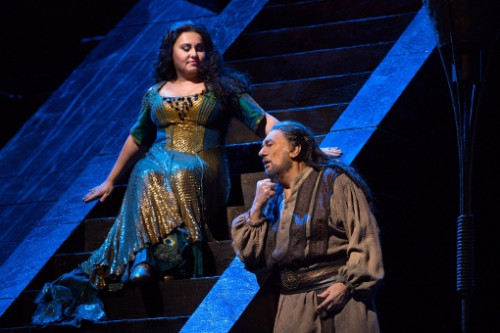 Production:
Production – Elijah Moshinsky (revived by J Knighten Smit)
Set designer – John Napier
Costume designer – Andreane Neofitou
Lighting designer – Howard Harrison
Cast:
Nabucco – Plácido Domingo
Abigaille – Liudmyla Monastyrska
Fenena – Jamie Barton
Zaccaria – Dmitry Belosselskiy
Ismaele – Russell Thomas
Anna – Danielle Talamantes
High Priest of Baal – Sava Vemic
Abdallo – Eduardo Valdes
Live in HD Director – Barbara Sweete
Live in HD Host – Eric Owens
A famous Hollywood star apparently once received a telegram: 'How old Cary Grant?' He replied 'Old Cary Grant fine. How you?'. This one-liner probably originated before him but who now cares? I have always pondered this – especially in recent years – about Plácido Domingo and watching him in this Nabucco from the Met the answer is … he is seemingly ageless. I was reliably (?) informed by the late Alberto Remedios, who knew both Domingo and Luciano Pavarotti, that they were 'the same age' which would put him in his 80s rather than approaching his 76th birthday. Despite some lingering doubts; the singer's energetic kneeling, slumping to the floor, walking down steep stairs or clambering up them as well as singing with a voice virtually unchanged by nearly 60 years, suggested someone whose year of birth might indeed be closer to 1941 than the mid-1930s.
In the pit was the Met's former music director, James Levine, who because of his recent health issues remains confined to a motorised wheelchair and is now 'music director emeritus'. Domingo made his debut at the Met in 1968 and Levine in 1971 so their experience is immense, particularly in Verdi. Surely this was the last chance – after well over 300 Met performances together and at the end of the current run of Nabucco – to hear these legends combining their talents.
Verdi was in despair in the winter of 1840-41 after the failure at La Scala of Un giorno di regno which was withdrawn after just one performance. Compounding this were the deaths of his two children and his young wife and Verdi had vowed never to compose again. After a chance meeting the impresario Bartolomeo Merelli gave Verdi a copy of Temistocle Solera's libretto about Nebuchadnezzar II, the ruthless Babylonian king who oppressed the Hebrew people. It had been rejected by the composer Otto Nicolai and Verdi describes how he took it home, and threw 'it on the table with an almost violent gesture. … In falling, it had opened of itself; without my realising it, my eyes clung to the open page and to one special line: "Va pensiero, sull' ali dorate" '.
These are now the opening words ('Go, thought, on golden wings') of the famous chorus – which is sung by the Hebrews in captivity – which would seal the success in 1842 of Verdi's third opera, Nabucco. It became something of an anthem for the Italians who themselves were a divided nation under foreign rule and seeking unification and independence. 'Va, pensiero' seems traditionally to be sung twice at the Met as again it was on this occasion. The lament was given (two) very heartfelt performances by the magnificent Met chorus.
Elijah Moshinsky's production (here routinely revived by J Knighten Smit) was new in 2001 and is deeply traditional in all the best or worst traditions of the Met. It is just a series of tableaux: this possibly befits an opera which is no great masterpiece and simply consists of several static choruses, straightforward and somewhat repetitive arias as well as some uninspired – albeit familiar –  Verdian oompah-pah passages. However James Levine, conducting his chorus and orchestra with greater energy than he has appeared to muster recently, made it all sound much better than it probably is.
John Napier's set is a huge, rotating, ziggurat-like structure depicting the events in Jerusalem on one side and Babylon on the other. Both sides had high platforms and steep staircases which sorely tested some of the soloists because of their age or bulky physique. Domingo apart, the acting of most of the principals was rudimentary to say the least and the performance was a throwback to the stand-and-deliver 'golden'(?) years of opera. It was glorious if you shut your eyes and listened to some wonderful singing and the superb orchestra, though not always quite so wonderful if you left them open. This Met Nabucco is remarkable therefore for not only bringing together two vastly experienced veterans, but for – almost uniquely – presenting the piece approximately in the place and time stipulated by the plot. Deep down something in me applauds this. However, I must accept opera in the twenty-first century has moved on somewhat from faithful renderings; the Met – more often than not – still needs to, if its audiences will let it.
One of the reasons Nabucco is not often performed at the Met – or anywhere for that matter – is the punishing soprano role of Abigaille. She is a Babylonian slave who is accepted as Nabucco's eldest daughter yet schemes to win the crown for herself and is angry for most of the opera until dying at the end. Liudmyla Monastyrska approaches the role fearlessly and tirelessly with seemingly little concern for any longer-term damage to her voice: it is a very impressive and exciting vocal performance. Jamie Barton is Nabucco's biological daughter, Fenena, and she loves Ismaele, the King of Jerusalem's nephew. She gets little to sing, but with her velvety and lyrical voice elicited much sympathy for her character.
Of course, the focus of Barbara Sweete's direction for the cinema was – quite rightly – on Domingo whenever he was on stage. (In the manner of a Broadway show he was applauded on his first entrance.) The Babylonian despot goes mad after declaring himself not only king but also god of his subjects; though after converting to Judaism near the end he regain his senses just in time to free the Hebrews and save Fenena from death. These three principal singers were the same as I saw last year at Covent Garden (review) but here – despite the frequent references to 'old man' in the libretto – Domingo seemed less like King Lear as he had then, now more rekindling memories of his Otellos earlier in his career. It is debatable whether with his current voice – which is that of the ultimate lazy tenor – Domingo ever gets to the true baritonal heart of the role, but with such a nuanced and compelling performance as he was able to give here – and assuming it sounded the same in the theatre – his retirement from the stage may still be some time in coming.
Russell Thomas's Ismaele – another woefully underwritten role – showed impressive vocal heft. Although Dmitry Belosselskiy brought great dignity to the role of the High Priest, Zaccaria, his bass voice was a little raspy at the top and bottom and perhaps showed the effect of a long run of performances.
Eric Owens was a rather nervy backstage host and it was probably a result of his concern about what answers he would get interviewing singers who were often only vaguely familiar with the English language. Indeed, these were not very enlightening! Much better was the fascinating discussion involving Peter Gelb (the Met's general manager), Levine and Domingo which eventually got around to the singer's longevity. Intriguingly, it was suggested that this is due to his ability to play the piano and learn roles himself, thus saving his voice from hours of coaching that would otherwise have been required.
Jim Pritchard