Canada Beethoven, Mozart: Emanuel Ax (piano), Vancouver Symphony Orchestra / Bramwell Tovey (conductor), Orpheum Theatre, Vancouver, 18.1.2017. (GN)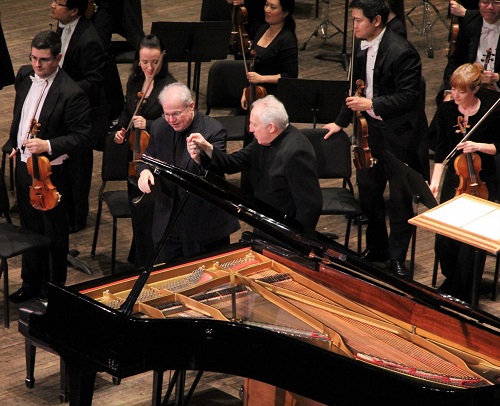 Beethoven – Wellington's Victory Op.91
Mozart – Piano Concerto No.22 in E flat major K.482
Beethoven – Piano Concerto No.5 in E flat major Op.73 'Emperor'
Pianist Emanuel Ax has been such a force in North America and all over the world for the past four decades that one wonders whether he can ever get a break from serious musical commitments and simply kick back and have some fun in concert. This event seemed to allow just that, though it was still a test for a musician approaching seventy to perform two great concertos, Beethoven's Emperor and Mozart's 22nd, at one sitting. Fortunately, Ax cast any issues of age aside and sailed through both works in vigorous, athletic fashion. Perhaps he was not too concerned with points of style or inward depth, but he always demonstrated that his iconic strength of purpose – combined with endless cascades of luminescent runs and trills – could place a spell over an adoring audience. Maestro Bramwell Tovey cooperated fully, always aiding and abetting the pianist's cause.
The Emperor Concerto turned out best, having strong projection and plenty of dazzle. The first movement stormed forward at strong volume and insistent speeds, the pianist alternating moments of driving force with passages of beguiling prettiness. This was not playing of obvious poetry, more of assured virtuosity and energy. One always felt the pianist's desire to press on; in fact, many phrases and runs embodied a discrete accelerando to give them extra emphasis and motion. Maestro Tovey and the orchestra followed in tandem, adding dramatic force and weight of their own. It was the Maestro's turn to find extra richness in the string textures of the Adagio, adding little romantic swells on sustained notes as well. Ax in turn broke with the normal serenity of his part by introducing a gentle rubato that imparted a jaunty tunefulness to it all. The finale returned to the intensity and thrust of the opening movement, Ax pouncing on the music with all the agility of a springing cat.
Ax's playing differed little in the preceding Mozart concerto, frequently pushing forth phrases with a perky eagerness and cultivating strong dynamic contrasts. Perhaps because this was Mozart 'in a casual vein', the approach was not strong on narrative and charm. Though always purposive, the playing actually seemed to have less natural space and flow than I have witnessed previously from this pianist. The opening Allegro moved by very quickly, more dispatched than savoured, strong on virtuoso touches, yet not fully probing the intrinsic delicacy or caprice in the writing. The glorious Andante featured lovely jeweled articulation at its opening but still felt underinvested in its 'wonder', becoming unduly diffuse at the close. The finale struck me as casual indeed, generalized in its orchestral detailing and not bringing out the immense character in the interaction between piano and winds. I admit that sometimes I was more fascinated by the pianist's technique than by the music. But one should not be too fussy: Mozart concertos have not traditionally been Ax's specialty, and it was great to hear him take this on. Perhaps one additional constraint was the large orchestra employed, which always takes away from intimacy and precise detailing in this composer.
Qualifications aside, I appreciated this adventurous little 'time out' for Emanuel Ax – and the audience clearly appreciated it too. Ax gave us a Chopin Nocturne as an encore. And yes, surprise!: the concert began with Beethoven's Wellington Victory, that strange work which must be heard once in a lifetime just to convince you that Beethoven did not always write masterpieces. It is almost never performed because it is so difficult to find works to put with it. It's nice to report that on this occasion it did seem to fit with the spirit of the rest of the proceedings.
Geoffrey Newman
Previously published in a slightly different form on http://www.vanclassicalmusic.com.