United Kingdom Mozart, Schumann, Liszt and Rachmaninov: Emanuel Rimoldi (piano), Wigmore Hall, London, 24.1.2017. (CS)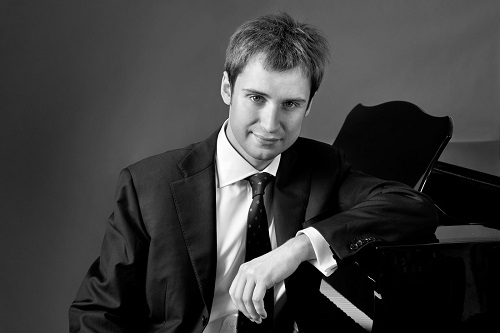 Mozart – Piano Sonata in A minor K.310
Schumann – Humoreske in B flat major Op.20
Liszt – Danza sacra e duetto finale d'Aida S436 (transcription from Giuseppe Verdi)
Rachmaninov – 10 Preludes Op.23
Emanuel Rimoldi has made a habit of winning prizes.  The thirty-year-old Italian-Romanian pianist was awarded third prize and two special prizes at the 2011 Ettore Pozzoli International Piano Competition (Seregno, Italy) and first prize at the 2013 Cittá di Cantú International Piano Competition (Italy).  He followed first prize at the international piano competition Top of the World (Tromsø, Norway, 2013), with the Gran Prix and 'Ivo Pogorelich' prizes at the first Manhattan International Music Competition in 2016.
Rimoldi's successes have given him a passport to prestigious concert halls across Europe, including the Gewandhaus in Leipzig, Sendesaal in Hannover, Gasteig in Munich and Salle Cortot in Paris, among others.  It seemed fitting, therefore, that this Wigmore Hall recital was part of The Keyboard Charitable Trust's Prizewinner Series, for the Trust support talented young performers, assisting their development by offering them opportunities to perform throughout the world.
Rimoldi may be successful at catching the ear and eye of international juries and in possession of a technique so assured that one barely notices the virtuosity but, on the evidence of this intensely focused performance, he does not put showmanship above intelligent musicianship.  This performance was, however, sometimes surprisingly forthright and offered strongly defined, often somewhat idiosyncratic interpretations.
Mozart's A Minor Piano Sonata was given startlingly muscular treatment.  The opening Allegro was more agitato than maestoso, in part because of the manner of the ornamentation – acciaccaturas rather than appoggiaturas adorned the first theme – and partly because the tight dotted rhythms felt tense rather than stately and majestic.  Despite the sense of urgency, the demonic resonances of the minor key were not conveyed; rather Rimoldi went for weight, strikingly so at the end of the exposition.  Mozart's development is certainly stormy but Rimoldi gave us a relentless power, stirring up a Beethovenian fury, neglecting the anguish in the music.
The Andante cantabile con espressione had a well-defined melodic line with tightly executed ornamentation, but greater flexibility would have added a more expressive 'vocal' warmth.  The more dramatic development had an air of fantasy, ever more elaborate and increasingly assertive as the counterpoint intensified.  There was a pleasing 'clearing of the air' with the recapitulation and the second theme, with its delicate repeating note, was gentle and relaxed.  In the Presto, Rimoldi displayed a light touch and created a shrewd balance between theme and accompaniment; the movement was perhaps a little precipitous, though, and the haste both disturbed the consistency of the rhythm and diluted the tragic tone.
When Schumann composed his Humoreske Op.20 in 1838, his creative spirit had until then found its voice predominantly in music for the piano.  Marriage to Clara Wieck in 1840 would turn the composer's attention towards song, chamber music and symphony.  The Humoreske therefore marks a culmination and turning point: but it is not a work in which Schumann's Romantic trademarks – melancholy sensibility, innocent sweetness, dynamic restless – can easily be fused into a unified form or unanimous argument.  As Schumann wrote to Clara in 1839, 'All week I've been sitting at the piano and composing and writing and laughing and crying, all at the same time.  You will find this beautifully illustrated in my Opus 20, the great Humoreske.'  The eighteen movements do indeed tug in different directions and Rimoldi did not succeed in pulling them together in a sustained narrative thread.  Pain and joy were juxtaposed rather than intermingled.
He did, however, capture individual moods with confident rhetoric: the exquisite tenderness of the opening 'Einfach' whose simple melody unfolded as if inviting us into a secret; the eagerness and spontaneous energy of 'Sehr rasch und leicht'; the impetuosity of the 'Intermezzo' with its perilous semiquaver octaves; the irony of 'Zum Beschluss', as it veered from tranquil reflections to agitation by means of a mock-heroic march, culminating in the reckless energy of the close.
As 'Noch rascher' flitted between minor and major, tranquility and haste, Rimoldi was sensitive to the way brightness and shadow, joy and gravity, alternate and interpose.  'Erstes Tempo' was a lovely palette cleanser to 'Hastig', which had a strong driving bass line and pronounced middle-voice melody.  The pianist pushed to extremes Schumann's quicksilver contrasts.  He certainly conjured a kaleidoscope of emotions, and if the inclined angles did not reflect a singular image of the human condition then perhaps that is because the music embodies Schumann's quirky, problematic genius.
Liszt's 1879 transcription of Verdi's 'Danza Sacra e duetto finale' from Aida opened the second half of the recital, allowing Rimoldi to indulge his exuberance, as he found the music's exotic colours and painted them in bright tones enriched by a strong bass and sparkles from the heights of the keyboard.  I was not convinced, though, that the enormous power generated by explosive pounding with copious pedalling, and the shimmering tracery which faded as if entranced at the close, served to do more than express their own essence.  The religiosity and rapture of Radames and Aida seemed far removed.
Rachmaninov's 10 Preludes Op.23 felt like a work in progress.  There was certainly a sense of a search for personal expression and individuality; and the reflectiveness was at times persuasive, as in opening F sharp Largo, which had plenty of expressive poise, and the E flat major Andante, which combined rhapsodic freedom with cool, clean tone.  The intricacies of penultimate E flat minor Presto were expertly enunciated.  The B flat major Maestoso was joyfully bombastic, but not always clean and accurate, and the swirling gusts of the C minor Allegro were like a Siberian blast from the steppes, seeming to well up from the sustained chord at the close of the 6th prelude – though again there was some untidiness and a lack of melodic articulateness.
This was heavy, meaty playing, nowhere more so than in the renowned G minor Alla marcia.  I'd have liked greater spaciousness of phrasing and a translucence in inner voices which would have illuminated a louring darkness – a Slavic brooding.  The gentler preludes sometimes felt a little contrived.  The berceuse-like D Major Andante cantabile should rock with greater freedom and dreaminess, for example.
That said, Rimoldi's playing was unfailingly thought-provoking and he conveyed a strong conviction and personality.  Encores by Tchaikovsky and Chopin, for once, did not feel like lollipops; Rimoldi has something fresh to say and it's worth hearing.
Claire Seymour