Switzerland Shostakovich, Lady Macbeth of Mtsensk: Soloists, Chorus of the Zurich Opera, Philharmonia Zurich / Vasily Petrenko (conductor), Zurich Opera, Zurich 7.1.2017. (JR)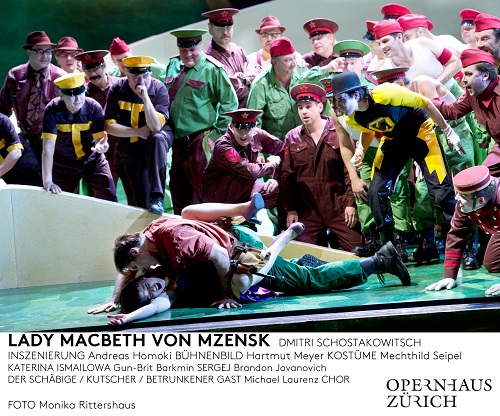 Cast included:
Katerina Ismailova – Gun-Brit Barkmin
Boris – Pavel Daniluk
Sinowij – Oleksiy Palchykov
Sergei – Mischa Didyk
Axinja – Kismara Pessatti
Sonetka – Deniz Uzun
Woman Convict – Sen Guo
Foreman – Michael Laurenz
Policeman – Dimitri Pkhaladze
Priest/Old Convict – Wenwei Zhang
Police Chief – Valerij Murga
Production:
Director – Andreas Homoki
Revival assistant – Nina Russi
Sets – Hartmut Meyer
Lighting: -Franck Evin
Costumes – Mechthild Seipel
Chorus – Ernst Raffelsberger
Dramaturg – Claus Spahn
On January the 26th 1936 Josif Stalin visited the Bolshoi to see and hear Shostakovich's Lady Macbeth of Mtsensk which had been composed some two years earlier and met with critical success (albeit not from "official" circles). Shostakovich was present at the performance. Two days later, on Archangel railway station, Shostakovich bought a copy of Pravda and was stunned by the headline reviewing his opera: 'Chaos instead of Music'. Stalin had hated the piece, or – rather – simply failed to understand it and effectively denounced it. The article went on, in threatening tone: 'it's a game which can end badly.' Shostakovich took the warning seriously and slept in the corridor outside his flat for a while so his family would not be disturbed or alarmed if Stalin's henchmen called for him to be carted off to Siberia (as happens to the main characters of his opera). Shostakovich wisely left his somewhat discordant (but magnificent) Fourth Symphony in his desk drawer and composed his traditional Fifth Symphony which managed to appease the Soviet authorities. Sadly, though, Shostakovich never wrote another opera (The Nose was an earlier opera – see Jim Pritchard's review here).
Many producers have portrayed the brutality, several rapes, floggings, beatings, murder (by rat poison) and two suicides with graphic reality but Homoki concentrates on the grotesque wit in the score and paints an amusing production to match – he succeeds admirably. It's still not a production to which to take the grandchildren. This production first saw the light of day in 2013 and the revival is playing to full houses, quite an achievement for an opera which has no catchy tunes and a bleak storyline.
Homoki has known the opera for a long time. 25 years ago he assisted Harry Kupfer, who broke his foot, and Homoki jumped in. Homoki has a sense of fun, eschews nudity, and tries hard not to repulse his audience (unlike several opera producers I could mention). Homoki's production is a riot of colour and the humour, though grotesque, is never puerile. The (normally offstage) brass band is brought onto the stage in the form of skittles in circus attire: they bobble around to great visual effect. Round the set are mock-ups of sexual organs imitating sexual intercourse, but in themselves playful and, remarkably, not at all distasteful. Lighting, by Franck Evin, aids the effects.
Some of the principal singers have changed since 2013. Thankfully, Gun-Brit Barkmin repeats the lead role of Katerina; her role was new to her then, and she has grown into it – she is first-rate in every way. Her lover, Sergei is sung by Mischa Didyk, a strong-voiced but slightly characterless tenor, though he has recorded the role for Ingo Metzmacher – I think I preferred his predecessor Brandon Jovanovich from the première. Kurt Rydl four years ago was a weakness; he knew the role but the voice was no more: his replacement is Pavel Daniluk and the role fits him like a glove. Katja's ineffectual husband is sung by Oleksiy Palchykov, he has more to act than sing but did both tolerably well.
Of the minor roles, several stood out – Valerij Murga as the Police Chief, Wenwei Zhang as the Priest and old convict, and particularly young alto newcomer Deniz Uzun, displaying a warm chest voice. Michael Laurenz as Foreman in a Superman outfit, sadly lost his voice just before his long drinking aria in Act 3, a victim of the outside sub-zero temperatures, no doubt.  Most of the singers had Russian as their native or second language and this paid dividends in terms of diction and authenticity of sound.
The chorus sang well, but some lacked concentration and timing on occasion went a little awry.
Vasily Petrenko was in the pit, full of vim, bringing out every nuance and orchestral colour in this ingenious and entertaining score: the orchestra responded admirably. If only Stalin had seen a performance of this quality, Shostakovich might well have been able to sleep soundly in his bed.
The final performance in this run is on January 14th.  Any chance of a DVD?
John Rhodes