United States Widmann, Bruckner: Yefim Bronfman (piano), Cleveland Orchestra / Franz Welser-Möst (conductor) Severance Hall, Cleveland, Ohio, 12.1.2017. (MSJ)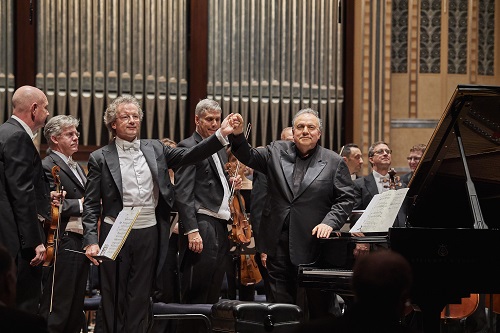 Widmann: Trauermarsch
Bruckner: Symphony No. 7 in E major
Grief.
People squirm away from the subject, inescapable though it is. Everyone meets the grief of loss sooner or later, no matter how hard it may be talk about it. But music can go places words can't fit, so it was an inspired idea for Cleveland Orchestra music director Franz Welser-Möst to contrast two ways of dealing with the subject, courtesy of young composer Jörg Widmann and old master Anton Bruckner.
Widmann's Trauermarsch started to life as the planned first movement of a piano concerto for Yefim Bronfman, a joint commission by the Berlin Philharmonic, San Francisco Symphony, and Toronto Symphony. But as the movement grew and grew, Widmann realized that it was a concerto in itself, running twenty-five minutes. It begins, as its title suggests, as a formal funeral march, soft and dark in tread. But quickly the traditional tonal harmony becomes clotted with dissonant notes in the piano, gradually spreading throughout the orchestra and into the hugely expanded percussion section (including bass drum, small drum, three tam-tams, Brazilian tambourine, crotales, claves, cowbells, Chinese cymbal, three cymbals, Peking gong, slide whistle/lotus flute, tubular bells, glockenspiel, vibraphone, vibraslap, water gong, waterphone, and xylophone).
Between the subject matter and the percussion, Widmann double-dared himself. Too much unrelieved gloom and a work of this length could cause an audience to revolt and leave the hall in droves. Crass use of the percussive special effects, on the other hand, could evolve into the soundtrack for a bad horror film, drawing titters instead of kudos. Widmann navigated this minefield with assurance, delivering an astonishing amount of vivid orchestral color—spectral sparks in the darkness—that avoided suffocation and parody. Above all else, the extra percussion was used with a sense of wonder, limning the march's solemn pace with unworldly glimmers.
The piano soloist plays almost continuously, often with dense tone clusters or in aggressive volleys back and forth with the orchestral brass. Yefim Bronfman played with power and endurance, with Welser-Möst keeping the orchestral textures clear. In its guise as a formal march, the work kept its sense of grief formal and public for a long spell, even through more eruptive contrasting sections. Then a turning point arrived when the orchestra and its percussion battery died off slowly and Bronfman's piano emerged with a simple sad song, tender and lost. As the textures once again clotted and resignation cast its shadow, it was nonetheless clear that peace had been reached. Grief had been accepted. The work, in its Cleveland premiere, was warmly received by the audience, who called Bronfman back to the stage several times.
Franz Welser-Möst, now in his fifteenth year as music director of the Cleveland Orchestra, is known for his Bruckner. One of his earliest recordings over twenty-five years ago was of the composer's Symphony No. 7, and he has led it many times since. While his conception has not greatly changed, the conductor's grip has. His early recording struck me as clean, coherent, and attentive, while his 2003 performance in Cleveland showed him introducing this orchestra to his lithe approach to Bruckner—something rather different from their tradition of rich textures under George Szell and Christoph von Dohnányi. After some searching years, the orchestra and conductor have achieved a remarkable meld, allowing the Seventh to emerge in one lucid breath without seeming overly driven nor excessively reined-in.
Welser-Möst showed a shrewd ability to find the perfect pace for each movement, allowing ample space and time for Bruckner's plate tectonics to patiently unfold, while never letting the grand arch sag into indulgence or cheap theatrics. Above all, one didn't ever have the sense of the conductor burning his own brand into the music. But yet it wasn't mere following of the score by rote. The conductor has studied the score thoroughly and wisely eschews the tempo exaggerations suggested by the score's first director, Artur Nikisch, that have plagued many performances. More than that, though, Welser-Möst showed an understanding for how the center is the grief expressed in the second movement, itself almost as long as Widmann's entire concerto. He started the Adagio broadly but with reserve, not milking the grief. But by the time the peak of the movement was reached (with editorially disputed cymbals and triangle present), nothing was held back. The contrast between reserve and release packed a tremendous wallop. By the time the other elements moved into place in the finale, a world-wise radiance had been achieved.
The orchestra played with refined but arching glow that proved Bruckner's sound world doesn't necessarily need a reverberant acoustic. Indeed, the repetition of architectural pattern in Severance Hall's plaster served as a perfect reflection of Bruckner's massive fractals. Particularly of note were the beautifully intoned quartet of Wagner tubas, helped out by the shifting of the tuba to their section for the tawny, sepulchral chords of the second movement.
In short, this was the most perfect Bruckner Seventh I've ever heard. Not just because it was so well-played, but because it was so well-understood.
Mark Sebastian Jordan