Spain Mendoza, La Ciudad de las Mentiras: Orchestra of Teatro Real / Titus Engel (conductor), Teatro Real, Madrid, 20.2.2017. (JMI)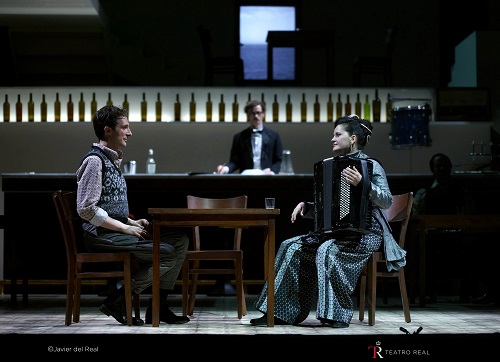 World Premiere
Cast:
Gracia – Katia Guedes
Carmen – Anne Landa
Moncha – Anna Spina
Woman – Laia Falcón
Doctor Díaz Grey – Graham Valentine
Risso – David Luque
Jorge – Michael Pflumm
Walter – Tobias Dutschke
Langman – Guillermo Anzorena
Production:
Director – Matthias Rebstock
Sets – Bettina Meyer
Costumes – Sabine Hilscher
Lighting – Urs Schönebaum
This work was commissioned by Gerard Mortier when he was the artistic director of Teatro Real, and the score is dedicated to him. It should have been premiered in the 2014-2015 season, but had to be postponed till now for economic reasons.
La Ciudad de las Mentiras was announced as a new 'opera', but it really isn't one – not if one defines opera as a musical work whose text is sung, totally or partially, with orchestral accompaniment. In the hour and a half that this work runs, there is only spoken dialogue, not singing, and hardly any musical notes are uttered by the characters. None of them has a chance to sing what is given to even the most modest secondary characters in any opera.
The work – I refuse to call it opera – was composed by Elena Mendoza with a libretto by Matthias Rebstock, and is based on stories by Uruguayan author Juan Carlos Onetti. It is written for a reduced orchestra of less than 20 musicians and uses lots of percussion, both in the pit and on the stage. There is no melodic line, obviously, and each player can give any value he or she desires to the composition. I give a lot of credit to Titus Engel's conducting, for without a firm hand this could have become an even bigger mess.
The program explains that there are four women's stories being told, but on stage things are much more confusing: the four tales seem to unfold at the same time, and one does not really know what is happening.
The author of the libretto, Matthias Rebstock, is also the director here. There is a single stage set with a bar at the front, where the waiter is a notable percussionist on all kinds of pots. The actors (one can't call them singers) move well about the stage, and it is a generally attractive, although quite confusing, production.
One cannot analyse the performances of the supposed singers since they don't really sing, except for a few notes sounded by some of them.
José M. Irurzun