Canada Prokofiev, Dvořák: Juho Pohjonen (piano), Vancouver Symphony Orchestra / Constantin Trinks (conductor), Orpheum Theatre, Vancouver, 5.2.2016. (GN)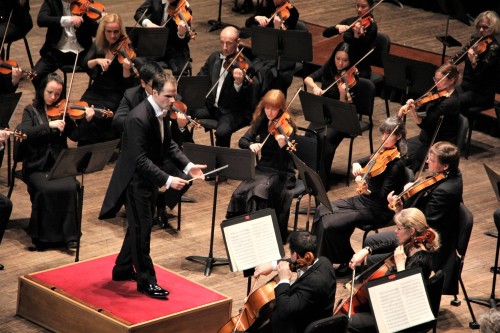 Prokofiev – Symphony No. 1 in D major Op.25 'Classical'; Piano Concerto No. 1 in D-flat minor Op.10
Dvořák – Symphony No. 9 in E minor Op.95 'From the New World'
Vancouver has been visited by many young conductors over the past two seasons, and while all of them have had their individual virtues, one is left with a middling response to it all. It's nice when one young conductor suddenly comes out of the blue and jolts you out of your chair. Constantin Trinks really did arrive out of the blue, almost a complete unknown deputizing for the originally-scheduled Pietari Inkinen in this collaboration with Finnish pianist Juho Pohjonen. It turns out that Trinks, now 41, has a fine reputation as an opera conductor in Germany, specializing in Wagner and Richard Strauss, and has appeared in both Dresden and Munich with distinction. He just released a well-received CD of Hans Rott's Symphony No. 1 for Hänssler. Often, short-notice stand-ins for an (often great) conductor have been a stunning formula to take a career to greater visibility, especially if the young conductor can marshal his very best on the occasion. And that is exactly what transpired in this programme of Prokofiev and Dvořák. This was one of the finest orchestral displays by the VSO that I have seen in a long time, propelled by conducting of great interpretative subtlety, textural control and spontaneous power.
The programme was absolutely standard: Prokofiev's 'Classical' Symphony and Dvořák's 'New World'. Yet it was promising that I found the reading of the former really involving – and I haven't thought that about this work for a while. Trinks found all sorts of balletic point and charm in the opening Allegro, bringing it together with bubbling winds and a true awareness of its bursts of motion. The opening of the Larghetto reached out to find rare feeling, featuring the most refined string playing, while the Gavotte's dance rhythms were etched with character. It was the complex detailing and sense of motion in the finale that brought the work home so naturally. The conductor's sense of orchestral balance was impeccable, and when he needed to summon frisson from the orchestra, it seemed to just spring naturally forth.
Pianist Juho Pohjonen has visited a number of times in the past five years; while I have always enjoyed his tonal richness and rhapsodic sweep, I've thought rather less of his technical abilities.  On the evidence of this Prokofiev First Piano Concerto, I think he has come some distance. This was beautifully articulated playing, full of architecture, warmth and colour, yet still preserving a rhapsodic flow: a welcome contrast from the steely, hard-edged contours that one frequently encounters in this composer. Trinks was no mean collaborator, pulling out deep overarching passion in the strings in the orchestra's first big statement, and mining lyrical delights time and time again. The beauty of the strings in the Andante was noteworthy, meshing perfectly with the pianist's inward musing, and the horns produced sumptuous output. There was point and playfulness in the closing Allegro Scherzando, but a natural sensuality made the music glow. I haven't seen many more uplifting performances than this: the music making was uniformly exciting and generated great anticipation and feeling.
There was an idiomatic sharpness to the contours of Trinks' 'New World' Symphony: he didn't push it too hard and found an almost perfect balance between structural strength and lyrical repose. The opening movement had a fine overall integration – repeat observed – and it interested me how the orchestra could spring so spontaneously into climaxes. The conductor found a consuming melancholy in the famous cor anglais theme of the Largo, with the strings achieving a lovely ethereal suspension. There was masterly control throughout: dynamic gradations finely judged and flowing textures beautifully set in place. The winds were magnificent in their softer hues. I was reminded at times of how Wagnerian textures unfold – with the same hushed concentration and pliability – but everything was unmistakably convincing on its own terms. The bracing rhythmic momentum of the Scherzo was quintessentially Czech, with the Trio dancing as it should. And the Czech flavour carried on to the Finale, with fine thrust and plenty of fire. But it also had something more: it cultivated passages of tender and unencumbered romantic beauty along the way, yet managed to wed these with almost their opposite – a consortium of stabbing string protestations that portended nastier, more unearthly spirits. The recognition of a discomforting underworld beneath all the beauty and positive energy was most revealing. It made one think that Op.95 was much closer to the strange macabre of Dvořák's Midday Witch and other later tone poems.
It was a most impressive and uplifting concert – and the orchestra literally outdid itself. The brass was exceptionally crisp, strong and balanced; the horns gloriously full and accurate. The winds showed both flexibility and subtlety. Yet it was perhaps the strings that took the top prize; perfectly balanced from top to bottom, unfailingly attentive and unanimous, with a lovely sheen and glow. Maestro Trinks had the ability to take the violins up to the higher terrains, and just when it seemed they could go no more, he somehow willed them to a further surge of electricity. A lovely passionate feeling opened up when he did this, and it is something I have rarely encountered with other conductors. Perhaps these special characteristics follow from the completely natural dramatic and lyrical inclinations in the maestro's make-up: he manages to cultivate such a clean, expressive pliability in the orchestra's response and gets the players to feel the line of the music so well. He also seems to know exactly when to move the music forward with increased intensity. When things are opened out full throttle, the results are free and scintillating, and bursting in romantic spirit.
There is absolutely no doubt that Constantin Trinks is a conductor every orchestra should invite for a visit.
Geoffrey Newman
Published in a slightly different form on http://www.vanclassicalmusic.com.