United States Strauss, Salome: Chorus and Orchestra of LA Opera / James Conlon (conductor), Dorothy Chandler Pavilion, Los Angeles, 25.2.2017. (JRo)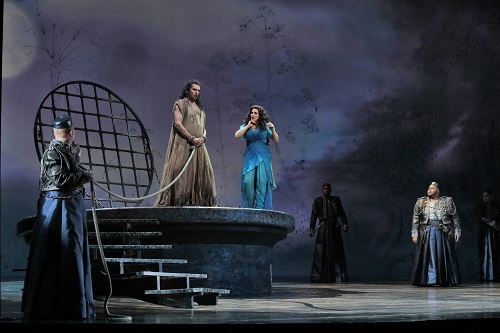 Cast:
Salome – Patricia Racette
John the Baptist – Tómas Tómasson
Herod – Allan Glassman
Herodias – Gabriele Schnaut
Narraboth – Issachah Savage
Page – Katarzyna Sądej
First Soldier – Nicholas Brownlee
Second Soldier – Patrick Blackwell
First Nazarene – Kihun Yoon
Second Nazarene – Theo Hoffman
First Jew – Rodell Rosel
Second Jew – Joshua Wheeker
Third Jew – Brian Michael Moore
Slave/Fourth Jew – Carlos Enrique Santelli
Cappadocian/Fifth Jew – Gabriel Vamvulescu
Production:
Libretto – Hedwig Lachmann, based on the play by Oscar Wilde
Original Production – Sir Peter Hall
Director – David Paul
Set Design – John Bury
Costume Design – Sara Jean Tosetti
Lighting Design – Duane Schuler
Choreographer – Peggy Hickey
In the daunting role of Salome, a soprano needs the sustained vocal power to be heard over a surging orchestra, the acting skills to convey an emotionally damaged 15-year-old overcome by lust and longing, and the charisma and grace to attack the famous 'Dance of the Seven Veils' without falling into awkwardness and cliché. It's a tall order and requires unique abilities and a sensitive director.
Teresa Stratas and Maria Ewing were two of the dramatic sopranos who famously accomplished everything required. In fact, Ewing performed the role 30 years ago in the same LA Opera production, then directed by Sir Peter Hall. This time around it was Patricia Racette's turn. Convincing as she was vocally, offering clarity, color and expressiveness, in dramatic terms her interpretation was disappointing.
The character of Salome, as conceived by Oscar Wilde in his 1891 play and translated and adapted faithfully for Strauss's opera, is a profoundly disturbed adolescent. Her father has been murdered to satisfy the ambitions of Herod, her uncle. Her mother, Herodias, has then married Herod, in what Jokanaan (John the Baptist) labels an act of incest. This is a mother who cares little for her maternal role, craving only power, wealth and position. Herod, for his part, lusts after his stepdaughter with obvious relish, and it is in this atmosphere of depravity that Salome is raised.
When the opera begins, Salome wonders why Herod is always staring at her 'with his repulsive mole's eyes' and sings, 'It's so curious when my own mother's husband looks at me so'. She should be portrayed as a compromised, confused child, but this Salome, as directed by David Paul, enters with the physical airs of a modern teenager, twirling her hair absentmindedly, putting her fingers to her mouth and flapping her arms around. It's a shallow attempt to represent the physical trappings of youth and undermines the torturous drama to come. The tight plot is compressed into a drama of under two hours. Salome must be convincing in her pathology from the moment we meet her so that we can believe in the shocking conclusion of the opera – her kissing of the severed head of Jokanaan and the disgust that it provokes in Herod, who ends the opera ordering her execution.
Though Racette went through the paces, including an ill conceived 'Salome's dance' accompanied by four male slaves and yards of purple polyester, she didn't approach the dramatic intensity required until her final scene – the psycho-erotic liebestod. Singing with the fervor of a mind gone mad, Racette finally owned the role.
Perhaps, as Strauss conceived it, the star of the opera is the orchestra. Under the direction of James Conlon, the LAO Orchestra delivered the quavering restlessness, threatening dissonances and soaring lines of the score while allowing the voices on stage to be heard.
As the imprisoned and unforgiving Jokanaan, Icelandic baritone Tómas Tómasson had the manic presence of a zealot, conveying Wilde's misogynistic notions of women. Allan Glassman's Herod was well sung and acted, though his interpretation of the role could have used more greedy sensuality and less humor. Herodias, as sung by Gabriele Schnaut, was appropriately edgy and depraved, but I wished for less of the amused onlooker and more of the grasping wife. Issachah Savage, a powerful heldentenor, played Narraboth. His desire for Salome opens the opera and sets off a trail of lust that derails the principals. Unfortunately, we saw little of obsessive longing in his character.
As for the set, it was bland and serviceable, with an elevated cistern that called for Salome to repeatedly run up and down its winding steps to reach the top and gaze down at Jokanaan. The 30-year-old backdrop, depicting sky and trees in washed out purples, blues and blacks, seemed to make a tepid reference to the Symbolist paintings of Gustave Moreau.
With Strauss's opera of 1905, we have a visionary score that predated Stravinsky's Rite of Spring and helped usher in the Sturm und Drang of the twentieth century. Certainly it's worthy of a new production for LAO in the twenty-first. And perhaps, as James Conlon has indicated, we can hope to hear him conduct more Strauss in the future.
Jane Rosenberg