Spain Britten, Billy Budd: Orchestra and Chorus of Teatro Real / Ivor Bolton (conductor), Teatro Real, Madrid, 22.2.2017. (JMI)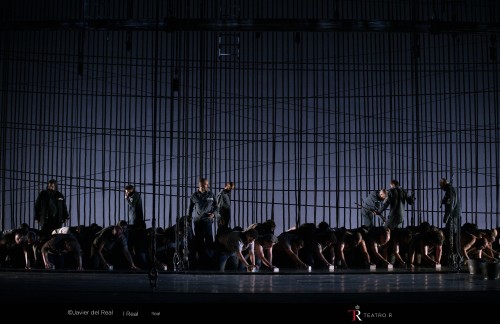 New production
Cast:
Billy Budd – Jacques Imbrailo
Captain Vere – Toby Spence
John Claggart – Brindley Sherratt
Mr. Redburn – Thomas Oliemans
Mr. Flint – David Soar
Ratcliffe – Torben Jürgens
Red Whiskers – Christopher Gillett
Donald – Duncan Rock
Dansker – Clive Bayley
A Novice – Sam Furness
Squeak -. Francisco Vas
Production:
Director – Deborah Warner
Sets – Michael Levine
Costumes – Chloé Obolensky
Lighting – Jean Kalman
Billy Budd has finally arrived at Teatro Real, and it has met with a well-deserved success. To the great quality of the opera itself can be added magnificent musical direction, superb staging and a cast that was vocally well-suited.
I consider Benjamin Britten one of the fundamental composers in the history of opera, and was very happy with this Billy Budd. I can't say that Billy Budd is Britten's best opera: it always seems to me that his best opera is the one I've seen most recently, and that is not something that happens for me with other great composers.
This new production is done in collaboration with Paris National Opera, Helsinki Opera and Teatro dell'Opera in Rome. The direction is by Deborah Warner, and her staging is very impressive. All the characters are perfectly defined and bring the story alive, and the same can be said of the chorus and the extras. Ms. Warner has offered a great demonstration of the importance of theatre in opera.
The stage is very simple and at the same time very effective. With just ropes and scales, it evokes the deck of the Indomitable, and it gives a view of the ship's hold, where the sailors sleep in their hammocks. Although the opera is supposed to take place in 1797, the costumes are rather contemporary; the lighting is excellent. But if anything stands out here, it is Ms. Warner's marvelous direction.
The Musical Director of Teatro Real, Ivor Bolton, gave us one of the best performances that I can remember from him, not only in this house but in any other. Ivor Bolton is well-known for his conducting of baroque and classical music, but he has shown that he is totally at home with Britten too. His reading was passionate and exhilarating, and he gets credit for much of the opera's success. The orchestra was in top form, and the same can be said of the chorus in this very demanding opera.
Making his debut in Madrid, South African baritone Jacques Imbrailo was a splendid Billy Budd. He exhibited energy and joy during the first act, and conveyed deep emotion in the great scene that precedes Billy Budd's death. Mr. Imbrailo's voice may not be exceptional, but he is first-rate interpreter of this unfortunate character.
Tenor Toby Spence was equally convincing in the role of Captain Vere. He knows how to share emotion in his singing, and that is precisely what opera is about. This is an artist who never disappoints – quite the contrary.
John Claggart, the Master at Arms, was well played by bass Brindley Sherratt, although I missed the blacker voice that this evil, cynical character demands.
The numerous secondary characters were covered nicely. Thomas Oliemans stood out as Mr. Redburn and David Soar did well as Mr. Flint, while Torben Jürgens was more modest as Ratcliffe. Christopher Gillett was a persuasive Red Whiskers on stage but less so vocally. Tenor Sam Furness as the Novice handled his part well, and Francisco Vas was a convincing Squeak. Clive Bailey made an exciting and well-sung Dansker, while Duncan Rock also succeeded in the role of Donald.
The audience's enjoyment of the performance was reflected in the enthusiastic applause given to the artists at the final bows.
José M. Irurzun