United Kingdom Puccini, La bohème: Soloists and cast of Chisinau National Opera, Members of the Orchestra of the National Opera & Ballet Theatre of Moldova 'Maria Biesu' and National Philharmonic of Moldova 'Serghei Lunchevici' / Vasyl Vasylenko (conductor). Grand Theatre, Blackpool, Lancashire. 13.2.2017. (MC)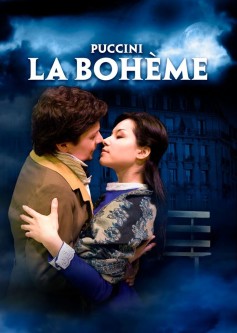 Cast:
Rodolfo – Giorgio Meladze
Mimì – Alyona Kistenyova
Marcello – Iurie Gisca
Musetta – Olga Perrier
Schaunard – Dmitro Dubrovskyi
Colline – Vadym Chernihovskiy
Benoît/Alcindoro – Oleksandr Forkushak
Parpignol – Gicu Barbanoi
Production:
Direction – Ellen Kent
Executive Producer – Ludmila Lungu
Assistant Producer – Jules Bath
Designer – Nadezhda Shvets
Lighting Design – Valeriu Cucarschi
Conductor – Vasyl Vasylenko
Chorus master – Victor Donos
Immediately the curtain opened an icy chill seemed to waft from the stage from a winter scene featuring a grimy garret overlooking Paris rooftops. At Blackpool's Grand Theatre Ellen Kent Productions presented Puccini's irresistible opera La bohème, a heartbreaking romance set in the student quarter of Paris, not surprisingly enjoying an enduring popularity with audiences. One of the most tragic love stories in all opera, a missing key leads to an unintentional meeting of the cold hands of poet Rodolfo and seamstress Mimì.
Directed by Ellen Kent this traditional staging sung in Italian flowed splendidly, full of sincerity and a genial atmosphere with a strong undertow of sorrow. Set in the first half of nineteenth century Paris, Ellen Kent's reasonably simple, uncluttered but highly effective scenery consisted primarily of cardboard stand-ups evocative of French post-impressionism reminding me slightly of Toulouse-Lautrec. The set for the Act II Latin Quarter was simple but highly effective with small tables outside a café and an image of the Eiffel Tower in the background together with two trees and people gathering for an outdoor market. A barrier surrounded by steel latticework at the toll house was the feature of Act III. On the floor was a simple bench, a tree and a small camp fire and as light snow fell although spare it made an evocative winter scene.  Highly redolent of the period dress code the costumes were effective especially Musetta's colourful and stylish wardrobe.
As Rodolfo the struggling poet, Giorgio Meladze could be seen growing into the role as his confidence increased. In his first act aria 'Che gelida manina' Rodolfo took Mimi's cold hand as he described his dreams and love for her. Spanish tenor Meladze although not always the most refined voice handled the moving aria well giving a portrayal which was full of sincerity and commitment. Alyona Kistenyova from the Odessa Opera was in fine form as Mimì the consumptive seamstress who has found love. Suitably girlish in voice Kistenyova in her arias 'Mi chiamano Mimì' and 'Donde lieta usci' was in expressive voice and displaying a creamy, unforced tone. Unlike some productions I have seen I was able to detect a certain chemistry between Mimì and Rodolfo. In the final scene Kistenyova's portrayal of the dying heroine in the final scene was reasonably engaging.
The role of penniless artist Marcello was sung by confident baritone Iurie Gisca, a stalwart of the company, who gave a mightily impressive performance. Although Marcello looked more like the father of the young men Gisca, an unruffled and committed performer, exhibited his rich velvety voice which was impressively clear and overflowed with character and expression. Olga Perrier commanded the stage as the fashionably dressed Musetta demonstrating a fine expressive voice, notably strong on stage presence and acting ability. In Musetta's Waltz from Act II where the flamboyant Parisian singer, standing on a table, declared how people stop and notice her in the street, was full of personality and really hit the spot. At this point I must not forget to mention Musetta's suitably cute dog Betsy.
Colline the philosopher played by Vadym Chernihovskiy made a real impact with his Act IV aria 'Vecchia zimarra' as he sang farewell to the overcoat he pawned to raise money for a doctor. Chernihovskiy combined his rich deep voice with requisite energy and confidence and provided one of my highlights. Dmitro Dubrovskyi made the best of his role of the musician Schaunard, making me want to hear him in a more substantial part.  Directed by the confident Vasyl Vasylenko the attractive flow of sound from the pit was as satisfying as I have heard from this orchestra. As Mimì died in her bed and the curtain came down there were tears in the eyes of many of the Blackpool audience and Puccini's masterpiece had successfully cast its spell again. The cast certainly deserved every bit of the warm audience applause.
Instead of wheeling out productions of La bohème, Aida, Nabucco and Madama Butterfly again it would be good if Ellen Kent could freshen up the repertoire. How about The Barber of Seville, The Bartered Bride, The Merry Widow and I've often thought that Verdi's A Masked Ball, an opera not heard too often these days, would eminently suit the company.
Michael Cookson