United Kingdom Miranda, Baltas, Bonet, Butterscotch: Peninsula Arts Sinfonietta and Singers, Butterscotch (beatbox vocalist), Simon Ible (conductor). The House, Plymouth University. 25.2.2017. (PRB)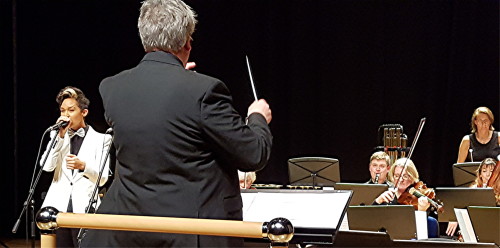 Eduardo Reck Miranda and David J Peterson – Vōv
Linas Baltas – Real Voices – Dining
Núria Bonet – Wasgiischwashäsch
Butterscotch – Native Alien
Eduardo Reck Miranda and Butterscotch – Butterscotch Concerto
Peninsula Arts' annual Contemporary Music Festival has now garnered an international reputation by combining artistic creativity with scientific development, as well as opening up new research opportunities and musical avenues that would not normally have been explored. Organised in partnership with the Interdisciplinary Centre for Computer Music Research (ICCMR) at Plymouth University, and directed jointly by Simon Ible, Director of Music at Peninsula Arts, and Eduardo Reck Miranda, Professor in Computer Music at the University and Director of ICCMR, this year's event, entitled VOICE 2.0, offers a glimpse into how musicians, scientists and linguists are reinventing voice through an ambitious programme exploring innovative means, forms and usage, in communication and musical creativity.
The Festival itself takes place over a weekend and features a number of presentations in various art-forms and media. Arguably the highlight each year is the Festival Gala Concert. This opened with Vōv, a three-movement work by Miranda, with lyrics by David J Peterson, a piece for four singers, accompanied by computer-generated voices and sound effects. Vōv is the name of a language invented by celebrated American language-creator Peterson, who also evolved the Dothraki language for the fantasy-series Game of Thrones. The word means "love", and the names of the movements translate as "dawn", "dusk" and "dark", respectively. The work itself stems from Miranda's research into the origins of language and music, using synthetic voice and models of Darwinian evolution —together with Peterson's fascination with creating would-be-languages, where Vōv, for example, is a fully-fledged standalone artificial example like Esperanto. In the extensive programme notes, Miranda goes on to say that a significant part of the work was composed at Harvard University Studio for Electroacoustic Composition, during his residency at the Department of Music there in 2016. He further explains the sense of linguistic evolution through the work's three movements. He makes the valid point — often so germane to contemporary scores — that a significant amount of extra background knowledge is really essential to draw the full import from what is actually heard, which, in this case, virtually demands at least more than one opportunity to hear Vōv. Irrespective of this, Vōv produced some fascinating listening along the way, and nowhere more so than in the final a cappella section which, as Miranda writes, has much to do with the concept of love. Here especially it was "lovingly" performed by the quite-excellent quartet of soloists, Rebecca Lea (soprano), Amy Lyddon (mezzo-soprano), Christopher Bowen (tenor), and Francis Brett (bass), not to forget Andy Smith-Turner's equally effective xylophone playing.
Lithuanian composer Linas Baltas studied and started his career in his homeland before moving to Plymouth in 2012. Here his creative productivity, especially in terms of the use of colour and variability, has increased significantly. In his programme note for Real Voices – Dining, he explains that his intention is to translate into the soundscape of contemporary music the regular sounds associated with eating and drinking, chatting over a meal, or simply having fun at the table. The three movements represent the three courses—starter, main, and dessert—with the performers using their voices to produce innovative sounds, along with some small-orchestra accompaniment, and with a hint of synaesthesia thrown in for good measure. In the latter, each audience-member was given a sealed envelope which contained a scratch-card-like fragrance such as coffee or cinnamon — or, in fact, no fragrance at all — as well as the admonition not to open said envelope until just before the third movement, in order to add a specific "flavour" to the imagined desserts being consumed by the performers, or, in the case of the fewer-in-number blank cards, for listeners to add a flavour of their own. This all proved a highly-entertaining confection, with some delightfully rustic contributions from the members of the recently-formed Peninsula Arts Sinfonietta, who were also then able to demonstrate hitherto hidden talents, by, for example, eliciting sounds from a variety of drinking straws. Even if the promised signal from the front to open the envelopes on demand was a little late in coming, and the consequent rustling of paper rather drowned out the quiet start of the finale, this was all taken in true fun spirit, and a great time was had by performers and audience alike.
Núria Bonet's Wasgiischwashäsch revisits Rossini's William Tell Overture, in order to describe climate change in Switzerland from 1860 to 2015. Bonet takes the original score — a work indelibly linked with the founding of this Alpine land — and modifies it according to climate data by, as Bonet succinctly explains: "Musical parameters such as pitch, rhythm, harmony, tempo, dynamics, timbre etc. in the score are determined by the data points in the bar's allocated timespan". She takes movements three (Ranz des Vaches) and four (Finale), and applies data from 1860 to 1920 to the former, and from 1920 onwards to the latter. As she points out, the expected variations in climate change in the earlier period are not excessive, with the result that the music still sounds quite conventional, and is enhanced by Bonet's own effective playing of the Ranz des Vaches (a simple melody traditionally played on the horn by Swiss Alpine herdsmen as they drove their cattle to or from the pasture) on the melodica, a mouth-blown keyboard instrument invented in the 1950s. It had its heyday in the school classroom before the arrival of the first electronic keyboard. However, since the 1920s, there have been really significant changes to Switzerland's weather-patterns, which — a global phenomenon, too — are, of course, predicted to increase. As the usually rollicking finale continues, because of all these changes, the consequent musical effects manifest themselves in an almost unrecognisable interpretation of the original score, especially at the dénouement. All-told, a novel concept, but it did keep reminding me, especially towards the end, of a 7-inch vinyl single, that did the rounds many moons ago, where Rossini's Overture, coupled with the first movement of Beethoven's Fifth had been recorded by a fictitious south-coast orchestra, whose players were virtual beginners on their respective instruments, the only difference here being that the outline of both composers' scores was always discernible, even their brave attempt to maintain some kind of appropriate tempo in the final Galop of the William Tell Overture.
When I earlier previewed this Gala Concert for the local media, I have to admit not knowing exactly what a "beatbox vocalist", or "beatboxer" actually entails. The publicity blurb alluded to not-overly-helpful phrases like "having an orchestra in their mouth", but, unless this was some kind of brace specifically intended to correct the teeth of musical youngsters, I did what most people would do nowadays: Googled it. Suffice it to say that, when mentioning it to a teenage piano-student later that day, he knew exactly what it was, and proceeded to give me a demonstration, though without, of course, any amplification or effects. For those readers who, like me, were classically-trained, though also know something about various other musical genres, but not necessarily beatbox vocalists, "beatboxing" is defined as "a singing style, which imitates vocally the sounds and rhythms of percussion and other musical instruments". For this concert, Butterscotch — described here as "a beatboxing virtuosa [sic] based in California, USA" — had flown over to give an original piece of hers, Native Alien, and then to finish the evening off with a performance of Butterscotch Concerto for chamber orchestra and beatboxer by Miranda, to which she had supplied the lyrics. This was my first live experience with beatboxing, except for the somewhat embryonic lesson my piano student had given me beforehand. I have to say that the effect was quite stunning, when taken in context. In simple terms, Butterscotch — a finalist on NBC's America's Got Talent a few years back, and with such an appealing and engaging personality and delivery to boot — laid down a few percussion tracks, added a simple triadic chordal riff, note-by-note, using an electronic looping-device to keep all this automatically self-perpetuating, while then proceeding with her vocal line on top, a mix of pure melody and quasi-rap. It all then proved really quite mesmerising, despite the essentially simple way in which it had been constructed in front of our very eyes —or, rather, ears.
Now joined by the Sinfonietta players, the evening's final offering, Butterscotch Concerto, achieved exactly what it said on the tin —or in Miranda's programme-note, to be more precise: it embodied "the emerging 21st-century alt-classical music style, combining the sophistication of classical music with the vitality and appeal of pop music and fringe art…(it) celebrates hybridity and tolerance". The latter is reflected in Butterscotch's quite poignant lyrics which talk about the anxieties of contemporary political realities, cultural translocation, social readjustment and, perhaps most crucially, the plight of war refugees in today's world. All in all, and as Miranda confirms, the work is a montage of musical styles, rhythms and new compositional techniques, but one which held the large audience spellbound for its duration, enhanced, without doubt, by the sheer quality of the performance. Let me acknowledge Peninsula Arts Sinfonietta under the assured leadership of Mary Eade, Butterscotch herself, and the ever-inspiring direction by conductor Simon Ible. Along with Miranda, he helped make this year's Gala Concert one of the best yet, in terms of pure audience enjoyment and understanding.
Philip R Buttall