Michael Volle talks to Michael Cookson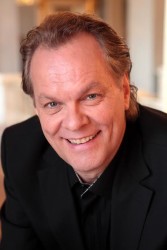 Michael Volle one of the leading baritones on the international stage today is a recipient of eminent German Theatre Award 'Faust' and in 2008 and 2014 was named 'Singer of the Year' by opera magazine 'Opernwelt'. In a 2008 interview with Jim Pritchard for Seen and Heard, Volle had yet to sing Hans Sachs a role which has since established him as one of the greatest acting baritones of his generation. A pinnacle of Volle's career was singing Sachs in Stefan Herheim's production of Die Meistersinger at the Salzburg Festival 2013.
For this Berlin interview I caught up with Volle in 2016 in a restaurant close to Gendarmenmarkt just after he had completed the day's rehearsals for Tosca. Volle was playing Baron Scarpia at Staatsoper im Schiller Theater with Angela Gheorghiu in the title role. A few days later I reported from the opening night of the production (review here) with Volle giving a stunning performance as Scarpia making a menacing, red wine swilling chief of police scheming, depraved and violently lustful. I have seen many renowned Scarpia's, notably Tito Gobbi on film with Maria Callas and Ruggero Raimondi. In live performance more recently I have been captivated by the performances of Scarpia by Bryn Terfel, Erwin Schrott and Juha Uusitalo who have set the bar extremely high, but Volle is up there with the finest.
Volle first came to my attention in 2013 during a magnificent performance in the role of Guy de Monfort during a live cinema relay of Verdi's Les vêpres siciliennes from the Royal Opera House, London (review here). In addition I greatly admire his CD release Michael Volle – A Portrait a recital recorded in 2012 at Munich on the BR Klassik label. The collection comprises of opera arias from Mozart, Wagner and Verdi, orchestral transcriptions of Schubert lieder, Millöcker and Lehár operetta, Verdi's Requiem and Handel's Messiah (review here).
Volle grew up in southern Germany where he sang in his church choir and played violin in local orchestras. A pupil of Josef Metternich he went on to study with Rudolf Piernay at the Guildhall School of Music and Drama, London. A late starter Volle didn't begin performing in opera until he was thirty. From 1999 to 2007 he was a member of Zürich Opera with roles that included Beckmesser (Meistersinger), Eugene Onegin, Golaud (Pelléas et Mélisande), Marcello (La bohème), Count (Le Nozze di Figaro), Barak (Die Frau ohne Schatten) and Wolfram (Tannhäuser). In 2007 Volle joined Bayerische Staatsoper singing title roles in new productions of Eugene Onegin and Wozzeck and further roles like Count (Le nozze di Figaro), Kurwenal (Tristan und Isolde), Amfortas (Parsifal), Wolfram (Tannhäuser) and Amonasro (Aida).
Volle has performed at Royal Opera House, Covent Garden including new productions of Jochanaan (Salome), Dr. Schön (Lulu) and Jack the Ripper, and Kurwenal (Tristan und Isolde). He has also performed in the Opéra National de Paris, Théâtre de la Monnaie, Brussels, Gran Teatre del Liceu, Barcelona and the State Operas of Vienna, Berlin, Dresden and Hamburg, Deutsche Oper Berlin, and is a regular performer at the Salzburg Festival and in 2007 and 2008 appeared at the Bayreuth Festival as Beckmesser (Meistersinger) and will return in 2017 as Hans Sachs (Meistersinger). In 2014 Volle made his debut at Metropolitan Opera, New York as Kurwenal (Tristan und Isolde).
Michael Cookson: In your career who has been the most influential?
Michael Volle: That's a very difficult question because there are quite a few episodes in my biography that involve influential people and they all form part of this destiny of mine. It's not by chance I call it a destiny. It started with my parents because I grew up without knowing that I would become a singer or musician. But at home there was music all around my family. I grew up with seven brothers and sisters and four of us are artists. There is an actor, another singer and my sister is already retired as a flute player. So music to us at home was a common occurrence. The next person to influence me, I would be about eleven or so, was an amateur violin teacher, a private teacher, who gave me the joy of music and the chance of playing together with others in music. Initially I played the violin and then around twenty or so I changed to the viola. When I was 25 I came into singing. [MC: Late to start singing] Yes, it was, very late.
Almost without realising it at the time I did lessons in singing with the next important person in my development who was a chorus director with the Neue Vocalsolisten, Stuttgart, also a professor of conducting at the university and he was really the first vocal teacher for me. The next influential person was an accompanist and teacher at Stuttgart High School where I was studying. I didn't learn singing with him but I worked with him and he was the next person who pushed me towards my goal as a singer. He once said forget the university, you must go to Josef Metternich a well known German baritone who was celebrated in Italian repertoire from La Scala to the New York Met. Then in London at the Guildhall School of Music and Drama I studied with professor of singing there Rudolf Piernay. Studying with him was the next event on my path. So you can see that I cannot mention a single person who was solely influential on my course through music.
MC: I recall tenor Piotr Beczała telling me that whilst singing in the cast at Linz at the last minute he was invited to the Zürich Opera to take over the evening's performance from a tenor who was ill. Thanks to that he was unexpected offered a contract there. In your career did you have a similar big break?
MV: Well my career wasn't like that. In my Fach as a baritone I am not sure we have the same opportunities for a big break. It's something that more likely happens to tenors and sopranos. We baritones do not have the same focus as tenors and sopranos with their glamorous roles. I must say I love Anna Netrebko and Jonas Kaufmann as singers. I know them well and I have sung with them; they are extremely fine singers, the best solo artists of course in the glamorous arena. There is too the mezzo Elīna Garanča one of the superstars who is also part of this glamorous world. In former times there was Alfredo Kraus – what a man, what a singer – and Nicolai Gedda but not quite on the same level as the others. Of us baritones the only superstar in the last decades has been Plácido Domingo and for a short time Dmitri Hvorostovsky, and there is also my hero Bryn Terfel of course but we baritones don't have the same glamour. Nine years ago in 2007 I did Beckmesser in Meistersinger at Bayreuth (review here). This was a big explosion in my career.
Before that I think with the start of my contract at Zürich Opera in 1999 I was ready for the final level in the world of opera singing. This happened step by step. I was a member of the Zürich cast for eight years up to 2007 and then I did four years at the Bayerische Staatsoper, Munich up to 2011. So Zürich was a very decisive time in my career because I met a lot of famous colleagues and directors and we did a number of DVDs. [MC: The right time for you!] Yes, this was the right time for me. In former times I was very anxious and I thought why do I not have this success? But you are young and want to be everywhere like all the others on the scene. There I gradually learned about being patient. The success did come, and month by month, sometimes day by day I achieved more and more success. I'm very content about that.
MC: What about success that comes early for singers?
MV: It's not good really to have careers where success comes quickly. You see I was not ready in former times for this career because now I have no problems whatsoever with the pressure it brings. I have had sufficient time to grow up and now I know that as baritones the ice is very, very thin but we have a little more time to survive if we have problems compared to tenors and sopranos. If they crack once or twice then 'splat' it's nearly impossible for them to come back without their reputations ruined. Thankfully much more patience is given to baritones as we are not in the spotlight to the same degree. I'm 56 now and although I don't know for how long I can continue to sing I can sing as long as everything is ok with my voice.
MC: How has your voice changed over the years? Can it improve?
MV: Absolutely. You cannot stretch an individual voice to unlimited regions as there are of course limitations. You are never allowed to go to the edge of those limits. You must always stay within those limits or your voice will not survive for long. Whether the voice is improving well you will have gained much more experience. Of course there is on the one hand this process of ageing. This is a physical thing and women's voices tend to lose their freshness sooner – the higher voices earlier than the lower ones, both female and male. Yet there are a lot of female singers who sang in a special way until their sixties and seventies and further in some cases. But you must be very careful to be convinced of yourself so the audience don't say well she or he was wonderful, but now it's time to stop singing. You have to decide to stop singing yourself so the audience say what a pity she or he had to stop. It's very dangerous ground.
Now I feel much more relaxed. Of course it's more routine, but in the best sense. It doesn't feel like a job of work which would be bad. You must however feel a range of emotions like tension and joy and suspense all the time. My wife Gabriela Scherer who is 21 years younger than me has restarted her career as a mezzo-soprano. Last Sunday she had her opening as Ariadne in a new production at Lübeck. She's not a beginner but after having two children and a career break she has restarted. This is very interesting for me too because I realise fifteen years ago I was at that same level of self-discovery again and presenting myself and fighting against challenges that exist. Now my fire is very strong but if there is something around which is not good I now have more patience and I'm more relaxed. I can't tell you how satisfying that is for me. It's all a question of experience.
MC: How do you find learning new roles?
MV: Ah, this is also a question of experience. Because you are used to learning people will say I can't imagine how you remember all that. But as singers you see it's our job, our work. Other people work twenty years at a job doing something that I can't imagine being able to do. [MC: So it's just part of the job] Yes, it is. I started my first contract in 1990 and now I have been in the business twenty-six years. There are not so many roles that are new to me now. There are quite a few in Italian opera but in the German and French mainstream roles there is not so much for me anymore. I hope there will be an Iago, a Rigoletto, a Germont in Italian opera and some Puccini maybe, let's see. But the German roles that I've got require only renewing and redoing so they are not so much work anymore.
MC: I get the impression that if you didn't do any new roles you would be happy with those you have already done?
MV: Absolutely. I don't know but maybe in ten years time it might be different. I was asked by casting director Peter Katona at Covent Garden to do Enescu's Oedipe but sadly I wasn't free. My friend José van Dam said to me years ago if I had to do only one opera then it should be Oedipe. It's an absolutely great work and a new production was given at Covent Garden in the 2015/16 season. It's not a mainstream work but it's wonderful music. As I said before, I started when 25 in 1985 and I have done a lot of contemporary works as well as traditional opera in my twenty-six-year career, works that I have only ever sung once. Of course that happens and it's all part of your general education and it adds to your experience. But over the last few years I've reached the level where I am in a position to choose what roles I want to sing. And I am very grateful and happy about that mainly because this allows me more time to spend with my family.
MC: We all hear about opera directors, who are not necessarily from an opera background, presenting often shocking and sometimes wacky productions. Do you ever get asked to do things that you don't really want to do?
MV: I love to sing. That is the finest thing but I'm very happy that we live in a time where for decades the playing and the acting are important. Because if it wasn't important then we wouldn't need to do six weeks stage rehearsal. I like to work and to be experimental. You have only two possibilities when you start a production. First you stay with the production and you must stay with it to the end. Or second which happened to me ten years ago at Bayreuth in Meistersinger where the tenor as Stolzing said on the second day to the director "I can't do that. I must leave". This was good both for him and the production. [MC: Why do you say that?] Because he couldn't stand aspects of the production so it was better that he went.
Another case was at Munich in Rigoletto with a Planet of the Apes theme or something, which was a curious idea and maybe not too good. The tenor left the production just four days before the opening and this is not correct especially as it works against his colleagues. But that doesn't mean I have to accept everything. A good director knows this and has to fulfil his ideas but with the material he has with us. So if something doesn't work for me I must say something to the director and tell him or her that we have to change, because with this I am not as good as I possibly could be. If I have to do something that I am really fighting against inside then this has a direct influence on my level of performance, and normally this approach works absolutely and you can handle that.
MC: Do you often find yourself working with the same stage directors on a regular basis?
MV: There are directors that I love to work with again and again and they have different attributes and ideas. For example there is Christof Loy, Claus Guth, Stefan Herheim, Harry Kupfer and some of those I have worked with several times. It hasn't always been at the same high level but was always very interesting and rewarding work where you do not come home at the end of the day rehearsing saying to yourself let's end it subito [immediately]. But it can be a totally different encounter as my wife has discovered in her career. I must say how lucky I have been with my experiences and there have been only two or three names on my black list or 'rat list'.
Other aspects are the reviews and the press coverage that you read which are sometimes totally different to the audience reaction. I had that happen in Salzburg last summer with a half new Così fan tutte directed by Sven-Eric Bechtolf. It was a good work but the press were so upset and nearly every one of them said you can't do this, but it was a huge success with audiences and we felt wonderful. The same with music director Ottavio Dantone, who comes from a baroque music background – a wonderful, stimulating conductor – and the Salzburg Mozarteum Orchestra played with such freshness it was marvellous. One Vienna critic said "it is impossible to do Mozart like that today" and another from the Vienna press said "This is the only way to do Mozart today" so it is a personal viewpoint. For me I realise that it is much more important what the audience think and how it reacts to the work.
MC: Do you have a particular stage director that you enjoy working with?
MV: I have been lucky to do three productions with Norwegian opera director Stefan Herheim. I did a celebrated Meistersinger in 2013 at the Salzburg Festival. In autumn 2013 at the Royal Opera House, London we did a new production of Les vêpres siciliennes (The Sicilian Vespers) which will be redone next autumn and I'm looking forw ard to this. [MC: Yes, it was magnificent. I reviewed the DVD/Blu-ray of this production (review here)].  It is an incredibly good production.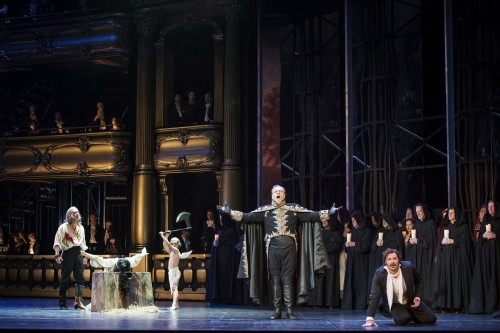 Last summer I was in Bregenz for my first Les Contes d'Hoffmann (The Tales of Hoffmann) and I played the four villains. I must admit that I didn't understand every one of Herheim's schemes because he comes up with numerous fertile ideas. A lot of people, including my wife, thought it was the best production she had ever seen. A big part of Herheim's success is that he doesn't just think of the theatrical aspects he loves the music. You see he is so musical because he grew up as the son of an opera cellist and he plays the cello himself so he knows the opera world, which is the ideal platform for an opera director. What I like is that everything he does serves the music so well, he is never against the music. He is so full of productive ideas about images and lighting etc. Some people are afraid to work with him because his agendas are so big and demanding, especially for the technical department of the house. But the results are almost always spectacular. For example, recently one of the greatest things was in Amsterdam with Mariss Jansons's conducting Herheim's new Pique Dame (The Queen of Spades) by Tchaikovsky. People like to work closely with him because he is extremely inspirational.
At the ROH I did the Montfort in Les vêpres siciliennes with Antonio Pappano, who is one of the greatest music directors, also Jack the Ripper in Lulu and Kurwenal in Tristan there in London with Tony who is so enthusiastic and attends right from the first day. Tony knows of course the stage director in Lulu and Tristan who is Christof Loy such a wonderful stage director. Tony Pappano is not only responsible for the music; he has a close collaboration with the stage director. He knows a lot about singing and he is truly with the process. These are the best conditions to have and to work with. This is the ideal way.
MC: What about other conductors you admire?
MV: As I mentioned before there are big differences. The most important aspect is the context of the relationship with the conductor. You don't have to be best friends, that wouldn't be right. But you must make a connection in the short term. You must be very close so you can trust each other explicitly. Certainly the conductor is the boss in the relationship. Of course no performance is like another, this would be boring even if it is performing difficult contemporary music; like say in Wozzeck or something because it not as simple as one, two, three, it's more with emotion or with breathing. This is a thing not every conductor can do, being able to breathe with the singers. Also every orchestral player must also be able to breathe with the conductor too. It is the same with the voice which must feel the conductor and then you can rely on him. If you can't rely on the partnership then you cannot do the best possible in your job. This makes all the difference.
Even if you have sung a role 20 or even 50 times and suddenly somebody comes and brings new aspects to the role or new ideas, that can make you very happy because it's never dead, it's very invigorating. Also your own way of singing changes over the years. In five years – maybe even one year – I will sing my Scarpia very differently. Working with others fluently as a team is an ideal situation and makes me happy. If not then it's a one-way street and I'm not interested in that at all.
With regard to individual conductors I love to perform with Franz Welser-Möst. I had eight years working with him at Zürich Opera and I had incredible music experiences with him working with different types of music. I remember exactly a time at the beginning of 2010 I did Die Frau ohne Schatten with him at Zürich and I did Tannhäuser in Munich with somebody else, no names. One day in Munich it was terrible as I had a morning stage rehearsal with the orchestra for Tannhäuser and I had to catch a plane to Zürich in the evening. In the morning the conductor in Munich didn't please me at all conducting this incredible, highly emotional music of Wagner that was not really together. Then by contrast in the evening in Zürich with Welser-Möst I felt at that moment that I didn't need the music if I watch him. The way Welser-Möst conducts the music, it's flowing, it's expressive and it's quite wonderful. It was a real difference how I felt about the two conductors.
MC: What do you think about the perceived lack of charisma that is often mentioned about Welser-Möst?
MV: In opera we don't talk about charisma and a person's character in our daily business. It's only my opinion because it is not tangible. You can judge someone technically if a high 'C' is wrong or the coloratura wasn't good, but the rest is indefinable. If you watch clips of Furtwängler or Solti conducting for example they conducted oddly but there must have been something they transmitted that captivated audiences.
Another great conductor is Jimmy [James] Levine. I was so lucky to meet Jimmy in Munich when he was chief conductor of the Münchner Philharmoniker and we collaborated on a concert version of Beethoven's Fidelio. I did a chamber recital of Schoenberg with Jimmy on piano which was excellent and I remember doing a Brahms Requiem with him in Boston some years ago. Then he became ill and I was worried that I wouldn't have the opportunity of working with him on the opera stage of the Met. Then some eighteen months ago I was asked to do a revival of Meistersinger at the Met the final time of the staging by Otto Schenk (review here). Unfortunately I could only do two performances. One of them was streamed live to cinemas I think it was at 11am in New York and 5pm in Europe. I mention the time because Jimmy is very ill. For the previous evening he was extremely exhausted after a long performance of around five and a half hours and he did it pretty well too. The next day when we started at 11am he sat there in his wheelchair that had been pushed to the podium in the orchestra pit. He turned around to acknowledge the audience who applauded him fervently. At the end of the performance I nearly cried when I saw him from the stage when he congratulated me from the pit. He was so with the singers and a lot of people say he is one of the finest opera conductors we have had. Of course now he has stopped [as the Met's music director], but it was incredible being together with a conductor who has done the work some sixty to eighty times. In his hands, Meistersinger felt like something new. You feel that the conductor is getting some inspiration from you too. It's give and take and the results make you very, very happy.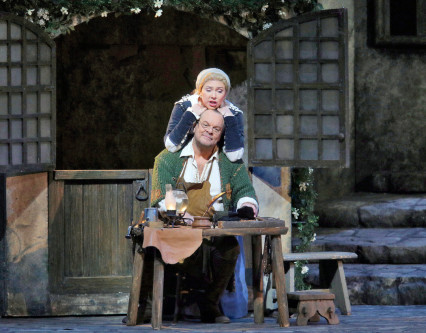 MC: With this production of Tosca you are rehearsing, a revival, I've noted that leading performers arrive on different days?
MV: During a production you have to know precisely about all the different elements because you haven't much time to create a lot. Because we do not work again with the stage director we work with his assistant. The stage director has told us in a few words the main philosophy the production. Then the rest is our turn and we bring it in. It's not the best approach. It's all about timing. A performer arriving at a later date is not the best thing, but there are no hard and fast rules for everything. Sometimes you may need six weeks of rehearsal on the other hand two weeks is enough and six will be too long. [MC: So you have to work flexibly?] This particular production of Tosca is not new; it's from 2014. I have done it before. I've done it in Vienna and I've done it at Deutsche Oper Berlin. I have of course my own ideas of the role and the character and let's see what input comes from my colleagues.
MC: Some people might be surprised by the collaborative nature of opera production and may think the stage director is in attendance right through to the opening night.
MV: No the director won't be there. Sometimes at festivals that might happen like that even in the following year. For example in I will be in Bayreuth next summer, and the year after that, for two seasons as Hans Sachs in a new Meistersinger. Barrie Kosky from the Komische Oper, Berlin is the stage director. There the director will again be in attendance the following year, but for less time. For the first production in 2017 there will be six weeks of rehearsals and the following year maybe two to three weeks. With Philippe Jordan conducting I'm sure we will all have a great time. I'm looking forward to it and the crew is wonderful there too.
MC: How do you handle on stage problems with other cast members?
MV: That's difficult to answer. You see I'm very addicted to human harmony. I was brought up and educated like that and it is not the worst thing to be. If I do an opera production that I love then I must have harmonious conditions around me. If someone jeopardises that I will be very upset because nobody has the right to introduce a bad atmosphere into a production. There are of course some colleagues for whom it is more important to show off how beautiful and talented they are than to be part of a team. The really big performers in opera never act like that. I remember when I worked with bass-baritone José van Dam for the first time. For example suddenly he was there on stage and I didn't realise it, such was his lack of arrogance. For forty years or so José was one of the greatest singers in the world.
Plácido Domingo too, I met him once in Salzburg and he came over and said meekly "Hello I'm Plácido". A friend from Zürich once told me there was a Gala performance with Plácido who came one hour before the performance, had a short talk with some advisors on stage and then said to this colleague on stage "Martin please don't be angry with me if I might mix it up and come from the left side instead of the right in this scene". Martin was speechless that someone – who is on a different singing universe – consulted him in such a collegial way. But this is the greatness of the man. [MC: Such humility!] Of course! He is so open to colleagues on the lower ladder of hierarchy. This to me is the star quality of the man. Not like the men and women that burst in with loud voices saying in effect "look at me, look at me!"
MC: Can you think of operas that are neglected and deserve to be staged more often?
MV: Well the first that springs to mind is Pelléas et Mélisande by Debussy an opera I love so much because it's such an individual piece. There is a special atmosphere in the work. It's very difficult to play and to sing my role Golaud,, but I think that it's not such a big hit for the audience because of its libretto and subdued action, However the atmosphere it generates is really special. I do not sing Berg's Lulu anymore of which I have done five productions. It's hard work for me, but I do love to perform Wozzeck; I could perform it every day if I had the chance. It's so-called 'modern music' and the story is pretty cruel; brutal even. You see I mention this opera from the viewpoint of the singer although it's only a third or a quarter of what I sing in my most significant opera Meistersinger as Hans Sachs. Wozzeck is for me so exhausting every time I perform it, yet I feel so content and so exhausted afterwards, just like I would after a Meistersinger which takes about three or four times as long to perform. But Wozzeck is an incredible work which I have sung three or four times but with only one new production. It's really amazing.
There are a lot of operas that deserve to be produced more often and it's a shame that they aren't. There was a time when conductor Gerd Albrecht was especially known for championing the music of Jewish composers Zemlinsky, Schrecker, Korngold and the music of Krenek too. Although I find the librettos not too bad the music can be indifferent and not as clear as you find in Italian opera Verdi and Puccini, and even in Wagner and Strauss. I believe one must be entertained in a way which is not over complex. If you are forced to think about something too much people will not have much patience with that.
MC: What would you say are the most technically difficult roles that you play?
MV: My Wagner roles are really very hard to perform. Hans Sachs is the hardest work I have to perform for my Fach. It is the longest, very challenging and testing to my stamina. With two intervals it takes around five and a half hours. It is so demanding for example in the third act you don't stop singing. It's really like an endurance sport as it feels so physically demanding. You can't do this at the start of your career. You see experience, stamina and also good technique is essential to success. You have to be an economical singer putting your reserves of energy in the right places and save energy here and there because it increases in arduousness.  Before the end of this mammoth five and half hours there are two extremely long monologues and if you survive those then everything is fine. The Wozzeck too is also a very demanding role – both mentally and physically – because you have to sing this modern music as beautifully as possible. But it is a much more expressive role as you have to sing, shout and talk and all his has to be controlled otherwise it will crack your voice. Something also very difficult is to sing is a three or four hour long Baroque opera. Yes, this is also highly demanding.
MC: I don't associate you as a singer of Baroque music. Is that fair?
MV: Well I don't get asked any more to sing Baroque opera. Normally I'm not asked for Mozart either. Mozart is for me my music God, as is J.S. Bach. I find it hard to understand how people can write music as incredible as that. It's medicine for the voice. But some people say that if you excel in the so called heavy roles like Verdi, Puccini, Wagner you cannot any longer sing Mozart: Oh bah! I say. This is not meant arrogantly, you see in my career I am more and more able to handle my voice in a good way, in a flexible way. I did Mozart's Così fan tutte at Salzburg this summer and this later year I will do a recording with a period instrument orchestra of solo Bach cantatas and will do concerts with them. Although it is not true, unfortunately some people in decisive positions say you cannot go from heavy roles back to doing Mozart. So you need someone who trusts you.
For me as a German it's hard to understand what I got told in past years. I was in a very famous opera house doing The Merry Widow and I said I wanted to do Pique Dame or Eugene Onegin because I especially love them and the Russian conductor there told me no, we have of course the Russian singers for those. Ok, then I asked to do a Marcello from La bohème or something. No, we hire Italians for that. Ok then, I asked please give me Mozart and I am told oh no, we hire the English or American colleagues who have the more neutral voices. Why? But this was just one conductor.
I am very lucky that Peter Katona, casting director at the ROH admires me and trusts me to sing. I did my first Scarpia at the ROH as a German singer and this is very unusual. Now more and more I am getting Italian roles. In two years I will sing Scarpia at the Met, I will sing Iago at the Met and other roles there because someone trusts me and thinks I will succeed there. It's a bloody business! So now it is easier for me to do Mozart because it's not much work vocally, it's written very easy for me, now that I have done Don Alfonso in Così, I don't have to worry about my voice. It was a lot of work the whole evening and a lot of action involved but it went very well. The audience enjoyed it and I received pretty good reviews. I truly hope some casting people will realise that I just need to do Don Giovanni and need to do the Count in Figaro. Let's see what happens. Let's see!
MC: Has anything amusing happened to you on stage?
MV: Ha, ha, oh yes. I remember very precisely a couple of amusing incidents in my first year in the opera house. This was in Mannheim, south of Frankfurt. I sang some one hundred and thirty performances in around twenty different operas in my first season. It was perfect for me being on stage every second or third day as it gave me a lot of security and was great experience. For example, you play Figaro for two weeks then six weeks break and so on then you and your colleagues get used to that. In the big ensemble of The Merry Wives of Windsor by Otto Nicolai – such incredible music and very funny libretto – there was a colleague who was around thirty years older than me, he had a good evening and was in a joking mood, then suddenly with a pair of scissors he cut the braces on the back of the soloist who was performing the big aria. In another incident he was holding a watering can for the garden flowers and then out of the blue he watered the head of another soloist. Me, as a beginner, I just stood there and I couldn't sing in the sextet for laughing, and the conductor went mad because everyone on stage was laughing so much.
My wife played a servant once in Elektra and the curtain should have risen twenty centimetres so that all the servants were required to put their heads underneath and sing but the curtain didn't move, not a single millimetre. The conductor was going crazy as he and the audience could not hear a thing. My worst case was as Amfortas in Parsifal. It was my first entrance and I was to be carried in on a stretcher from the back of the stage – all timed to music – and then I was supposed to have been laid down at the front of the stage, in front of the conductor. Backstage the stage manager normally calls "Amfortas on stage please" and I also usually listen to the music. In this case I should have come on much, much earlier but that day for some reason I didn't do it and I wasn't called. So I listened for my music but when I heard it I knew it was much too late to go all the way to the back. They had already begun to enter the stage carrying the empty stretcher – but without me on it! A colleague spontaneously sang my first three words for me. Somehow I walked across the stage towards the stretcher and lay down on it, sang the rest of my aria. Best of all the conductor hadn't noticed what had happened. Thankfully I didn't get boos from the audience. This is the funny side of our bloody business.
MC: Do you read your reviews?
MV: Yes, I do. I must admit I'm very pleased if I receive a good review. This summer as Don Alfonso in Così at Salzburg I read some criticism which was disappointing as I was very content with the production and everything else. Tony Pappano tells me that he has stopped reading reviews. There are critics who are frustrated individuals, I know them, who wanted to be great artists, instrumentalists or singers, but they have the ability to write so they get a job in a newspaper then they have the power which enables them to get their revenge. I reckon that's how it was some hundred or two hundred years ago and I think little has changed.
I remember my first appearance at a higher-level opera house. I was in Paris doing a small part in Lohengrin and there was a famous British soprano who played Ortrud. At the end she was so massively booed by the large audience. I was shocked standing so close to this storm of boos. She stood there stoically and took those boos and I thought she must die hearing all this. On the outside she seemed to take it all well, but on the inside, well it must have been terrible for her. In today's times, now immediately after the last note of an opera you can read on the internet terrible criticism, personal criticism written there from a laptop or smart phone. But these are our times!
Michael Cookson