United States Bellini, Norma: Soloists and Orchestra of Lyric Opera of Chicago / Riccardo Frizza (conductor), Civic Opera House, Chicago. 27.1.2017. (JLZ)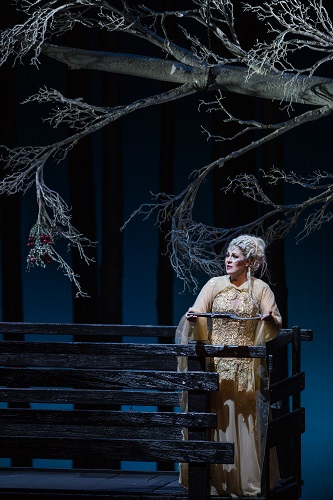 Cast:
Oroveso – Andrea Silvestrelli
Flavio – Jesse Donner
Pollione – Russell Thomas
Norma – Sondra Radvanovsky
Adalgisa – Eliszabeth DeShong
Clothilde – Hlengiwe Mkhwanazi
Production:
Conductor – Riccardo Frizza
Director – Kevin Newbury
Set Designer – David Korins
Costume Designer – Jessica Jahn
Lighting Designer – Duane Schuler
Chorus Master – Michael Black
The iconic bel canto opera Norma remains captivating because of its strong music and dramatic appeal. Conflicting emotions—love, betrayal, loyalty, and sacrifice—feed the whole, and emerge vividly in Kevin Newbury's newly envisioned production that evokes the fantasy epic Game of Thrones. The fresh production is shared with San Francisco Opera, the Canadian Opera Company, and the Gran Teatre de Liceu.
While performances of Norma were more frequent in the 19th and mid-20th centuries, the current international cast demonstrates the vocal finesse required to bring this landmark to modern audiences. In the quintessential bel canto aria "Casta diva," Sondra Radvanovsky set the tone. Clear phrasing and precise diction created a studied but effective approach. And here, as with the rest of the cast, her interplay with the orchestra—conducted by Riccardo Frizza—was intense.
At times Radvanovksy's voice opened with remarkable effect, while at other moments it seemed veiled, with the cantabile line mingling with dramatic expression. This was not a problem in the second act, where the duet with Adalgisa ("Mira, o Norma") showed both Radvanovsky and Elizabeth DeShong at their best, intersecting precisely in florid lines. The sheer vocalism brought out the exultant quality of the scene's concluding cabaletta ("Si fino all'ore estreme"). As much as "Casta diva" is Norma's iconic aria, this duet stood out for its rich vocalism, and is worth the price of the ticket.
DeShong's rich mezzo-soprano fits the part of Adalgisa convincingly, and her first-act duet with Norma "Sola, furtiva al tempio," was memorable. The trio with Pollione, sung by tenor Russell Thomas, gave each singer the opportunity to respond to the dramatic situation with appropriate passion. Though Thomas had the bel-canto style down, his opening aria "Meco all'altar di Venere" tended toward declamation. Yet he was impressive in the penultimate scene with Norma, as Bellini's scoring gave the duet "Già mi pasco ne' tuoi sguardi" suitable impact.
Unfortunately the stifled bravo for Thomas stopped the stage action for a bit and likely influenced the final scene's dramatic pacing, which lagged. While Frizza's first act was a model of focus and direction, the second act was more episodic, but nevertheless, Radvanovksy was a wonder.
Kevin Newbury's popular production has a sliding panel that opens to the sacred grove of the Druids, a space that efficiently allows the chorus to emerge. When closed, the panel allows the space to serve as either the Druids' temple or Norma's home. The set is decorated with various weapons and other accoutrements, suggesting a ritualistic Iron Age milieu, according to Newbury's program notes, and the Game of Thrones nod makes room for some anachronisms. Most of all, the concept lent inspiration and modern shape to a timeless opera.
James L. Zychowicz