United States Dvořák, Rusalka: Soloists, Chorus and Orchestra of Metropolitan Opera / Sir Mark Elder (conductor), broadcast to the Odeon Cinema, Chelmsford, Essex, 25.2.2017. (JPr)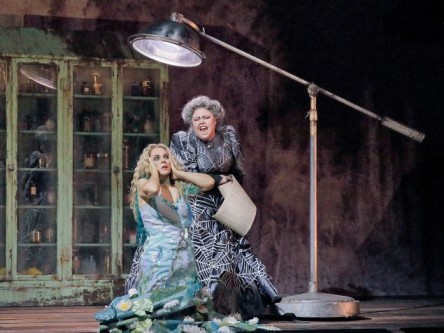 Cast included:
Rusalka – Kristine Opolais
Ježibaba – Jamie Barton
Prince – Brandon Jovanovich
Water Gnome – Eric Owens
Foreign Princess – Katarina Dalayman
Production:
Production: Mary Zimmerman
Set Designer – Daniel Ostling
Costume Designer – Mara Blumenfeld
Lighting Designer – T J Gerckens
Choreographer – Austin McCormick
Live in HD Director – Gary Halvorson
Live in HD Host – Matthew Polenzani
Rusalka is Dvořák's most admired and most frequently performed opera – above all in his Czech homeland where it has been performed almost continually since its 1901 première, though it is seen rather less often in the West. In the UK, there was David Pountney's Freudian 1983 interpretation for English National Opera and a couple of concert performances by the Royal Opera in 2003; with new productions at Grange Park in 2008 (revived by Scottish Opera in 2016) and Glyndebourne in 2009. That's about it apart from the first ever staging in 2012 at Covent Garden in a production first seen in Salzburg.
Jarosalav Kvapil's libretto, based on the fairy tales of Karol Jaromír Erben and Božena Němcová, was finished in 1899 before he had any contact with the composer. The plot involves a Rusalka – a water nymph from Slavic mythology that usually lives in a lake or river – who yearns to become human and is willing to give up her voice so that she can marry the handsome Prince with whom she has fallen in love. The story contains certain elements familiar from The Little Mermaid by Hans Christian Andersen and Undine by Friedrich de la Motte Fouqué. Kvapil began looking for composers interested in setting his text and it was mentioned to him that Dvořák was looking for a project. The composer, always interested in Erben's stories, began a first draft on 22 April 1900 and completed the opera by the end of November. Dvořák had previously composed four symphonic poems inspired by the folk-ballads of Erben in the late 1890s so Rusalka has been considered by opera critic, Max Loppert, as the culmination of his exploration of a 'wide variety of drama-creating musical techniques'.
I took issue in 2012 with an essay by David Beveridge which asserted that despite Dvořák taking inspiration from Wagner '…nevertheless, there is scarcely a passage in Rusalka that one could imagine as actually having been composed by Wagner.' Sir Mark Elder has long championed Rusalka and was crucial in getting it performed at the start of his tenure as music director at ENO in the 1980s. Anyone who reads my reviews will know my penchant for 'Wagner spotting' in other works. Here in his backstage interview with the affable Matthew Polenzani, Elder revealed that his raison d'être to keep returning to Rusalka is his curiosity 'to find even the smallest influence of the beast of Bayreuth' and explore how Wagner gave Dvořák the 'technique and equipment to explore the darkness' in the tale!
The major confrontations are pure Wagner: in Act I Rusalka's father, the Water Gnome, confronts the 'Catch us if you can' wood sprites just like Alberich and the Rhinemaidens; in Act II Rusalka begs her father's forgiveness just like Brünnhilde to Wotan in final act of Die Walküre, and in Act III Rusalka's kiss – which promises death and damnation for the Prince – reminds me so much of Siegfried's closing duet with Brünnhilde in Siegfried. In all these cases the music pays homage to the original Wagner. There is much, much, more including the 'Entry of the Gods into Valhalla' from Das Rheingold which is heard a number of times, amongst all the 'borrowings'.
Regardless of the Wagner influence I must say that this performance made me fall in love with Rusalka on its own terms and there was something dreamlike and magical as it appeared on screen. Obviously I cannot know whether it came over in the same way in the theatre, but I totally agree with Mark Elder when he described Rusalka as a 'Funny fairy tale piece … a flawless masterpiece [and] Dvořák's greatest opera.'
The Met has the strange ability to make any new production look old. What we first see is the wood sprites gambolling around a traditional looking forest glade with the hint of a rock pool. My first thoughts about A Midsummer Night's Dream quickly turn to The Wind in the Willows as the Water Gnome (Vodnìk) appears as part Toad (of Toad Hall) and part the Brothers Grimm's The Frog Prince. Then into the mix comes the witch, Ježibaba, straight from Humperdinck's Hänsel und Gretel whose influence on Rusalka is clearly there, though overshadowed by all the Wagner. Ježibaba looks like a stately Victorian matron, but one who is involved in some dubious medical or scientific practices. Indeed Jamie Barton – who portrayed the witch with some relish – described her familiars (a rat, a cat and a crow) as resulting from a 'human experiment that kind of went completely wrong.' There is some shadow play behind a screen which suggests Rusalka loses her power of speech by having her tongue cut out. Zimmerman presents the Prince's castle in Act II as a nightmarish world for Rusalka. She appears totally lost in the palatial human surroundings with all the blindfolded frock-coated flunkies dressing her; and then is shown meandering though the disturbing ballroom dance with its intriguingly angular choreography from Austin McCormick of Company XIV. In Act III we were back to the setting of Act I, but now it is looking distressed, as if some time has passed, and perfect for the opening of Parsifal Act III!
Mark Elder luxuriated in the seductive allure of Dvořák's score and – through the cinema loudspeakers – the Met Orchestra seemed in resplendent form with warm-sounding cellos and expressive woodwind. Kristine Opolais excelled in the title role; although she is always compelling to see and hear, she can sometimes seem a bit detached from what is going on around her. Here it gave a sense of otherworldliness to her Rusalka that was ideal for her character. She bore with fortitude the cumbersome flowing dress in Act I meant to 'reflect' the hold the water has on her and this should have been ditched at the first opportunity. She sang her intimate 'Song to the Moon' – which was full of romantic longing – by staring straight into the camera and in close-up. This must have connected her to all those watching in darkened cinemas throughout the world and hopefully had the same effect in the theatre. The Prince sings about hunting a 'white doe' – another mythical image – and after he finds Rusalka in the forest he lifts her into his arms and carries her away and perhaps she is just another 'prize' for him. At first in Act II she is indeed like an exotic animal trapped in a gilded cage, yet it was very poignant to see Opolais's Rusalka come to terms with her all-too-human vulnerability and impending fate.
Brandon Jovanovich sang well and with much heroic tone as the stoic, fickle, then ultimately tragic Prince. During Act III Rusalka is a 'bludička', a spirit of death, doomed to emerge only at night to lure humans to their death (like the Wilis in Giselle). Jovanovich's Prince elicited much sympathy by poignantly accepting that death was preordained by her kiss. There appeared to be a great chemistry between him and Opolais's Rusalka and their duets had heart-wrenching beauty.  Eric Owens's Water Gnome looked and moved rather uncomfortably but sounded suitably world-weary and anguished about his errant daughter.
Katarina Dalayman's Foreign Princess must have had hidden depths as I could not discern what attracted the Prince to her. She was portrayed as the Wicked Queen in Snow White and – like that character – was vain, cold and cruel and full of evil intent. As such Dalayman did well though her voice does not sound what it was. Hyesang Park caught the eye amongst a superb ensemble of Wood Sprites; Daniela Mack was an appealing Kitchen Boy and what a delight it was to see Alan Opie appearing as the roguish Gamekeeper. Opie is in his 70s but sounded as good as ever, though he is rarely seen now in London. (Mark Elder recounted how Opie had sung in the first Czech opera he conducted at Cambridge over 40 years ago.) Completing an exceptional cast, Jamie Barton gave a compelling performance as the cackling Ježibaba. Her size gives her considerable presence and is matched by a powerful mezzo voice redolent of menace and humour in equal measure.
Finally a thought, it is well known that audience numbers at the Met are declining so shouldn't operas like Rusalka be sung in English? In a cast boasting a Latvian soprano and three American stars in the princpal roles, it is a safe bet there was not a Czech speaker amongst them. Why not perform something like this in the vernacular and make it more accessible to those coming to see it?
Jim Pritchard
For more about The Met: Live in HD in 2017 and 2018 visit your local cinema listings.