United Kingdom Verdi, Il trovatore: Soloists, chorus and Royal Opera House Orchestra / Richard Farnes (conductor). Directed for the screen by Bridget Caldwell and broadcast from the Royal Opera House to Odeon Cinema, Covent Garden, London. 31.1.2017. (JPr)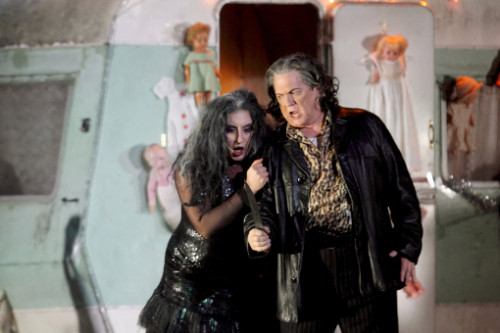 Cast:
Leonora – Lianna Haroutounian
Manrico – Gregory Kunde
Azucena – Anita Rachvelishvili
Count di Luna – Vitaliy Bilyy
Ferrando – Alexander Tsymbalyuk
Ines – Francesca Chiejina
Ruiz – Samuel Sakker
Production:
Director – David Bösch (Revived by Julia Burbach)
Set designer – Patrick Bannwart
Costume designer – Meentje Nielsen
Lighting designer – Olaf Winter
Associate lighting designer – Nick Havell:
Video designer – Patrick Bannwart
You rarely see an Il trovatore these days then four outings of the same new David Bösch production 'arrive' at Covent Garden in six months! On its first night last July I felt that it 'was of the most visually compelling evenings I have spent at the Royal Opera House.' Looking back at what I wrote then I began by reflecting how the setting is a warzone, but when and where I was not sure. It might have been in former Yugoslavia at the turn of the century, though the use of mobile phones at one point to take selfies hints at something more contemporary. Early on we see a tank with 'Luna' on it and the troops of this warlord are lolling around in fatigues. In a filmed sequence during the interval in the cinema the set designer, Patrick Bannwart, confirmed the eclectic mix of references to different time periods.
In the opera house at the rear of the stage there was some almost ever-changing videography with images related – or sometimes somewhat unrelated – to what was being sung. The impact was diluted with Bridget Caldwell's close-up direction for the cinema. Only rarely did the camera pull back and then we saw how the mention of the gypsy and the supernatural – as Ferrando narrates the history of Count di Luna – is accompanied by a flock of crows. When Leonora sings of hearing the sweet chords of a lute there is a brief glimpse of random musical notes in the background. What had so much impact – and appeared so fresh – in the theatre was somewhat turned into a rather more 'run-of-the-mill' staging because a lot was being missed. For instance, we still saw a prominent image of a love heart with L♥M in it (for Leonora and Manrico) from time to time but I didn't spot on the screen all the times it reappeared when I saw it in the opera house in July.
The gypsies are part of a travelling circus and I was distracted during the famous chorus by how one of those striking an anvil looked like Jeremy Corbyn! Azucena emerges from a caravan clutching a baby doll and is clearly deranged, having brought about the death of her own son. For the convent there is a field of crosses and everything concludes at Manrico's prison which is just a wasteland in monochrome – as nearly everything has been – with lots of barbed wire. Throughout there has been a constant threat of violence – stabbing, shooting, hanging, burning at a stake – but nothing is actually carried out until near the end as a prisoner is brought out and executed. There should have been the coup de théâtre when as Azucena relives the past a huge pyre rises menacingly – glowing red and smoking – at the back very much like the Christmas tree does during almost every Nutcracker ballet! Again, much of this would have been missed by the watching audiences in cinemas throughout the world.
In July I also reflected whether Il trovatore should be considered a masterpiece. I concluded – though many might disagree – that it is basically 'a 'numbers' opera melding many wonderful moments for soloists and chorus with some typical Verdian hokum about anti-clericalism, confused parenting, a romantic hero, unrequited passion and a woman's sacrifice; not forgetting the added attraction of a gypsy throwing the 'wrong' baby into a fire, for goodness sake'. I concluded that the opera 'is an enjoyable romp which I have been happy to sit through time and again simply because of its principals' vocal fireworks, its undoubtedly stirring choruses and the dramatic music'. That was again true here and for a number of reasons this Il trovatore was much better to listen to than to look at.
Time and again during the broadcast we heard how Enrico Caruso had famously declared that all Il trovatore needs is 'the four best singers in the world'. Whether we got the 'best' I am not entirely convinced, but there was some 'old school' opera singing with big voices singing to the back of the Royal Opera House which I am more familiar with from the performances transmitted from The Met. There seemed (unusually?) no attention given to what this production would look like on the screen with this particular cast, none of whom – apart from Anita Rachvelishvili's Azucena – displayed any great acting skills, however well they sang. Replacing the previously announced Dmitri Hrovostovsky, Vitaliy Bilyy's Count displayed exactly the same facial expression whether it was passion or fury. Lianna Haroutounian's Leonora was guilty of this too and she looked the same whether expressing her love for Manrico or dying at the end of the opera. Absolutely no effort was made to disguise the fact that – like me – Gregory Kunde (Manrico) is in his early sixties and looked more like Leonora's father than lover. With better fitting costumes and the grey taken out of his hair he would have looked so much better. I repeat all the principals sang very well but they were too concerned about the technical difficulties of their roles to bring their characters to 'real life' on the stage. Hindsight – being what it is – perhaps this was not the best opera production and cast for showing in the cinema.
Periodically, I remind readers that these transmissions are difficult to critique musically because what we hear through the loudspeakers might not be what is heard in the opera house. However, it was clear Richard Farnes' conducting of Il trovatore seemed to take no prisoners and throughout he challenged his soloists and chorus by driving the music onwards. The orchestra sounded as though they were responding to him and played very well, with the chorus singing suitably lustily (men) and plaintively (women) for their chorus director, William Spaulding.
The most compelling performance came from Georgian mezzo, Anita Rachvelishvili, as Azucena. When she was on stage – from her vehement 'Stride la vampa!' (The flames are roaring) onwards – the whole evening was raised to another level. I mused briefly where have all the Italian singers capable of doing justice to Verdi gone? Alexander Tsymbalyuk was a stalwart Ferrando and is Ukrainian as is Vitaliy Bilyy, who sang the Count. His baritone voice – though undoubtedly good – lacked any true Verdian legato for 'Il balen del suo sorriso' (The light of her [Leonora's] smile). Born not far from them was the Armenian soprano, Lianna Haroutounian, I did not notice any of the fragility with her sound as when hearing her 'live' last summer. Quite the contrary in fact, as etched on her face throughout was the concentration necessary to produce a volume of sound – and possibly a tone of voice – she was not entirely comfortable with. As before following a tender and accomplished 'D'amor sull'ali rosee' (Go forth sad sigh on the rosy wings of love) Haroutounian was at her very best when combining with Manrico for a deeply affecting 'Miserere' with its prominent part for the Royal Opera's wonderful chorus.
Gregory Kunde hails from somewhere different entirely, America, and physically there is hint of the late Jon Vickers. Like that famous Canadian he is a bit burly and looks nothing like anyone's image of a young troubadour (though I believe Vickers never sang the role, probably because it was too high for him). Born the same year as Kunde, I cannot be accused of being ageist so why were Ferrando and Count di Luna left looking younger than his Manrico? Vocally there was much to admire, especially if this had this been a concert performance. He never seemed at ease as the ardent lover and throughout his singing took precedence over his old-fashioned acting. Kunde's surprisingly fresh sounding voice was capable of the tender introspection necessary for 'Ah sì, ben mio; coll'essere io tuo' (Ah yes, my love; when I am yours) in Part III and more than equal to the challenge of a stentorian and riveting 'Di quella pira' (both verses) as he set off to save his mother from the flames.
Jim Pritchard
To view the full list of productions for the remainder of this season both in the Royal Opera House and on your local cinema screens visit http://www.roh.org.uk/.