China Puccini, Turandot: Soloists, China NCPA Chorus & Orchestra / Lü Jia (conductor). National Centre for the Performing Arts, Beijing, 17.2.2017. (RP)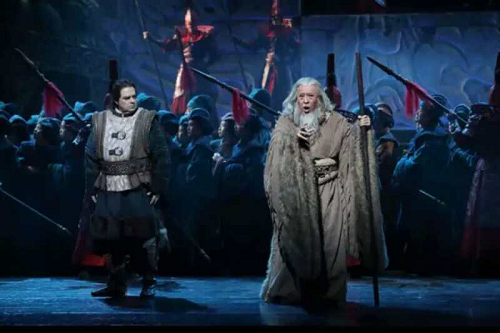 Cast:
Turandot – Lise Lindstrom
Emperor Altoum – Liu Naiqi
Timur – Haojiang Tian
Calaf – Marco Berti
Liù – Yao Hong
Ping – Liu Songhu
Pang – Li Xiang
Pong – Wang Shiru
Mandarin – Yang Yi
Princess Louling – Yin Shuo
Featherman – Wang Zheng
Production:
Director – Chen Xinyi
Visual Director/Set Designer – Gao Guangjian
Lighting Designer –Vladimir Lukasevich
Costumes Designers – Mo Xiaomin & Wu Junxi
Makeup Designer – Zhao He
Chorus master – Jaio Miao
Composer (Finale) – Hao Weija
The National Center for the Performing Art's 2008 Turandot was China's first homegrown Western opera production. It has been performed over 30 times since its premiere, and this run is its ninth revival. The Chinese have a sense of proprietary rights over this tale of a Chinese princess, even though its source is an epic Persian poem. Puccini came to it through Friedrich Schiller's 1801 play, which was in turn an adaptation of an earlier version by an Italian playwright. For decades, the People's Republic of China forbade performances of this opera because they said it portrayed China and the Chinese unfavorably. The 1998 production staged at the Forbidden City in Beijing changed that, and the opera and its hit aria, 'Nessun dorma', are now as popular here as anywhere else in the world.
Puccini died in 1924 before finishing the opera. At its premiere in 1926 at La Scala, Arturo Toscanini stopped the performance where Puccini's music ended. La Scala asked Franco Alfano to complete it based on the composer's sketches, and his version was used in the subsequent performances that season. The Alfano finale has its admirers and detractors, and new endings appear from time to time, although none has firmly established itself as an alternative. Unsurprisingly, a decade ago the NCPA wanted its own version in keeping with this auspicious occasion in modern China's cultural evolution.
The task fell to Hao Weiya, who at the time was 36 years old and living in Italy. Hao is philosophical about the challenge that he undertook, observing that it 'was my destiny, my fate'. The result was an 18-minute ending to the opera that Hao completed in six weeks, which then underwent multiple revisions under the guidance of experts from the Puccini Foundation. There are two big differences in Hao's version. First, he composed an aria for Turandot that gives insight into her transformation from a cold-hearted ice princess to a woman passionately in love with Calaf. He then alters the finale, using the traditional Chinese folk song "Moulihua" ('Jasmine Flower') for thematic material instead of 'Nessun Dorma'. The real question is, of course, does it work.
In some ways, it is a moot point because thousands of Chinese operagoers have now heard Hao's music and embraced it as their own. The ovation at the end of this performance was as enthusiastic as at any of the other performances that I have attended. Hao's music is tuneful and his orchestrations rich and colorful, but it does not have the visceral wallop of the Alfano version. The final moments of Puccini's best operas, such as Rodolfo's anguished 'Mimi' at the end of La bohème, Tosca's leap from Castel Sant'Angelo hurling out 'O Scarpia, Avanti a Dio!' and Pinkerton's cry of 'Butterfly' as he rushes in to find her dead, punch you in the gut. Alfano's finale may be imperfect, but it works at that level. That is what I missed. That's why I love Puccini.
The production teeters somewhere between historically accurate grandeur, myth and the fantasy of a Busby Berkeley Hollywood movie. The sets are monumental and capture the grandeur of ancient China. Giant Chinese guardian lions and dragons feature prominently, along with a sweeping staircase topped by an ornate pavilion. The screen that serves as the backdrop for Ping, Pang and Pong's antics is truly beautiful. The costumes are traditional for the most part; the black ones emblazoned with Chinese characters, worn by the sword wielding, acrobatic executioners, are particularly impressive.
Myth enters with the ghost of Princess Louling, whose fate haunts Turandot, accompanied by the figure of the Featherman. He is a legendary winged immortal covered in feathers who assists people on their journey to immortality. Louling's ghost was a menacing, swirling mass of iridescent black feathers, skillfully danced by Yin Shuo. The white-winged figure of Featherman, performed by Wang Zheng, was apparently unable to coax such a troubled spirit into immortality. There were no such problems with Liù: he simply guided her up a staircase enclosed in his wings after her selfless sacrifice.
Fantasy took flight with choreography and costumes that boggled the mind. I must admit that I have a soft spot for the three graceful young women who glided across the stage in lake-green dresses edged with illuminated lotus blossoms while Ping, Pang and Pong dreamed of their faraway homes, longing to escape the daily grind of executions. They were mesmerizing, and with such a strong trio of men on stage, they did not derail the scene. That was not the case, however, with the swarm of young women in white with fluttering, accordion-pleated wings, who were graceful but distracting. In particular, their smiling, serene faces and swaying were an awkward contrast to Turandot's anguish, as they swarmed about her after the Unknown Prince had correctly answered her three questions.
Marco Berti as Calaf accomplished the near impossible on his own, singing the role better than any tenor that I have ever heard in the opera house. He is the brave and stoic sort with a voice of heroic proportions; a potent combination for Calaf. Liu Songhu, Li Xiang and Wang Shiru as Ping, Pang and Pong were his rubber-faced opposites. Totally devoid of courage, their expert comic timing and fluid voices deliciously captured the bathos and grim reality of their plight. They cavorted in brightly colored costumes that supplied girth, if needed, with clown-like makeup on their faces. Liu Naiqi was a young, fresh- voiced Emperor, magnificent in golden robes and headdress.
The punch-to-the-gut moment was in Act III. Haojiang Tian has performed Timur around the world. His dramatic intensity and commanding voice made Timur the most fully developed character on stage. It was devastating to witness his anguish when he was told of Liù's sacrifice to protect him from Turandot's henchmen. His denunciation of Liù's needless sacrifice resonated throughout the theater. It was a moment to savor.
Lise Lindstrom has sung Turandot many times and to great acclaim. She certainly has the stamina, as well as high notes that opened and bloomed beautifully. Something was amiss, however, as her performance was monochromatic, both vocally and dramatically. Only in the new Act III aria did she convey real emotion and display warmth and color in her voice. It made me want to hear her in something more lyrical, which does not seem likely from a glance at her schedule. Yao Hong was dramatically engaged as Liù, but an unruly vibrato marred much of her singing. However, she can float lovely high notes.
Lü Jia displayed his mastery of the score and conducted a balanced, dramatically taut performance. The NCPA Chorus was wonderful, with a rich, complex sound, and attentive to the drama unfolding before their eyes. What came out of the pit was not always up to their level. While the strings produced a lush, throbbing sound and the percussion were precise and polished, the woodwinds and brass left something to be desired. The trumpets, particularly the offstage band, were adrift most of the time. These should be easy fixes given the depth of musical talent in China.
Rick Perdian