United States Rossini, Tancredi: Soloists, Chorus, and Orchestra of Opera Philadelphia / Corrado Rovaris (conductor), Academy of Music, Philadelphia, 19.2.2017. (BJ)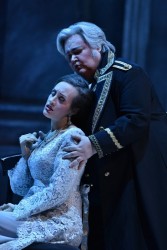 Cast:
Tancredi – Stephanie Blythe
Amenaide – Brenda Rae
Argirio – Michele Angelini
Orbazzano – Daniel Mobbs
Isaura – Allegra De Vita
Roggiero – Anastasiia Sidorova
Production:
Director – Emilio Sagi
Set Designer – Daniel Bianco
Costume Designer – Pepa Ojanguren
Lighting Designer – Eduardo Bravo
Chorus Master – Elizabeth Braden
Wig & Make-up Designer – David Zimmerman
Stage Manager – Becki Smith
An abundance of fine singing, some very committed acting, excellent conducting of a good orchestra and chorus, and a Rossini opera in its first ever Philadelphia presentation: what could be not to like?
We'll come to that in a moment. Subtitled "melodramma eroico," Tancredi, set to a libretto by Gaetano Rossi and Luigi Lechi based on Voltaire's play Tancrède, was the composer's tenth opera, and it was premiered at La Fenice in Venice two days after his fifth birthday. (Check Rossini's date of birth!) Though highly esteemed by most commentators, it is relatively rarely performed. That may be due in part to the fact that it demands singers of remarkable technical gifts, which requirement was met to an impressive degree in this performance.
Two of the three major principals were artists new to me who were making their Opera Philadelphia debuts. Brenda Rae is a soprano of the highest caliber, with such roles as the Queen of the Night and Lulu already under her belt. Her performance as the much put-upon Amenaide combined vocal and visual allure with stunning coloratura technique and notable dramatic intensity. In the role of her father, Argirio, Michele Angelini deployed admirably clean divisions, which suggested that he could be a fine Handel tenor. His top notes at first were unpleasantly screechy, but both his singing and his acting took on stronger character as the afternoon progressed.
Bass-baritone Daniel Mobbs filled the smaller principal role of Orbazzano capably, and portrayed a character sufficiently villainous to earn him some good-natured booing when he took his bow. There was a sympathetic and mellifluous contribution from mezzo-soprano Allegra De Vita as Amenaide's friend Isaura, and another mezzo, Anastasiia Sidorova, also did well as Tancredi's squire, Roggiero.
With all that said, it might be suggested that Stephanie Blythe is inevitably going to be the star of any production she appears in, though on this occasion Ms. Rae shared the plaudits. Blythe is a fabulous singer, musician, and actress. Her portrayal of Fricka in the 2009 and 2013 runs of Seattle Opera's Ring was so perceptive and powerful as to radically transform the moral balance of the tetralogy, and now, as Tancredi, she was equally in the vein, the voice superbly rich and flexible, and the dramatic assumption always convinced and convincing.
Now, however, I must address the question posed in my opening paragraph. First of all, there was about the production a recurring disconnect between action and motivation. It was hard, on this first acquaintance with Tancredi, to decide whether the work itself or Emilio Sagi's direction was to blame for the dramatic problems raised by the plot – I suspect both played their part. Having been condemned to death on false grounds amid the hostility of everyone on stage, Amenaide, trying to come forward through a gap in the obligingly parted walls of the set, is repeatedly restrained by her jailors – but then, after perhaps a quarter of an hour, they suddenly go off and leave her to her own devices: why? And once Tancredi as her champion has successfully defeated her main accuser in fight, she is suddenly, with no apparent cause, celebrated as an innocent by all her previous detractors.
The score, if well short of the composer's greatest masterpieces in melodic terms, nevertheless provided hints of the mastery that was to come, especially in the orchestral pulse that underlies the finale of Act I. But the story is full of unconvincing and even incomprehensible elements, though in the revised version – restoring Voltaire's tragic conclusion seen in this production – it survived some longueurs to reach an ending bold in its bareness and dramatic power.
It was, I think, the decision to update the action that caused most of the dramatic trouble. The updating in this case shifted the story from the 11th to something like the early 20th century. And as usual I am forced again to ask: why? The usual implied or stated motive for such directorial tampering (when it isn't intended just to show how much more intelligent and creative the director is than the unfortunate librettist and composer) is to achieve the chimerical goal of "universality," or to enable a modern audience to feel more at home in the story. The effect, however, is almost always precisely the opposite, because the incongruity between certain elements of plot and the new world that the updating has summoned up makes us think about period, whereas in the original conception we would have simply accepted the milieu in its self-consistent completeness.
A production of Le nozze di Figaro, for example, that transfers it to a world where the notion of the droit du seigneur no longer exists severely damages the whole moral meaning of the work. And in the case of Sagi's Tancredi, we cannot help being struck by the oddness of an early-20th-century parent blithely assuming that he has the right to bestow his daughter's hand in marriage against her will, or of a (relatively) modern soldier challenging a rival to a duel by slapping his face with a glove. This latter actually drew some audience laughter – and I doubt whether it would have done so if the original 11th-century milieu of the story had been retained.
Handsome as the sets and costumes were, moreover, they offered problems of their own. The walls were constantly moving around without rhyme or reason. And the art nouveau trees depicted on the backdrop were pretty well the only element that reinforced the supposed period around 1910, while the costumes could have represented any period, or none at all.
Not, then, an unreservedly positive operatic experience. But the performances of Stephanie Blythe, Brenda Rae, and their colleagues will stay happily in the mind, and the opportunity to encounter a previously unknown element in the development of one of the greatest opera composers must earn our gratitude.
Bernard Jacobson