Canada 2017 VSO New Music Festival: Orpheum Theatre, Vancouver, 24-29.1.2017. (GN)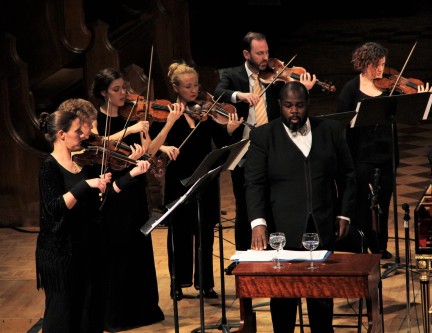 Protest and Redemption: Zorana Sadiq (soprano), Rebecca Haas (mezzo-soprano), Colin Ainsworth (tenor), Brett Polegato (baritone), UBC University Singers and Choral Union, Langley Fine Arts School Youth Choir, Glenn Buhr and the Button Factory Band, Vancouver Symphony Orchestra / Bramwell Tovey (conductor)
Ryan – Afghanistan: Requiem for a Generation
Buhr – Symphony No. 4 'Guernica 2017'
New Music for Old Instruments: Reginald L. Mobley (alto), Pacific Baroque Orchestra / Alexander Weimann (conductor and harpsichord)
Doolittle – Falling Still
Tidrow – Ricercar
Smith – Sinfonia (premiere; Early Music Vancouver commission)
Sharman – 'She Walks in Beauty'; 'Obsessions'; 'Liebesleid'; 'Song From Faust'
Ristic – Fandango Immanis
Morlock – Golden
Giguère – La Belle-Anse
Gershwin (arr. Weimann) – 'Lady Be Good'
Raposo (arr. Weimann) – 'Bein' Green'
Porter (arr. Sharman) – 'Ev'ry Time We Say Goodbye'
Pure Piano: Lisa Kay Miller, Rachel Kiyo Iwaasa, Corey Hamm and Miranda Wong (pianos)
Miller – Excerpts from Colour Codes
Abrahamsen – Selections from Ten Studies
Sørenson – Vuggeviser
Yedidia – Ether
Morlock – Corybantic
Samandari – vanishing borders
Gone are the days when going to a New Music Festival meant entering a rarefied world where only aficionados lurked and puzzling abstract compositions dominated the landscape. In the three of six concerts I managed to attend, this Vancouver event displayed enormous range in showcasing the Canadian 'new'. There was a full-length Requiem sharing a programme with a genre I had almost forgotten about – the 'rock' symphony. Then there was the mysterious world of new compositions for 'authentic' instruments, plus a buffet of solo piano pieces that mined all the resources that instrument can offer – through its keyboard, strings and even technology. Other concerts featured compositions for jazz trumpet and chamber music. There were many arresting moments in what I saw but, perhaps expectedly, I came away with a feeling more of appreciation for the valiant efforts of the composers than a sense of being emotionally penetrated.  Nonetheless, the festival was very approachable, and that might be good thing these days.
Given the specificity and immediacy of its inspiration, Jeffrey Ryan's Afghanistan – Requiem for a Generation might have sought a particularly histrionic fabric. But over its hour length it turned out to be quite successful in balancing colour with a more universal sense of dignity, even if it did not secure the fullest depth of expression. The text was rewarding and often poignant, written by Suzanne Steele, who served in Afghanistan in 2009 and has now been named Canada's first War Poet. It had a fine sensibility, sometimes naturalistic, sometimes symbolic, and often finding a stark economy of utterance. There were some innovations: multiple languages (Latin, English, French and Afghan Pashto) were used, and there was also a sequence of soldier dialogue. The former was intriguing enough; the latter perhaps more questionable. The work was commissioned and premiered by the Calgary Philharmonic Orchestra in 2012.
Perhaps the key to understanding the composition comes from Steele's own reference to it as 'a love letter' to future generations. A warm spirit of redemption ultimately underlies the proceedings, most fully expressed in the closing In Paradisum. While the text is often filled with telling images, the orchestral and choral writing tends to seek a warmer, more generalized fabric: sometimes lyrical, sometimes reaching out to the cinematic. It is reasonable to let the text convey the implied sense of loss and fragmentation of spirit, but sometimes I felt that the musical fabric should move to darker distilled corners too. The hushed mystery in the opening Requiem Aeternam set a fine stage, the soprano entering right away with feeling, but it was notable that this type of quiet orchestral suspension resurfaced only rarely throughout the work. The rhythms building to the climaxes were always purposive but more methodical than penetrating. Slashing, whip-like protestations from the percussion appeared from the early parts of the work, but this recurring gesture seemed an incomplete way of registering the subplot at hand. As the work progressed, it was the warm and fulsome that made the biggest impression, with long cantabile vocal lines sometimes taking us to the very cozy indeed. This approach did secure a feeling of long-term integration and spiritual redemption, but is there not a feeling of ambiguity and fragility that must linger too? Something made me feel that the experience was a little comfortable.
Maestro Tovey and the VSO, the distinguished soloists and the UBC University Singers put forth a strong effort in bringing this all together for its Vancouver premiere. Soprano Zorana Sadiq, was impressive in navigating her striking lines, as was tenor Colin Ainsworth, the custodian of the French lyrics. The UBC choral contingent might have exhibited slightly more character at times, but their overall attentiveness and tonal blend was laudable. I should note that Jeffrey Ryan and Bramwell Tovey have also collaborated in one of the first recordings in Naxos' 'Canadian Classics' series, featuring the composer's Fugitive Colours, Equilateral and The Linearity of Light.
I am no expert on 'rock' symphonies, but the world premiere of Glenn Buhr's Symphony No. 4 certainly took me into this world, the composer contributing vocals and electric guitar alongside the orchestra and his Button Factory Band. As with the Requiem, this work is a response to today's painful struggles and polarities. The opening two movements took me back to the 'protest rock' of my youth, with balladic vocals that conjured up the legendary Eric Burdon and the Animals and Jim Morrison and the Doors. We then moved to more exotic Arabian images and forceful rhythms, ultimately landing on a radiant spiritual anthem in the finale. This was a strange mix – but one delivered with full commitment and plenty of drums and weight too.  I am sure young patrons fully enjoyed the genre crossover. The experience had a certain cumulative effect but, frankly, the music seemed fairly generic overall and somewhat backward-looking too. I'm really not sure what structural properties made the composition a 'symphony'. It is interesting that both this and the preceding work closed with a type of soft spirituality that courted sentimentality, rather than an inspired bludgeoning-on.
New music for 'authentic' instruments seems to be catching on in a big way these days. This concert featured the Pacific Baroque Orchestra under Alexander Weimann. Undoubtedly, there are questions to ponder: for one, why some of these compositions (especially those written in a twentieth-century idiom) could not be played effectively on modern instruments too. The highlight of the evening was the appearance of alto Reginald L. Mobley, whose high, searching, legato phrases are fully seductive and wondrous. He appeared in a wordless, sometimes whispering, role in Jocelyn Morlock's Golden, a haunting piece with string orchestra that beguiled through its economy of gesture, honesty and depth of feeling. The four songs by Rodney Sharman, though set squarely in the tradition of modern British love lieder, revealed the tremendous 'heart' of this composer. Mobley found the most tender expression and fluidity in the high legato lines, moving to even greater vocal variety in the shimmering 'Song from Faust'. He finished the concert in a lighter vein, singing transcriptions of popular Gershwin, Raposo and Cole Porter songs, accompanied by the string orchestra. These transcriptions were fascinating in a way, but they showed where the 'authentic' approach might go astray: I would have actually liked more body and saccharine in the string tone, reflecting the context in which these songs were actually written.
An obvious virtue of using gut strings is the fineness and flexibility of articulation they allow, coupled with the possibility of a biting rawness of tone. These resources have obviously captivated younger French-Canadian composers. Thierry Tidrow's Ricercar for solo violin certainly was demonstrative, Naomi Guy traversing all the obvious nods in the direction of Bach and Bartók to the nastiest acerbic projections. Patrick Giguère's La Belle-Anse impressed with its use of initially sparse string lines to build an overwhelming density and sharpness of sound, unfolding in waves of wonder. André Ristic's Fandango Immanis (we recall the 'fandango' even from Boccherini's days) put all its humourous stops and starts to work in a powerful and mesmerizing way. The two other works for string orchestra were softer in focus: Emily Doolittle's Falling Still used soft tremolos and a sparse landscape to covey feelings perhaps akin to Barber's Adagio, while Linda Caitlin Smith's longer Sinfonia flirted with tonal uncertainties within the mould of modern British neoclassical 'string divertimenti'. Both works were sometimes touching in their austere movement, but I did feel that modern strings could do them justice too.
In the third concert, watching Lisa Kay Miller and Rachel Kiyo Iwaasa bend over the piano, one hand on the keyboard, the other placing metal weights or throwing paper plates over the internal strings, I was convinced that you have to be in really good shape to play the instrument these days: one does not sit down that often.  In the two extracts from the former's Colour Codes, all these efforts at damping the instrument's tone really produced a cavalcade of different sounds: mysterious shrieks, bubbling water, harpsichord registrations, rarely allowing the instrument to be its normal self. While the actual motives are not particularly striking, it is the organic growth of this multi-dimensional soundscape that leaves an original mark, taking one to all sorts of strange corners. Another version of the 'prepared' piano is one where it is hooked up to a computer: the computer remembers what the pianist has played and engages in a sort of war with the artist. Here the computer already moves many keys on its own and contributes other sounds, so performers have to fit their contribution to the preselected algorithm. Very intriguing, but it became apparent on this occasion that the success of the 'duo' hinges critically on how loud the computer-generated sound is. In Farshid Samandari's stimulating vanishing borders, I really thought the computer output was too dominating, and compromised the give-and-take to some extent. I would like to hear this work when the computer was softer, or possibly varied in its dynamics. This is not a work that one wants to perform on a tight schedule: it took about 30 minutes to hook the computer to the piano. Perhaps it should be performed right after a long intermission.
The remaining works were more normal, meaning that they involved playing the piano conventionally. The brief pieces of Hans Abrahamsen and Bent Sørenson, sensitively played by Miranda Wong, displayed a softer and affecting fabric to begin, building up to more complex density and energy in the later pieces. Written for the performing virtuoso UBC professor Corey Hamm, and exploiting the composer's characteristic penchant for gamelan perpetuum, Jocelyn Morlock's Corybantic moved with flaming momentum and jazzy drive. It was quite scintillating in its way, and performed with great intensity, yet I might have preferred slightly less drive and slightly more colour and shape in the journey. One acknowledges the great influence of the chords of Debussy's Preludes in modern compositions, and they flowered in full glory in Ronn Yedidia's Ether. Effective enough, but I felt the development of the piece was on the slim side.
So, three concerts of remarkable variety in short duration – and sufficient to get one thinking for years!
Geoffrey Newman
Previously published in a slightly different form on http://www.vanclassicalmusic.com